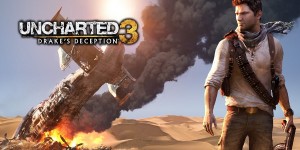 Sony has today revealed that, the PlayStation 3 exclusive, UNCHARTED 3: Drake's Deception has gone gold.
Alongside the announcement, Sony publicized that every retail copy of UNCHARTED 3: Drake's Deception will come with a download code for the Starhawk Public Beta. Below is the announcement from the PlayStation Blog, which revealed that Uncharted 3 news.
Nearly one year ago Entertainment Weekly broke the news that UNCHARTED 3: Drake's Deception was real and coming out in 2011. Today we have finally reached the point of breaking through that finish line tape in another marathon of game development. We're proud to announce that the third installment in the UNCHARTED franchise has gone gold, and is on its way to being manufactured for its November 1st release. We can't wait to see everyone's reaction to the next chapter of Nathan Drake's adventures as it hits store shelves and homes everywhere in just three short weeks!