Moon Diver is a side-scrolling hack-n-slash platformer set in the dystopian future of 2081. The Demon King Faust, who intends to conquer Earth, has all but annihilated the human race.  However, an elite group of ninjas known as Moon Divers has begun to fight back, and the fate of the planet rests in their hands.
It seems like Moon Diver has everything gamers want in a game: ninjas, intense action, cooperative play, magic spells, unlockables, and a lengthy story mode. While the list of features sounds great, what kind of game does it make Moon Diver? Do the various features of Moon Diver work together to produce a quality game, or will it fail to meet players' expectations? Let's take a look in the HOTs and the NOTs.
HOT
Cooperative Play
Moon Diver supports local and online co-op for up to four players, and it's a lot of fun playing through stages with three other people. From the online menu, players can join a random game or host their own, invite friends to play a private game, and browse ongoing games, which is useful if you're stuck on a particular level. In fact, solo players should expect to get stuck quite often (especially in later stages), so online co-op is almost mandatory for certain levels. On stages when enemy numbers swell and bosses seem almost invincible, you'll be glad to have the support of other players to help you through the level. And if you get teamed up with someone of a much higher level, your character will benefit by gaining tons of experience.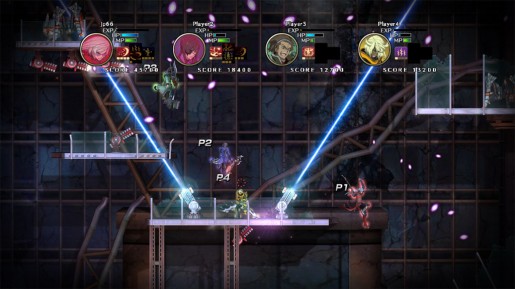 Another aspect of cooperative play is the unique Moonsault Combinations. Certain spells can be performed by multiple players at the same time, resulting in super-powered magic attacks that devastate the enemy. The circle button will appear over a player who uses a Moonsault Combination, and any other player who responds will join in the attack. These collaborative spells are highly effective, and they make players feel like they are actually part of a team, instead of just a group of gamers inhabiting the same virtual space.
Customization
Moon Divers offers players a high degree of customization. For starters, players can choose from four characters to play as, each with his/her own strengths and weaknesses. Players earn experience for landing hits, performing combos and killing enemies. When a character levels up, players get a customization point that can be put towards increasing health, magic, or attack power. It's certainly not a unique system, but it does add depth to the gameplay. There are also fifty Moonsault techniques scattered throughout the levels, and each character can have four of them equipped at a time. It would have been nice to see some costume and weapon customization options as well, but the lack of these features is not a strike against Moon Diver.
Intense Action
The gameplay in Moon Diver is fast-paced and, at times, absolutely insane. Tons of enemies stand between the player and the end of the level, and the path is often littered with environmental hazards like fire and noxious gas. Combat involves stringing together melee attacks, maneuvering with somersaults and mid-air dashes, and occasionally blasting everything away with a well-timed Moonsault technique. When you're not wrecking lives with your melee and magic attacks (which is rare), expect a healthy dose of platforming to proceed through the level. Now, if that sounds like an intense game so far, try to imagine it with three other players. At times, the co-op action gets so chaotic that it is difficult to tell what is going on, especially if some of the players are using the same character. Although the intensity of the gameplay might be off-putting to some, I think that many players will find it exhilarating and challenging.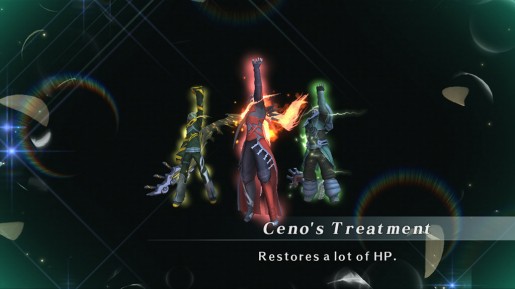 NOT
Repetitive Gameplay
The biggest problem with Moon Diver is that the gameplay suffers from an illness common to hack-n-slash games: repetition. The combat does not change throughout the entire game—no new moves, no advanced combos, just a lot of pressing the square button for melee and the circle for magic. Although the platforming is fun and requires a certain amount of strategy, the gameplay gets so bogged down by the constant button-mashing that most players will get bored by the fourth or fifth stage. Additionally, with no checkpoints or extra lives, players who die mid-level or at a boss will have to replay the level. This got particularly frustrating for me on stage four, which took me five attempts to beat—two by myself, and three attempts online with other players.
Lackluster Graphics
The graphics in Moon Diver are unimpressive at best and totally bland at worst. The first four stages look almost exactly alike—linear paths of dull grey concrete and rusted brown metal. Of course, it is supposed to be a dystopian future, so the detritus of conquered cities is to be expected. But the post-apocalyptic setting certainly doesn't restrict a game to such a limited color pallet—just look at Enslaved's vibrant world. To be fair, I will say that the bosses and playable characters stand out from the undifferentiated mass of enemies and environments. The main characters have more detail and are more colorful than the standard enemy, although the camera is usually zoomed out too far to notice.
VERDICT
Moon Diver had a great deal of potential, but the finished product just isn't much fun to play. The game can be enjoyable for the first few levels, but the combat and environments are so repetitive that most players will get bored and not make it through all the stages. The cooperative play might help add some length to this title, since playing with friends tends to amplify the action (provided you can track what is actually happening on the screen). Although Moon Diver doesn't completely bomb, it certainly reeks of mediocrity. And in my book, that certainly means it is not worth the $15 price tag.
[Editor's Note:Moon Diver was reviewed on the PlayStation 3 platform. The game was provided to us by the publisher for review purposes.]