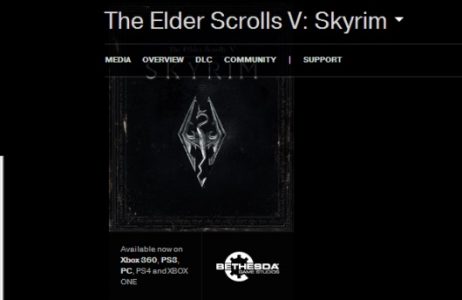 As one of the most successful games of the last generation of games, The Elder Scrolls V: Skyrim won the hearts of many gamers on Xbox 360, PlayStation 3, and PC. However, there had been no information about the game coming to next generation consoles, until today, when the official Bethesda website listed the game for both Xbox One and PlayStation 4 for a very short time, as can be seen in the image above.
The listing was very quickly removed, but not before being seen by the eyes of many. Pete Hines, the VP of PR and marketing at Bethesda, took to Twitter to clear the air about the posting on the site.
We have been working on the CMS that runs our sites. A bug caused platforms that don't exist to show up for some games Sorry for confusion.
This seems a little suspicious considering the way it showed up on the site in a actual listing of all platforms that the game is available. The question is whether this is the truth or a smokescreen to keep the game under wraps.