NBA 2K11 came out last year and it was the most iconic sports titles to come out in a very long time. This is because Michael Jordan was featured as the cover athlete and the game focused heavily on Jordan's whole career. NBA 2K12 has a hard act to follow but manages to improve on its predecessor and is a great game on its own right.
Without further ado, let's take a look at the HOTs and NOTs of NBA 2K12 to see if it's better than NBA 2K11.
HOT
Accurate Attention To Detail
When it comes to the NBA 2K series, nothing beats them when it comes to accurate authenticity. Much like in past NBA 2K games, each arena is modelled differently depending on the actual city they are in. Unlike in THQ's WWE video games where the Wrestlemania stage is inside a small arena that wasn't the actual place used in the real thing.
Other minute details that make NBA 2K12 so life-like is how NPCs react inside the arena. Most games you will see the crowd staying in their seat and cheering. This is the first video game I've seen where some crowd members are actually walking around during a match trying to find their seat. Not only did 2K Games animate this but they also animated the people who clean up the court.
It's little things like this that you have to admire the dedication that is being made to make these games as real as possible. Soon 2K Games might even animate people who are selling food to people too!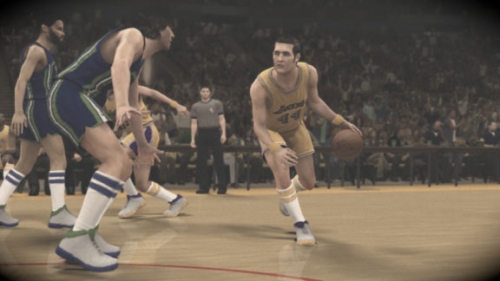 Presentation
Although the likes of Madden and FIFA look great, no other sports title apart from maybe Fight Night Champion looks as real as NBA 2K12. The graphics may look similar to that of NBA 2K11, but this isn't a bad thing since NBA 2K11 looked great on its own right. Players will get more sweaty the more minutes that they play in the game. Not only this, but you will also witness the sweat getting onto their jerseys as well.
Other commendable presentations made into NBA 2K12 is when you play during the game's "NBA's Greatest" mode. The colors of the game will change depending on the decade the team is playing in. If you're playing in the '60s, you can expect to play the game in black and white. If you played as Larry Birds' Boston Celtics, expect it to look fuzzy and for the team to wear tight looking shorts. It's this level of detail that is rarely seen when you play other sports titles.
Replays are also improved in last year's game. There's an all-new "director's cut" that you can use during instant replays so you can view those cool looking slam dunks with ease. All you have to do is press one button and the game will replay the dunk for you. This isn't like in previous NBA 2K games where you have to rewind and view the replay yourself…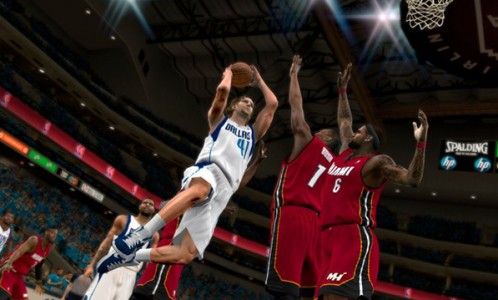 Gameplay
One of the things that was lauded about NBA 2K11 was its improved gameplay over its predecessors. NBA 2K12 is no different and offers a basket simulation like no other. If you're the type of gamer that wishes to run and slam dunk the ball all the time, NBA Jam may be the better game for you.
The A.I's defense in NBA 2K12 is much like in NBA 2K11. You will have to find an opening yourself if you want to dunk the ball. This consists of a combination of passing the ball around to your team-mates and smartly dribbling the ball around the defenders. Don't expect to pass the ball to LeBron James and expect him to perform dunks for you all the time. NBA 2K12 is as real as it gets and strong team work is the best strategy to employ if you want to win a match in this game.
NBA Greatest Mode
Arguably the best mode in NBA 2K11 was the "Jordan Challenge". Here in NBA 2K12, it's the "NBA Greatest" mode. It is here you can play as 15 legends and try to make their team when in some of the most memorable basketball matches of all time. You can lead the likes of Michael Jordan and his Chicago Bulls to victory or Magic Johnson and his L.A. Lakers. Once you play through each match, you get to unlock the legendary teams. I'm sure many people would like to see how MJ's Chicago Bulls fair up against LeBron James and his Miami Heat…
3D
NBA 2K12 is one of the only games on the market that supports more than one 3D mode. Whereas most games support the industry standard stereoscopic 3D, NBA 2K12 uses anaglyph 3D as well. This is the 3D mode that allows you to use the old red and blue 3D glasses. Although the image isn't as good as using a 3DTV, at least non-3DTV owners get to play the game in 3D.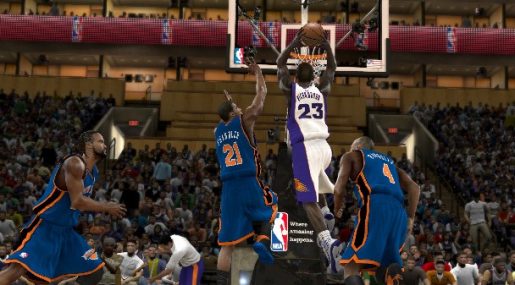 NOT
Teams are the Same
If there's anything that should stop fans buying this game, is that the teams are exactly the same as in NBA 2K11. This unfortunately due to the NBA lockout so the teams are from the late 2010 – 2011 season. There's no new rookies to play as and the teams have all the same players. Vince Carter (who grew a beard in 2011) is still clean shaven so some of the character models appear the same as well.
No Slam Dunk Contest And 3 Point Shootout
Criminally, NBA 2K12 has no Slam Dunk Contest this year. I find it bewildering that 2k Sports continued not to support it when it was first introduced to the NBA 2K franchise in NBA 2K8. NBA 2K8 had the most robust Slam Dunk contest but the gameplay got worse over the years especially when it was featured in NBA 2K11. It's sad to see them get rid of this and the 3 Point Shootout altogether in NBA 2K12.
Another gameplay element that is sorely missing is a traditional "one-on-one" match. The only street-style game you can play is a "five-on-five" match. Let's hope 2K Sports realizes how much we miss these modes and see if they re-introduce them in NBA 2K13.
VERDICT
NBA 2K12 is still one of the best sports titles that you can buy. It has the best graphics ever seen in the sports genre and the gameplay is as accurate to the real thing as can be. The only thing that may deter some gamers is the lack of other game modes and the lack of updates to the NBA 2K11 roster. Nevertheless, NBA 2K12 is a polished title in its own and all NBA fans should definitely pick this one up.
[Editor's Note: NBA 2K12 was played on a PlayStation 3 hardware. The game was provided to us by the publisher for review purposes.]
NBA 2K12 Review

,