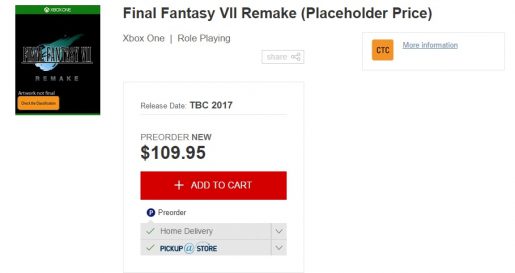 EB Games Australia has put up a listing for the Final Fantasy 7 Remake on the Xbox One platform. It speculates the game will be out in the year of 2017.
When the Final Fantasy 7 Remake was first announced back at E3 2015, it was noted that it would be a timed exclusive for the PS4 platform. This listing somewhat confirms that the game will indeed be eventually released for Xbox One owners.
The release window of 2017 is also interesting, although is yet to be officially confirmed. Rumors suggest the game will be out in 2017 in order to coincide with the 20th anniversary of the original game from 1997.
The game will be released in multiple parts, so the first episode is rumored to be out in 2017. Nobody really knows how many parts of the game will be, but Square Enix is promising that each part will be long with hours of gameplay.
Hopefully Square Enix announces more details about the game later this year. With Final Fantasy XV now out, more effort can be made to market the Final Fantasy 7 Remake. Not to mention we are still waiting patiently for news about Kingdom Hearts 3 as well. That's another game that's been long in production.