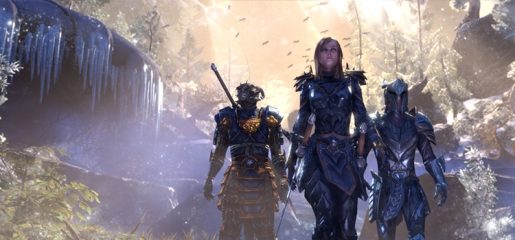 Bethesda is pleased to announce that starting this March 2015, the critically acclaimed The Elder Scrolls Online will be going buy-to-play to those who have never played the game before on PC. In other words, the game will no longer require a subscription fee when you purchase the game.
In addition to the exciting announcement that Bethesda did today, the release date for the console version has finally been revealed. The PS4 and Xbox One version of The Elder Scrolls Online will be coming out on June 9th. Just like the PC version, the game will be "buy-to-play" and it will be known as "The Elder Scrolls Online: Tamriel Ultimate".
With the game now buy-to-play, one of the things that will be coming to the game are microtransactions. Yes, there will now be a cash shop where you can buy cosmetics, XP bonuses, and other things that will make the game much easier to play. A new currency called Crowns will be used in their cash-shop and those who want to subscribe still will get allotments every month.
While the subscription is out of the picture, and the Crown Shop is coming pretty soon, those who still want to support the game can purchase a subscription to get bonuses. According to Bethesda, the new subscription service for ESO will be called ESO Plus and it will entail the following:
So, what do you get as an ESO Plus member? Let's go over the benefits:

An allotment of crowns to spend in the new in-game Crown Store based on your membership period (more below)
Access to all of ESO's downloadable content (or DLC) game packs for the duration of your membership
A 10% bonus to XP and gold gain, crafting research, and inspiration

Memberships to ESO Plus can be purchased in 30-, 90-, and 180-day durations starting at €12,99 / £8.99 for a 30-day period. When you sign up for ESO Plus, you'll receive your full allotment of crowns right away (1500 for 30 days, 4500 for 90 days, or 9000 for 180 days). If you purchase a recurring membership, you'll receive a full allotment of crowns at the start of each 30-/90-/180-day membership period. You can spend crowns in the in-game Crown Store to get unique mounts, special vanity pets, a variety of fun costumes for your character, and convenience items like health potions and soul gems.
As for the game content, Bethesda will give players an option to purchase it via DLC. If you want to expand your game and gain access to the new content, you have the option to purchase the DLC.