Right now nostalgia is at an all time high. Series are coming back, television classics are being remade and there is plenty of ways for satisfy this demand. One of the most surprising and best outcomes of this was finally seeing more of Twin Peaks, something that gave fans of a number of proprieties hope.  Following a Kickstarter campaign and years of hype, players are finally able to experience Shenmue III. With the series being hailed as one of the best things on Dreamcast, does it deliver what fans want or was it overtaken by similar experiences like Yakuza? Here's our Shenmue III Review.
Given how much demand there was for a sequel, Shenmue III takes place after the events of the first two games. For those who either played and forgot or never experienced them, there is a rather helpful video that brings you up to date. For sake of time, the story boils down to Ryo looking to reclaim a stolen mirror and potentially fulfill his destiny.
This is where the story starts in this adventure, but it is not the one that ultimately shows the outcome. This is a bold, but not entirely unexpected, choice. Sometime ago we learned there was a much larger plan for Shenmue in the past, but for those who want answers, well, it's a step closer to that but not much more.
Part of what makes the story so rough, besides this being more of a transitional experience than the conclusive one so many gamers were hoping for, is really presentation. This is quite possibly the worst voice acted game I've played since God Eater 2 and that says a lot. You can thank two bold and equally bad elements for that belief.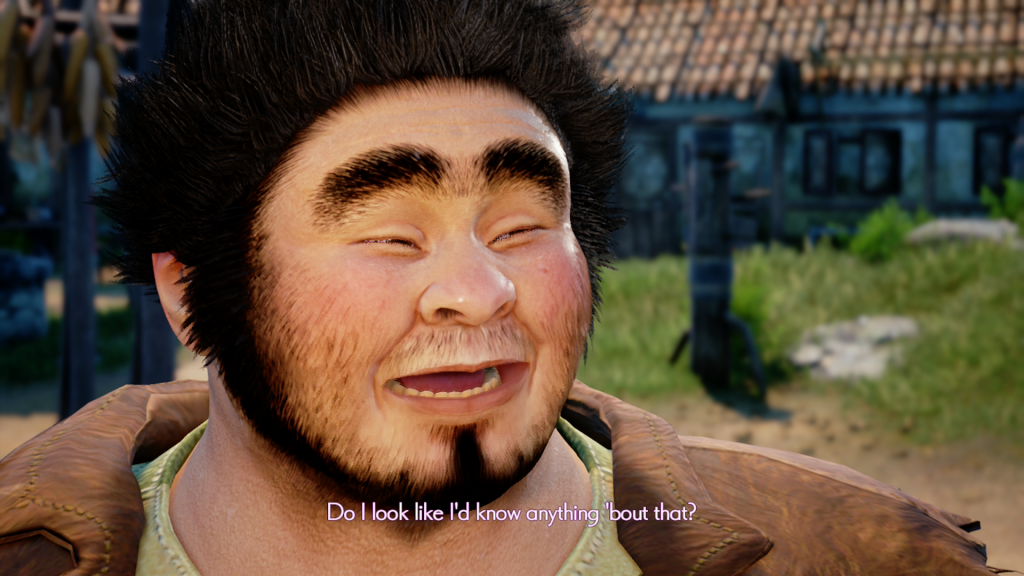 For whatever reason, voice actors project little to no personality in this journey. Even reading the subtitles presents two entirely different versions of the same statement. Like, one of the lines, according to the subtitles, is "The Dragon Mirror… stolen by Lan Di?!" yet it somehow reads rather passively with little to no inflection of a question or exclamation. You'd think it was more of a recap than a sudden realization of things. Even some sentences that you know should have emotion are stated in a way that you'd expect from someone talking about what they ate for lunch. Worse still, Ryo and the other characters don't really have a ton of character.
Outside of a couple scenes, characters are stiff and lifeless when talking about extremely important things. Just taking an extra step to, if not change the voice acting or previous character traits, at least give some of the new characters some range. Even a simple downward look or expressive range would go a long way to make something about this story stand out, yet it simply doesn't.
In a lot of ways, it feels like Shenmue III's problem is no is really sure what Dreamcast fans wanted, so they tried to make it as same as possible. Menus, books, tutorials, mechanics all feel rather clunky by today's standards, which is a shame given there are so many examples of how to do it better. Even some of the design choices make absolutely no sense.
Perhaps one of the most baffling choices can be seen in Shenhua's house. There is an upper platform, which activates a cutscene when you step up there and then another sandwiched between two loading screens when you go down. As nice as the attention to detail is, things like this are so needless and just one example of some of the baffling choices in Shenmue III.
Perhaps the worst part is combat. Not only does it feel devoid of life and is as hollow as it comes, it manages to feel like a step backwards for the series. There are just a handful of moves, very bland and even something like Dynasty Warriors offers a more satisfying experience. It's a shame, because the originals weren't perfect but they still managed to make a better experience.
Shenmue III Review – Verdict
In a lot of ways, this review could probably go on for a lot longer highlighting how dated and lifeless this game is, but the fact of the matter is it is meant to appeal to fans. It's hard to comment on how they'll feel, but this is objectively a bad game and while it has elements of being so bad it's good, such as the emotionless voice acting, making it hard to see the value in. It's a shame the series went down this path, given the struggles to get a third game made, potentially leading to fans not even wanting a fourth. Whether we get there or not, I think I can say with relative certainty, this was not worth the wait.
[Editor's Note: Shenmue III Review was reviewed on PS4 platform. The game was provided to us by the publisher for review purposes.]