One recent and welcome trend for Nintendo Switch is releasing smaller or more niche games with a number of goodies. Now, in addition to getting a game you love in a more preeminent and displayable form, there are some additional bonus items as well. My Friend Pedro is a recent example of this and includes a number of exciting goodies.
Right off the bat My Friend Pedro utilizes the main image associated with the game and there is a helpful sticker telling you this edition includes stickers, poster, reversible cover and OST.
The reversible cover continues with the relatively prominent title art and a chilling picture of the main characters. It's the type of image that stands out and makes for a little more interesting of a display piece than the traditional artwork. Between the two pictures is a delightfully yellow colored spine to match the imaginary banana.
Inside is a poster featuring the same title artwork we've already seen before. It's a good quality poster, somewhat thick and decently sized (Switch game case added for scale) that would make a decent thing to hang. However, like most posters included with Switch games, there are very visible fold lines and my poster already had some wear after unfolding it once.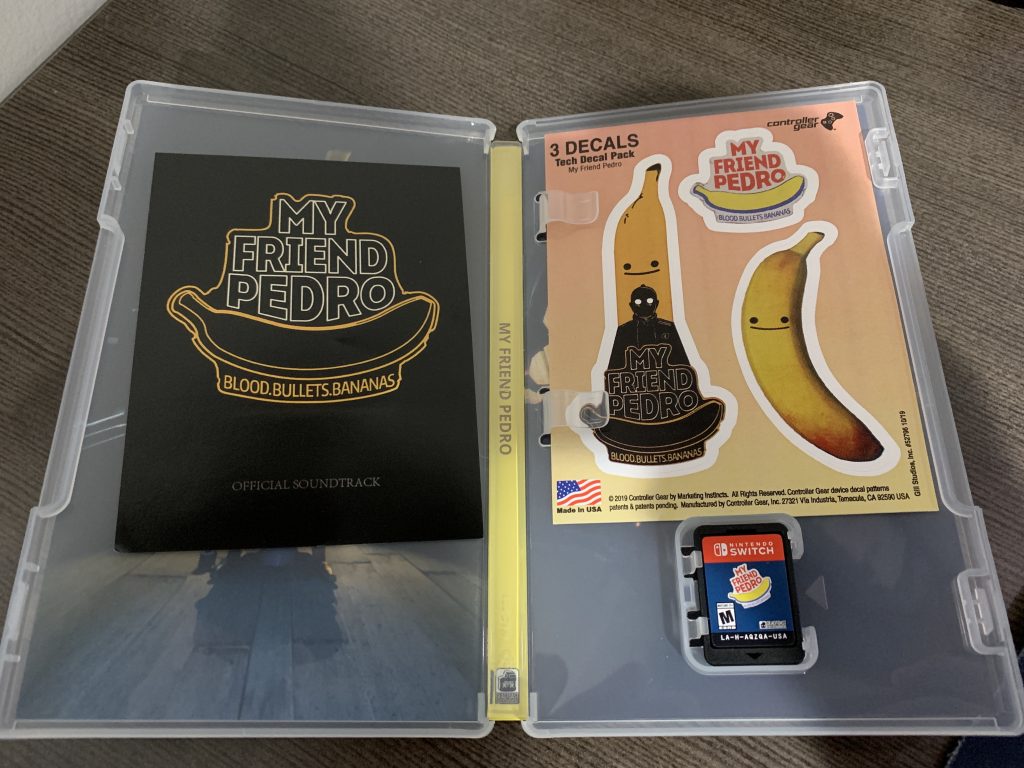 The remaining goodies include the game, obviously, play a couple stickers and the OST. The stickers offer a good amount of variety, while still highlighting elements associated with the game. Even if I just saw the banana on someone's laptop I'd know it related to My Friend Pedro over questioning what it relates to.
Finally, the OST is a redeemable code for Bandcamp. If you haven't redeemed a code via Bandcamp before, you can stream it or download it a variety of different ways. Downloads include MP3 (247MB), MP3 320 (289MB), FLAC 774MB), AAC (190MB), Ogg Vorbis (154MB), ALAC (792MB) WAV (1.2GB) and AIFF (1.5GB), giving players a good number of options to store and play this 42 song OST.
In all and all, it's a nice little bundle for anyone looking to check out My Friend Pedro or simply get whatever collectibles for the game you can get.