With the overall rise in quality, a lot of people equate good games in a rather narrow way. Sure, story, graphics, and longevity are all extremely important aspects, none of this matters if the game isn't fun. What makes a game fun will vary from person to person and between situations. This is where Mario & Sonic at the Olympic Games series found a lot of success. By taking a simple concept and adapting a number of quick, simple and extremely competitive games, it found a way to bring gamers and their friends together. After being impressed by what we saw at this year's E3, will Mario & Sonic at the Olympic Games Tokyo 2020 bring home the gold or does it fall short in the end? Here's our Mario & Sonic at the Olympic Games Tokyo 2020 Review.
I legitimately didn't think I would ever say Mario & Sonic at the Olympic Games Tokyo 2020 found a way to make an interesting story mode, yet it accomplished that. The story starts with Mario and Sonic getting a mysterious game system. Unbeknownst to them it was developed by Dr. Eggman and is part of his and Bowser's plan to trap the heroes in a digital world. However, due to a slight miscalculation, the pair gets sick of waiting for them to activate it and Luigi sends both groups to the digital world.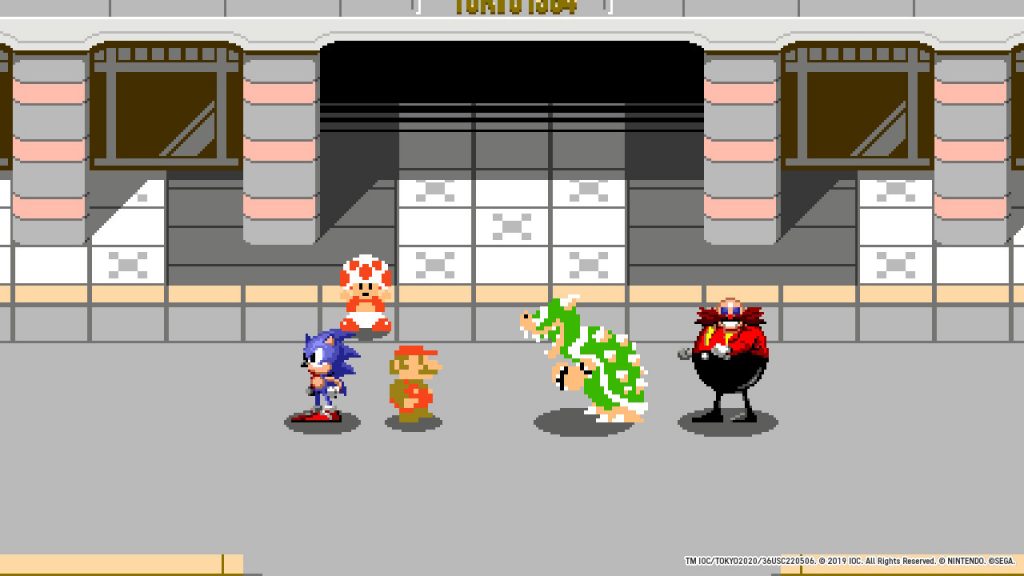 In this world they're now at the 1964 Olympic Games, which was also held in Tokyo Japan, with the added twist of everything being pixelated. Both Mario, Sonic and the rest are reverted to their iconic 8 and 16-bit sprites and forced to navigate through this world and a variety of events in this world. It adds a lot of novelty, if only for the fact that it pays homage to a number of elements from the past, making it interesting to say the least. While most of the charm comes from the sprites, you do have to also navigate through the present/real world and work together to win challenges and ultimately save everyone from the evil machine.
Outside of the amusing concept, story acts as a simple introduction to the mini-games. It doesn't need to be done, you're not even required to beat it to unlock them, it just gives you a nice excuse to play through them instead of just picking and choosing, plus, you might discover one you wouldn't have otherwise played.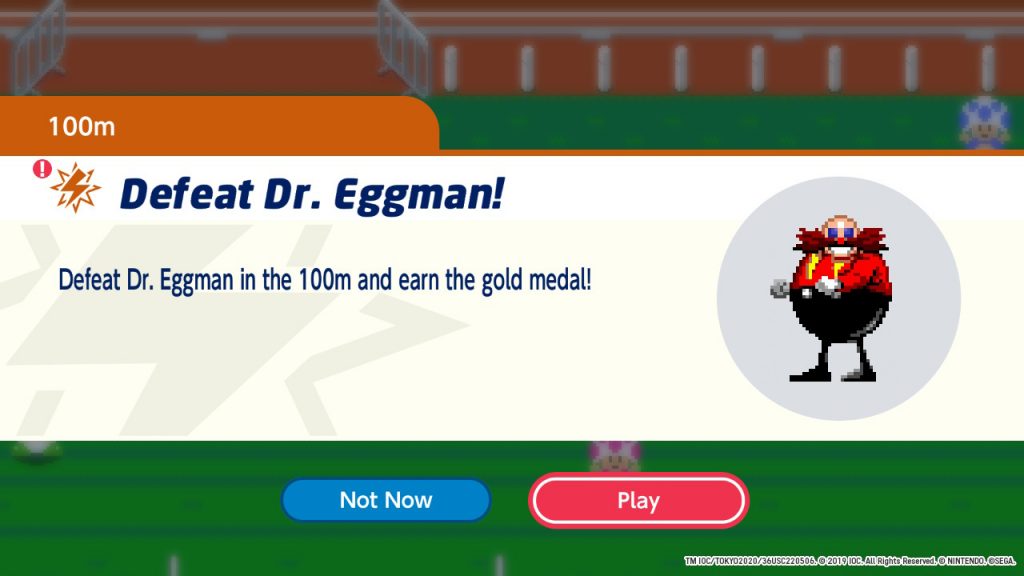 There are around 30 total mini-games, which capture a wide variety of sports and activities. Some are simple, such as 100m, 400m with hurdles, vaulting, whereas others are a little more complicated, including volleyball and table tennis. Much to Mario & Sonic at the Olympic Games Tokyo 2020's benefit, these games are largely incredibly accessible.
Take table tennis. I listed that as complicated because it's more than running forward, though you really only need to know when to swing your paddle. Characters move by themselves, meaning trajectory and hitting the ball are all you're expected to do. Regardless of how skilled you actually are, it's honestly easy enough where anyone could put up a decent fight, especially if you're not dead set on aiming the ball in a way that causes devastatingly hard returns.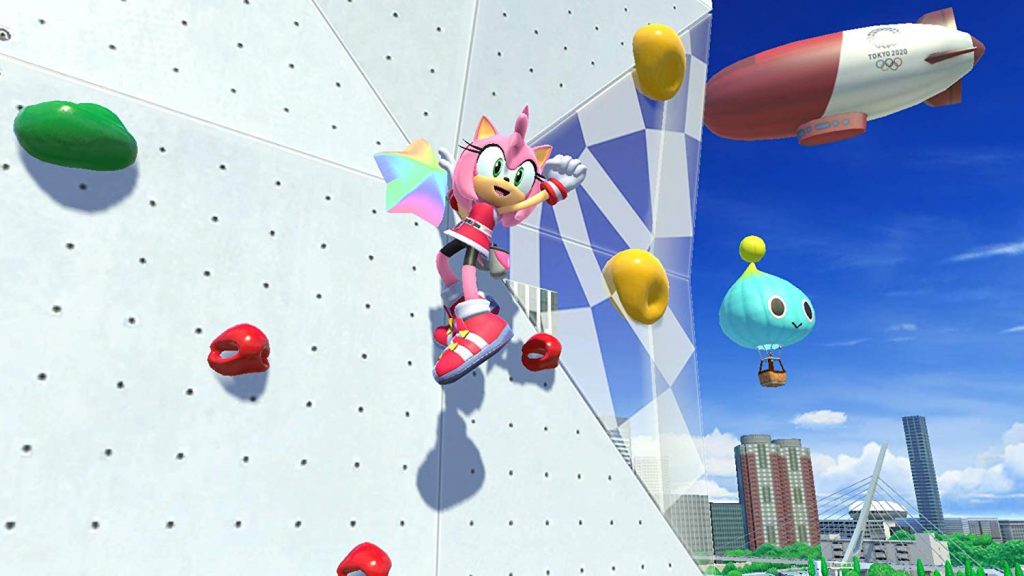 Most games are some form of pushing buttons at specific times and giving players limited control. For some this might be boring but in terms of playing against others, this is part of what made games like Wii Sports so good. Plus, there is the option to use buttons or motion controls.
While most games are simple enough, a few are deceptively difficult. Surprisingly, one of the hardest games for me to play was gymnastics. Even though you can win most though extremely simple actions or enough skill to make up for whatever you lack, gymnastics requires knowledge of button locations. So, if you don't instantly know where A or B is, you're either going to get the input wrong or fail to do the move, both of which negatively impact your score.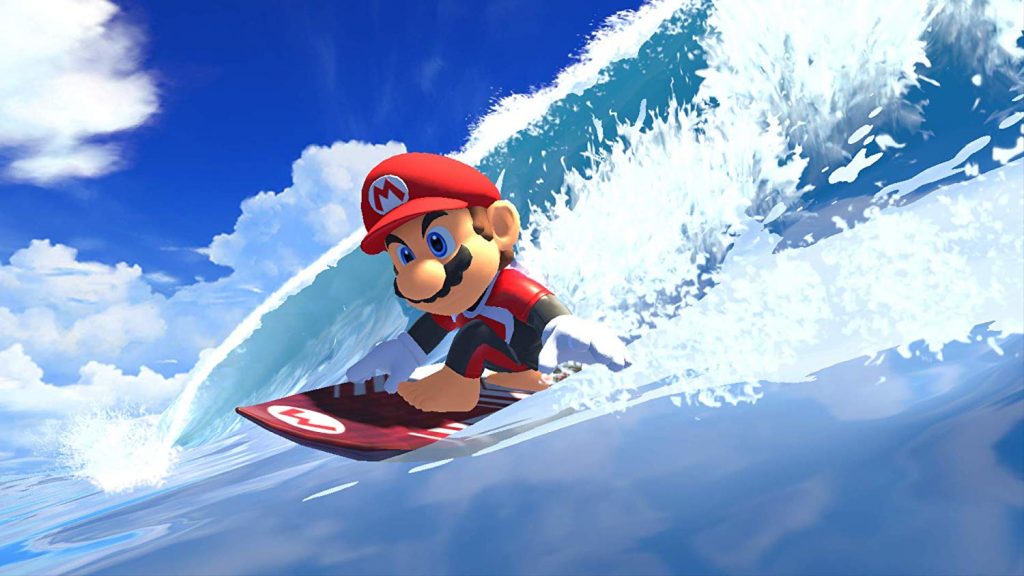 Another fairly tricky game are those that are a little more involved like surfing or skateboarding. Unlike other events, you're given some guidelines and need to make the most of your time. People who know what to do and how to do it will have a much easier time than those who just picked up a Joy-Con. That being said, these games also allow players to create different games where each player can have their own moment to shine. Even if I suck at something like boxing, I can overwhelm people at the 100m or javelin throwing. Especially if you select a character that matches your play style, given each character has some kind of advantage and disadvantage.
Mario & Sonic at the Olympic Games Tokyo 2020 Review – Verdict
Mario & Sonic at the Olympic Games Tokyo 2020 does a great job of giving everyone something to do. Some games are hard, others require specific skills and a few are all tricks, giving everyone something to do. They're also short enough where you can easily play a few without getting sucked into a long session. Best of all, these can be played online as well, meaning you can go international or at least outside of the house to prove you deserve the gold. Toss in a cute story and plenty to do and this makes for a fantastic party game.
[Editor's Note: Mario & Sonic at the Olympic Games Tokyo 2020 was reviewed on Switch platform. The game was provided to us by the publisher for review purposes.]