Even if the dream is playing console games on the go, a title like Overwatch never made the most sense. Given the extremely competitive nature and current cellphone or free Wi-Fi speeds, it felt like something you'd inevitably play at home. This isn't a problem per se, I honestly almost exclusively played my Vita at home, it just defeats the purpose. Still, it's a new platform, offers some changes, gives players a reason to try Nintendo's online network and is still, by all accounts, a game players like. With so much going for it, Overwatch could very well be the first third-party title to really legitimize Nintendo Switch Online, but can it overcome the systems shortcomings or is it just too demanding of a title? Here's our Overwatch Switch Review.
If you're somehow unfamiliar with Overwatch, it's a hero shooter where you work together to complete an objective. What makes it far more impressive than, say, LawBreakers, is how every hero has a place. Regardless of whether you can successfully play every character is not as important as knowing their quirks. There are offensive healers, defensive tanks and everything in-between, with it all coming down to the details. Where one hero might be great for whatever reason, certain game types and team formations might result in picking a different character.
What stands out is, once you realize how these characters are supposed to be played, there doesn't seem to be an outright bad hero. There are certainly heroes that do not match my play style and those that work best in certain situations but that balance is nice. And, given this version includes all the previous content, it's almost overwhelming for newcomers. But, the important thing isn't knowing what Overwatch is, as much as how it performs on Switch.
To be perfectly honest, it's a rather unusual experience. Using motion controls while attached to the system was awkward and despite thinking I could probably get use to them, I kept them off to make things simple. Naturally, the best way to play is with a Pro controller on the big screen, it faired surprisingly well with Joy-Cons. Given the size and shape they don't offer the best experience, especially for a competitive shooter like this, but it is good enough for anyone just looking for casual fun or run into a less skilled team.
Where the Switch version takes the biggest hit is honestly the divide between long time players and those just starting out. Despite cross-play not currently being a thing and no way to import progress, it doesn't stop those far more familiar with it to have an advantage and it shows.
As someone with limited experience with Overwatch, most matches are something of a learning experience. Where I struggle to avoid certain ultimate attacks and maximize my favorite heroes abilities, I ran into some teams that effortlessly overcame everything thrown at them. Not only are these moments humbling, they show that there is a lot more to Overwatch than meets the eye and helps me improve, even if it makes the game itself being a depressing race to the end.
Some of these problems are furthered by the sub-optimal 30 frames per second cap. There are times when I think a better rate would've resulted in a different outcome, some not always favoring me, making it frustrating for anyone use to experiencing it at a higher frame rate. Similar issues extend to graphics and overall performance.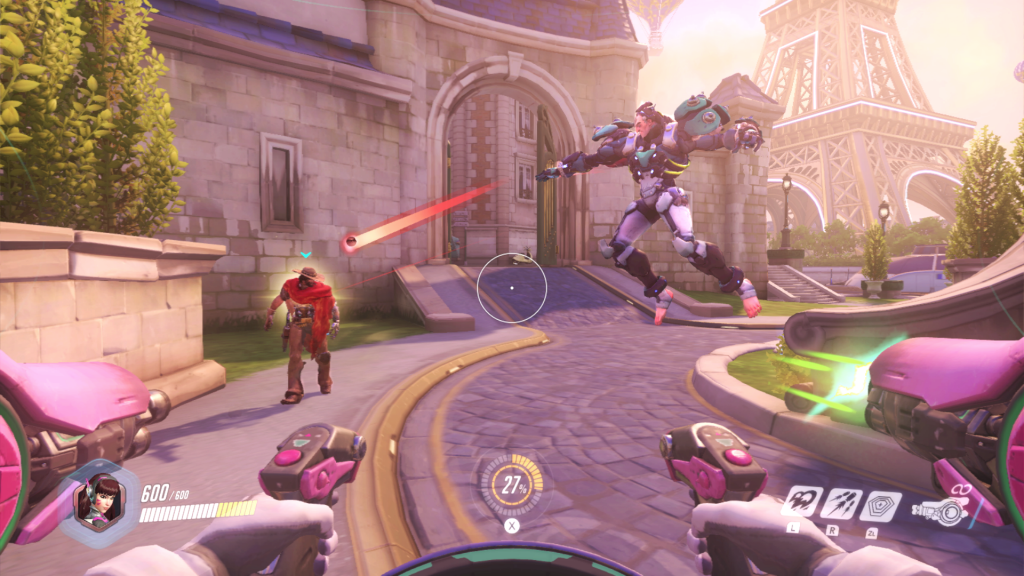 Arguably one of the most impressive things about Overwatch on Switch is, despite being fuzzy in certain areas and having an obvious decrease in visuals, it's still a pretty game. It isn't like playing a game that looks like a PlayStation 2 game ported to Switch, as much as a lesser version of what can be found elsewhere. I personally expected far less, making this a slight win. However, performance can be a mix bag.
When a lot of things are going on, like a big shootout and someone uses Hanzo's dragon ultimate, there can be some slowdowns. This is honestly to be expected, but I would go a step further and say it happened less often than I thought. This could be less of a function of good programing and more to do with players being less experienced and situations aren't as demanding as they should potentially be, so it's just important to note performance is generally good but can get worse.
Overwatch Switch Review – Verdict
It's honestly really hard to rate Overwatch. In the time I played I enjoyed it enough to make sure I had Nintendo Switch Online time to play beyond the initial week and considered finally purchasing it for PlayStation, but it's easy to see why this is the worst version. Still, it has all the previous content, enough disadvantages and reasons to keep the player base on the easier side and more to normally net this an Editor's Choice award, it's just the Switch's shortcomings that hold it back. Performance issues weren't uncommon, it's best played in a way that favors literally every other platform, is potentially another subscription cost and more. Still, no matter how many negative things I can come up with, it doesn't change the fact I had fun. And, in the end, that is enough to add value for those die hard Switch fans out there.
[Editor's Note: Overwatch was reviewed on Switch platform. The game was provided to us by the publisher for review purposes.]