Autonauts is a new game from developer Denki and publisher Curve Digital, proudly describing itself as made in Scotland. The cutesy low-poly aesthetic is a common sight nowadays but Autonauts stands apart from other games with similar appearances – this is the latest entry in what I'm happy to call the flourishing automation genre, having more in common with Factorio than almost anything else.
At its heart Autonauts is a colony builder game, but unlike most of those you play as a single character controlled with WASD from a top-down perspective. Initially you are all alone carrying out staple crafting activities of collecting sticks and stones to make basic tools with which to cut down trees and dig holes. This initially very low-tech approach is a little jarring considering you arrive on the randomly generated map in a rocket presumably from space. However, things begin to make more sense as you get into the meat of the game and build your first robots.
The game has a tutorial which takes you through these early stages step by step, directing you to set up a basic forestry gathering loop with you early bots. This is not a simple process. The robots you have are not great at thinking for themselves and need to be told exactly what to do. This is achieved by showing them the tasks you want them to carry out which are then displayed in a simple flowchart which lets you edit the order and add looping conditions like 'carry out forever'.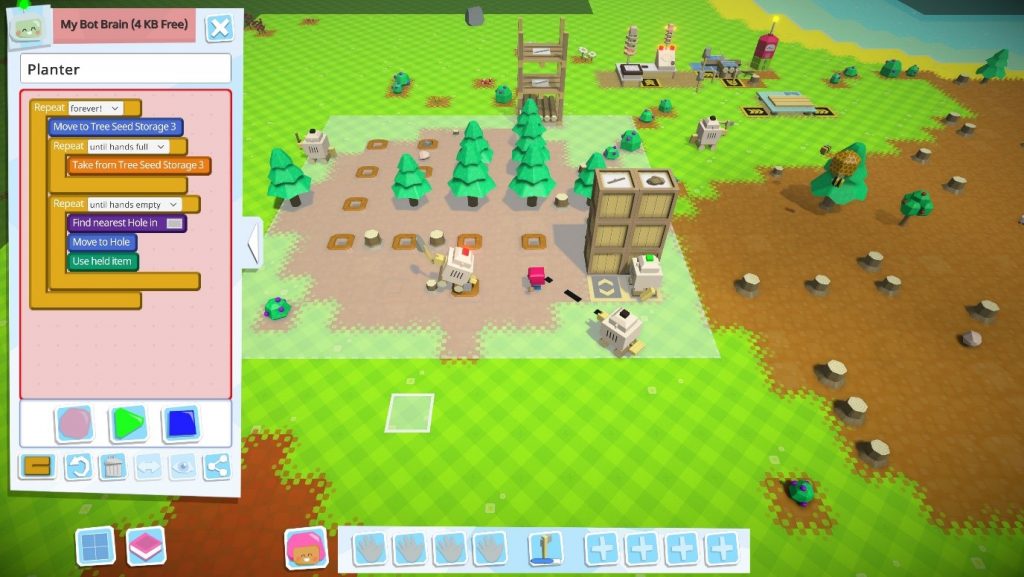 That sounds simple enough, but let me describe the process for setting up a successful forestry industry. First you need a robot to chop down the trees. Then you need robots carrying the logs away to storage (which can then be processed into planks and poles). Another robot is needed for gathering the sticks and acorns which also fall from the trees when they are cut. Then, you need a further robot to dig fresh holes to replant trees and another to take acorns from storage and plant them in those holes.
That doesn't sound too bad, but then you have to factor in the fact that these robots use the same basic tools you do which degrade as they are used. Therefore, you need to set up tool production to take the sticks and combine them with the stone you also need to set up mining for. All while making sure resources get appropriately stored and the digging/chopping robots are properly set up to get new tools when the ones they are using break. Oh, and these are all clockwork robots which need to be wound up regularly, so you need to set up more robots to rewind them, and to rewind the rewinding robots.
What at first seems simple in Autonauts really isn't, but that makes it all the more satisfying when you do set up a working system. This can also be done at your own pace – unlike almost all games there are no existential threats which need to be fended off so you can sit and optimise these processes as much as you like. This really matches the visual and audio tone set by the game – everything is bright, happy and relaxed both in presentation and gameplay.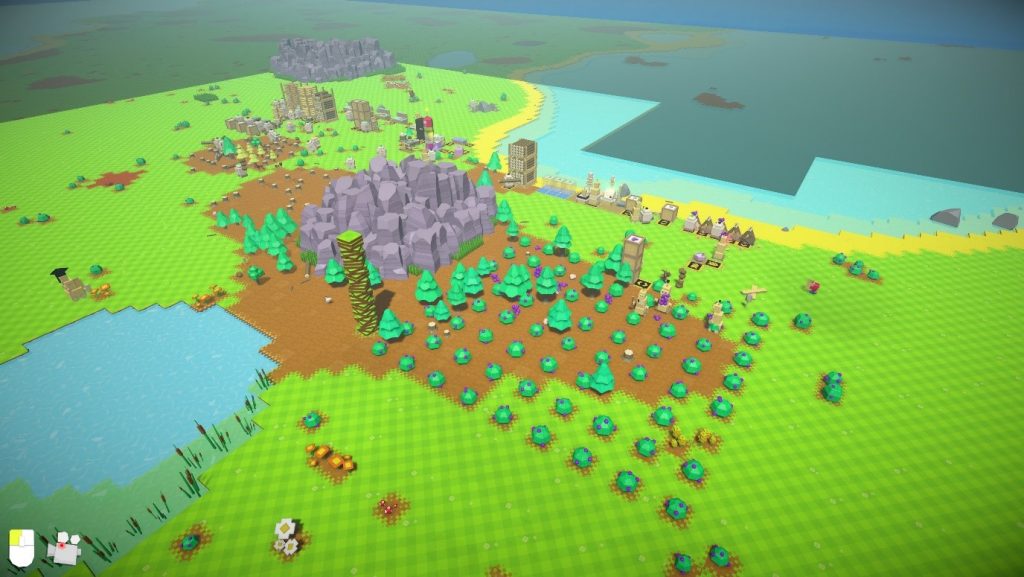 Once you have a few basic production chains under your belt the next step is to acquire colonists to look after, which fuel the research system. These colonists are initially literal babies which you just need to feed to get them to produce 'Wuv', the research currency. There are many types of food available all with different production chains, with those being complicated further later as you research the ability to make more complex food rather than feeding your colonists raw berries.
Eventually those baby colonists will 'evolve' and require shelter on top of feeding, requiring you to set up a little hut for them which needs regular maintenance in the form of fresh wood. This development continues with the colonists having progressively more complex needs to fulfil, requiring you to set up more and more production chains which often interconnect.
There is a large amount of research to complete associated with a huge number of production chains so there is a lot to do here. Due to the nature of the game you are almost constantly generating fresh puzzles for yourself, which is the core of this and similar games. Autonauts gives you all the tools to come up with many different solutions to these problems with the bot programming in particular giving you a huge number of tools to play with. There is a lot of depth to it and it is easy to spend a lot of time fiddling with the orders of just a few robots to get things perfect, before realising that not paying attention to the rest of your colony has led to many production chains breaking down due to those bots not having perfect orders themselves.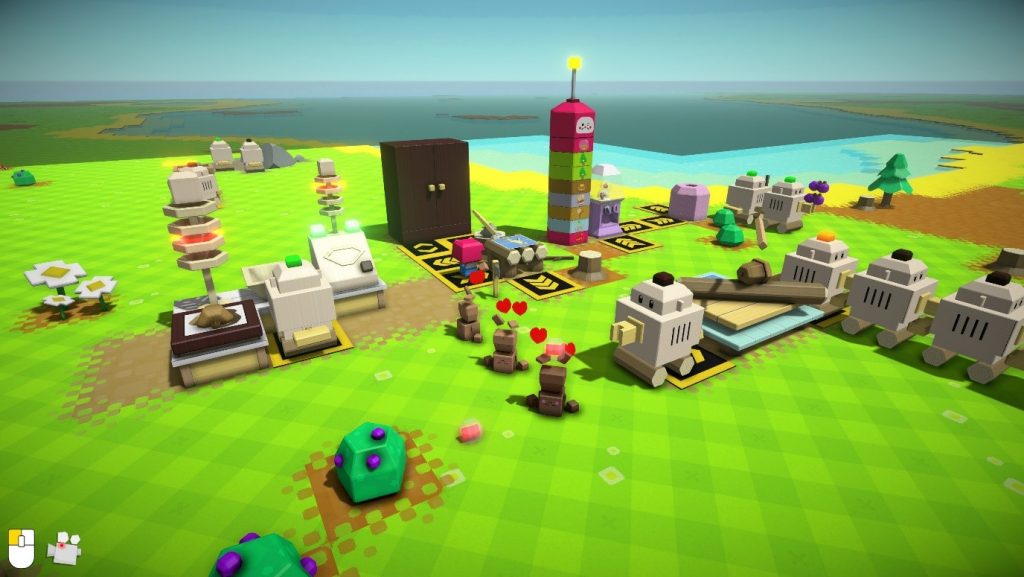 Another aspect you can really customise are those bots themselves. While early bots are a single construct later ones are built of separate parts, with different heads, bodies and drive units available. This lets you customise them on a visual level, as does the ability to get them to wear clothing which can be crafted, but it goes beyond that with the ability to construct upgrade components. There are many upgrades including such things as giving the bot a larger search radius, better carrying capacity or letting it move faster. In a lovely touch these upgrades also visually change the robot. My favourite of which is that if you install more memory, to let the bot have more steps in its tasking order, the head is enlarged.
The game is well polished with a clear and cheerful user interface and good support for high resolution monitors, albeit with not too many graphics options to adjust. I didn't encounter any significant bugs though the fact that objects can be stacked infinitely (or seemingly infinitely) on a single tile can look a little odd, leading to such things as huge totem poles of improbably stacked axes.
Overall Autonauts is an excellent game with an impressive and surprising amount of depth and enough content to keep things interesting for a significant period of time. The bot programming is very satisfying and could also be a good introduction to the principles of computer programming, which is good as the cute art and peaceful nature of the game make it ideal for children as well as adults. In an ideal world I would have liked to see multiplayer support as it would have been a lot of fun to build up a colony with a friend but the game offers enough to keep me coming back anyway. If you liked Factorio or Satisfactory then this is a good option for when you want something in a similar vein with a bit more of a chilled out feel.
[Editor's Note: Autonauts was provided to us by the publisher for the review.