One of the downsides to appealing to a niche, is you limit your potential user base. Even if you have a fantastic product like Disgaea or Steins;Gate, a lot of people simply won't experience it due to the gameplay. This was always something of a struggle for Utawarerumono. Tactical visual novels are certainly interesting, it's just a big bet, which is why Utawarerumono: ZAN! makes so much sense. Adopting a more action paced gameplay experience with an introduction to the story, it functions as a rather unusual spin off. With simple mechanics, a thrilling story and plenty to unlock, will it make you a fan or turn off a number of gamers?
Utawarerumono: ZAN! is an abridged version of Utawarerumono: Mask of Deception. You'll get the broad strokes and have a general idea of what to expect, though nothing coming close to the original experience. This makes it a bit rough for newcomers, especially when some of the big revels and important plot points are revealed almost immediately. Also, since the source is a visual novel reduced to a few hour missed based game, a lot of it is sadly lost in translation.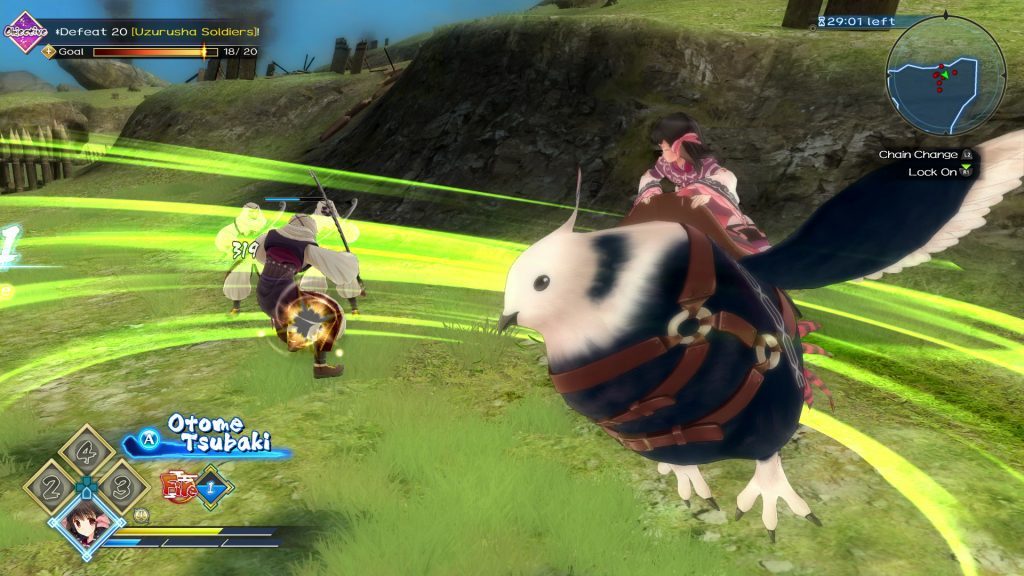 As disappointing as that might be, the secret advantage is giving both experiences a reason to exist. This is different from, say, Dragon Ball Z where it might take 20 times as long and be a lot more satisfying but you know practically every plot beat. Here it's a lot like Game of Thrones adaptions ending. You know where the characters end, but everything else is still fresh. This is nice because the original is a lengthy adventure though foes and sinister plots.
While it goes largely without saying Utawarerumono: ZAN! is designed with fans in mind, gameplay is nowhere near as deep as the core titles. Here we have something quite similar to Dynasty Warriors. The main idea is to take your party of up to four characters through a variety of stages, moving from objective to objective. Most are little more than defeating enemies in one way or another, though a rather small world.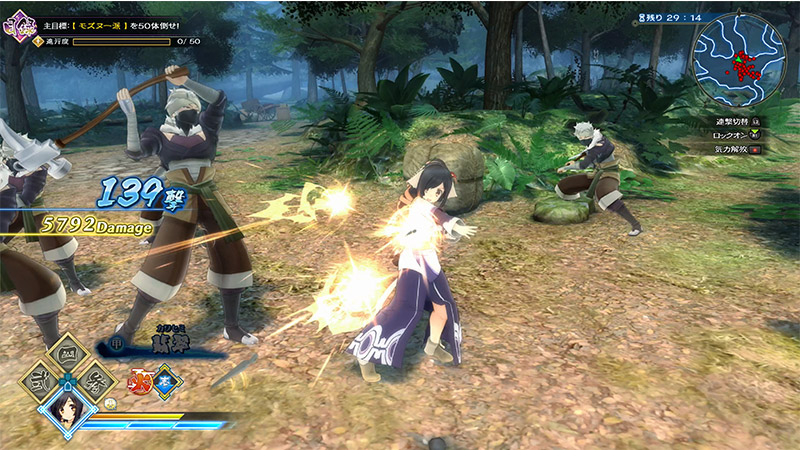 This is not aided by the rather lackluster gameplay loop. Between wide attacks, limited variety and a small cast of characters, you perform largely the same tasks against fairly dumb foes. There really isn't an instance where enemies give you trouble and even if there is, the leveling system makes it pretty easy to keep any challenge at bay.
Progression does unlock costumes, modifiers and different skills. These skills are your ticket to variety and a reason to progress, making them invaluable. Also, much to Utawarerumono: ZAN!'s credit, characters do have a fair amount of variety. Between fans, swords and a giant Hororon bird named Cocopo most feel different, just like there are more than your run of the mill mercenaries to defeat.
Between missions you can upgrade perks, obtain equipment and further enhance your team. Customization and options are, regrettably, rudimentary, though engaging enough to be worthwhile. There are also other things to collect, such as costumes, and side missions that offer a little more variety to a rather simple experience.
Verdict
There really isn't much to Utawarerumono: ZAN! Considering a 30 or so hour story is reduced to a roughly six hour campaign, a lot is left on the cutting room floor. Gameplay is fun, in the mindless overpowered way, it just doesn't take long to see it. This, unfortunately, gives Utawarerumono: ZAN! a feeling that it is less for those unfamiliar to check it out in a different setting and something closer to what anime/manga fans get. A basic adventure that relies more on the feelings from the source to sell it. For some this will be enough, just don't expect the most fulfilling story if you have no experience with the franchise.
[Editor's Note: Utawarerumono: ZAN! was reviewed on PS4 platform. The game was provided to us by the publisher for review purposes.]