A lot of people compared The Surge to the Soulsborne games. It was both a fair and unfair assessment, as it's clear it wanted to be something similar, yet did a lot to make it different. Many of the complaints were actually how it differed, showing a lack of appreciation for its own unique spin. The Surge 2 tried to address these concerns with a number of improvements, most notable location, while furthering the adventure to a new place and situation. As nice as this is, will it be enough to make The Surge 2 great or is it still a poor imitation? Here's our The Surge 2 Review.
The Surge 2 takes place after the events of the first game. A this point the nanites have far more control than just the Creo building and threaten to take over everything. It also confirms that while Warren failed in the first game, he did not perish as some thought, along with some fun teasers of both the past and future of the franchise.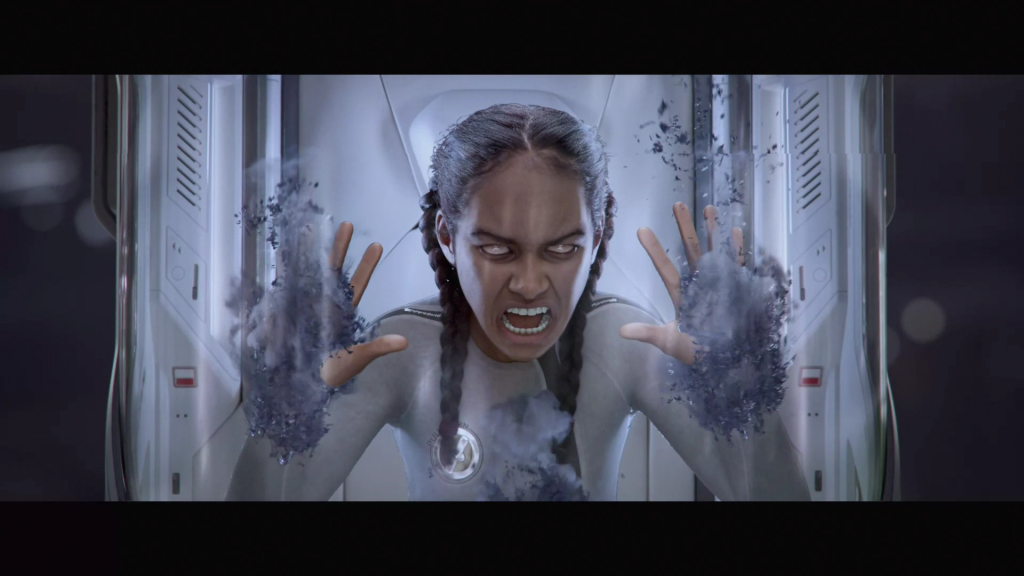 As for this adventure, it follows a tried and true apocalypse storyline about a cult and their impact on the world around them. It makes for an interesting contrast to Borderlands 3, an adventure I finished before starting this one, where it might be an apocalypse and you're fighting to stop a cult, though The Spark is far more terrifying.
If there is really a complaint about this adventure, it's how scatterbrained it is. You start by being the only survivor of a plane crash, only to end up helping those around you. Even if most of the storylines eventually come together, there is a certain sense of randomness being sent to kill this person or going to this place to put a stop to this and that. It ends with a climatic showdown, with stakes higher than anything story or audio log ever suggested, only to fizzle in the final moments. I'd love to further discuss how this adventure unfolds, but The Surge 2 is not about the story, as much as the experience.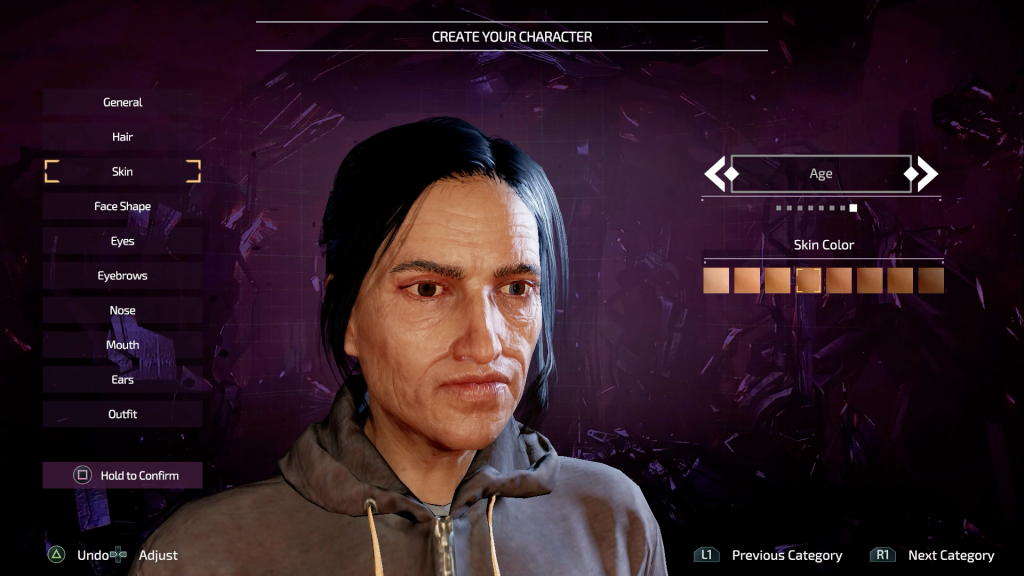 Arguably the biggest complaint in the original was direction and navigation. In so many ways I'd argue The Surge 2 is worse. Most of your directions are conveyed through text and text alone. You get orders like, go to the Cloud 9 bar and then you use one of the many handy maps laying around the world to figure out if you're going in the right direction. It eventually makes sense, though it might exceed the amount of time most will invest, it's the shortcuts that prove problematic.
Despite being a shockingly small world, The Surge 2 manages to feel so much larger than say Borderlands 3 because there are so many different ways to get around. The problem becomes, even if I have 20 different paths to the exit, remembering the fastest or best route is often quite difficult. Out of all the things I realized on my second playthrough it was how many times I could've turned a corner and cut five minutes out of my walk here or 10 minutes out there. It also leads to a lot of disappointment.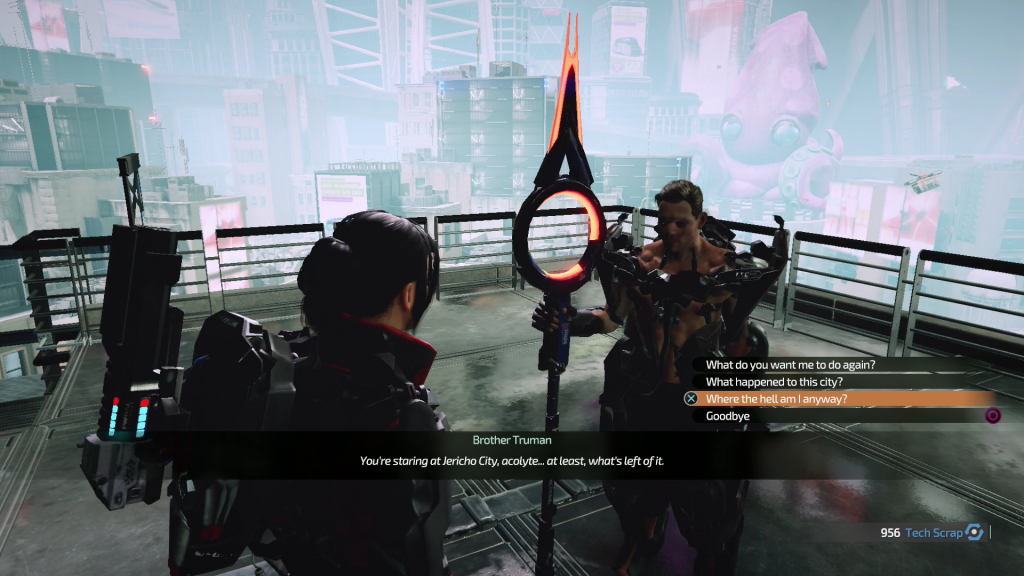 No matter how many secret or alternate ways you go, most lead to a shorter path to that location and/or some scraps (cash). For less skilled or newer players, a bunch of shortcuts can be extremely helpful but for veterans it is just underwhelming. Especially when you've spent a bunch of time exploring, find a different path and it leads to a door that takes you back to the beginning. This is just one of many underwhelming elements.
Where The Surge had gear sets and perks for using said sets, it wasn't explained in the best way. Here, players can see which pieces are giving you perks and what everything does. However, the skills are entirely too conservative and disadvantages way too apparent to ever justify using a full gear set.
I believe I have one or more pieces of every armor set in The Surge 2 and at most A.I.D. Centauri is the only set I'd say might be worth wearing the full thing. But, even that is pushing it. Regardless of how useful the melee attack damage increasing skill is, compared to my current set I'd be losing close to 200 defense and countless more perks. Even the postgame sets make more sense mix matched than complete.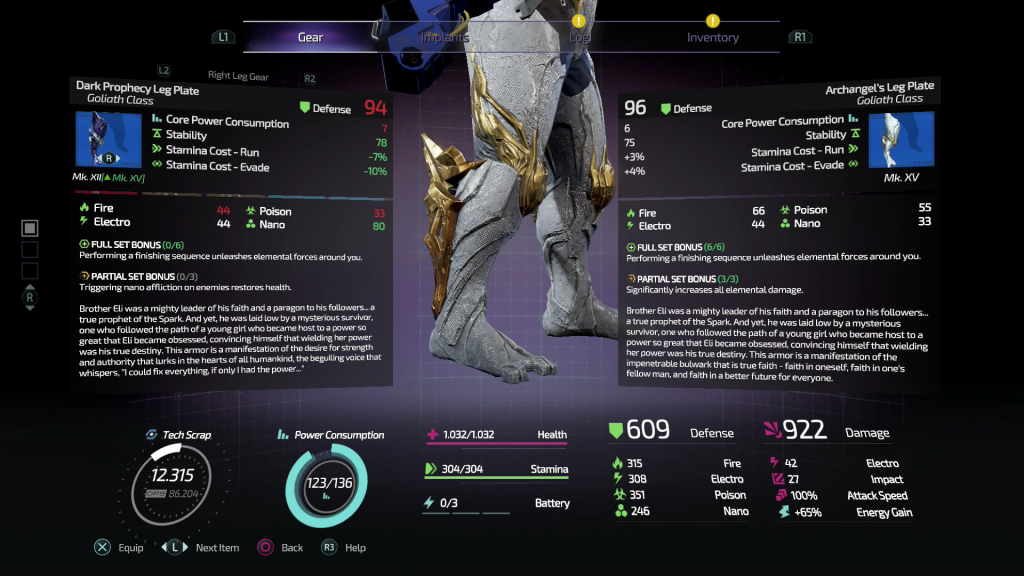 If I use the helmet, body and arms of the Archangel set I get 4 percent less stamina consumption, 6 percent more damage against armor, 1 percent more unarmored and 1 percent less impact but 1 percent more attack speed per arm. Supplementing this with the Dark Prophecy legs reduces my stamina cost to run by 10 percent and evade by 14 percent per leg. Reducing the cost of evasion by nearly 30 percent is going to beat almost every armor perk, just like doing 6 percent more damage to armored enemies and 4 percent better stamina consumption is just icing on the cake. Not to mention, the full armor set perk for either set will randomly attack enemies, resulting in me having to kill five NPCs and countless more peons it felt a need to bother. But, in any case, there typically isn't a lot of change in The Surge 2.
Regardless of there being 30+ armors and 80+ weapons, it only makes so much of a difference and sometimes certain stats far outweigh the negatives. In my case, I predominantly used an electric spear. That and the EMP drone were more than enough to shock lock most enemies. Even if the spear I use is objectively among the worst, I obtained it after the second boss and beat almost every enemy through New Game + without ever changing or feeling like I needed to. The same is true for armor. Most have a negative that evens out whatever positive you might get that once you find what works, you can go up forever and with enough skill it doesn't really matter.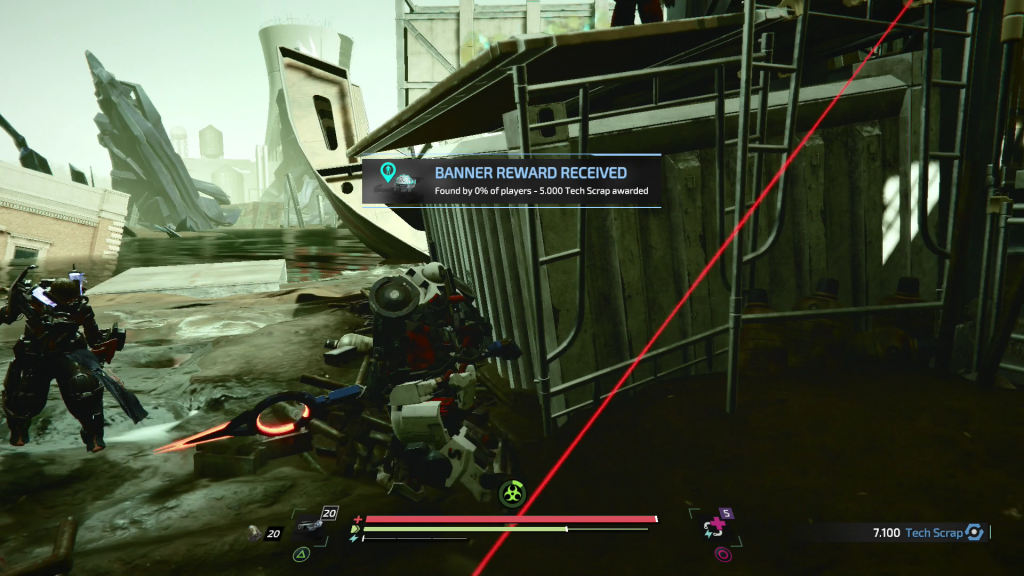 Despite all the criticism, gameplay remains as simple as before. You can make yourself as powerful as you want or as weak as you need to get the experience you want but it doesn't change the fact most enemies can be steamrolled with the right build. Similar to how a twin-rigged weapon could almost stun lock enemies to oblivion, like I mentioned above, my spear can overwhelm most foes.
I believe there was a point where I fought roughly eight enemies at the same time, none of which could even be stunned, and was still able to overwhelm them by using my spear. I believe I even walked away from that fight with full health, not that they didn't do their part to hurt me, just certain combos trivialize difficulty. It's to the point where on my first run I was able to out heal the final bosses onslaught.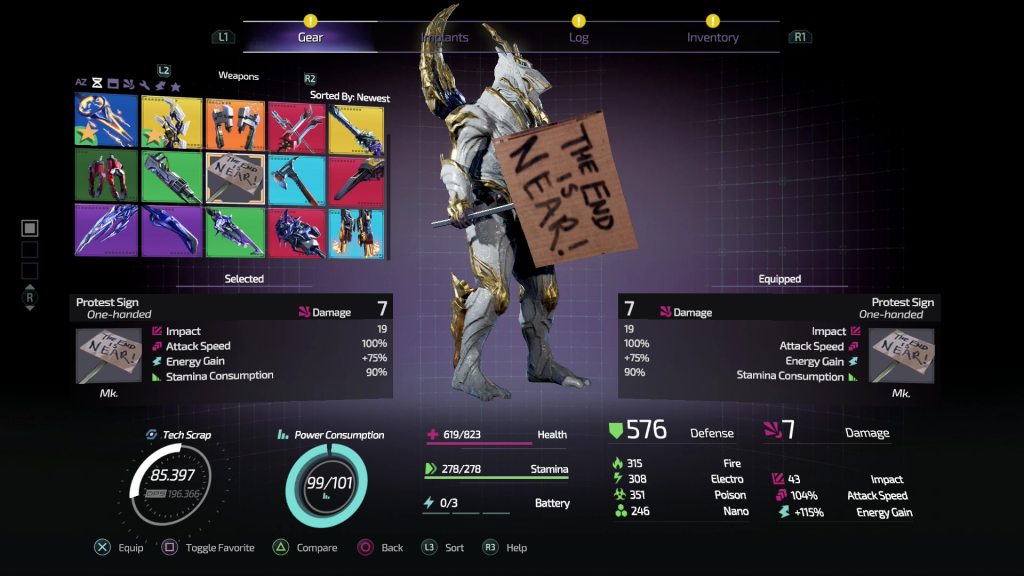 And it's a shame, since The Surge 2 starts with a good balance of difficulty and accessibility. It felt like an adventure game where I could be reckless, though I would suffer some consequences for my cavalier attitude.
Verdict
I could probably explain The Surge 2's shortcomings for another 10 paragraphs, but it doesn't change the fact that it's a fun game that makes a lot of mistakes. Considering there are over 80 weapons, though I only felt the need to use one, is disappointing, just like armor sets skills that are inferior to what you'd gain from using different pieces. Toss in a fairly random story about a cult, lackluster graphics, probably one of the hardest games to navigate I've ever played and it's easy to say The Surge 2 manages to build on the original but it isn't to the point where you should be rushing out to play it.
[Editor's Note: The Surge 2 was reviewed on PS4 platform. The game was provided to us by the publisher for review purposes.]