The great things about MMORPGs is the idea of there being a long road ahead. There will always be a quest to complete, bond to form, item you need or place to explore. So, when Black Desert was announced for PlayStation 4 at this year's E3, it was quite exciting. Similar to Phantasy Star Online 2, which was announced for western release at E3, it's more of an action RPG, allowing it to cater to a wider demographic. With years of content before it, a fan base so dedicated it has had a recurring E3 event and tons of players, is it something MMORPG fans must play or is it just something to do before the next big release?
Considering this is an MMORPG, there is a lot of things going on in Black Desert, but the story is broken up into two distinctly different stories. The main one follows the black spirit, with main locations getting a central conflict for you to deal with. Despite being a rather lengthy read, the story involving the mysterious spirit is oddly engaging. There is plenty of lore attached to its history and as you progress it becomes increasingly clear things are not as they seem. If you're one of those people looking to get every detail under the sun, there are also plenty of optional quests to fill in more backstory than anyone could ever want. However, if you don't care about the lore, there isn't anything to stop you from simply skipping it.
What makes Black Desert enticing isn't the story as much as gameplay. As mentioned above, it's an action game, so everything happens in relative real time. Leveling unlocks new skills and abilities, which will help you in a variety of situations, with story doubling as a way to introduce you to the world. There is a lot to take in, so much that you might be overwhelmed, though it also takes a bit for everything to matter. You can honestly finish a good portion of story just casually picking up gear as you go.
As someone who really enjoys fast paced combat, Black Desert finds a good balance between blitzing foes and fearing their attacks. No boss can be steamrolled as much as you can get your attacks in provided you know how to maximize your skills and dodge. I mostly played as an archer, so this was ranged attacks, explosive dodges and a knife for close range. Plus, things like stamina and arrows aren't a concern, so you can endlessly attack and shoot foes if you so desire. It's just things like evasion and certain attacks that consume it.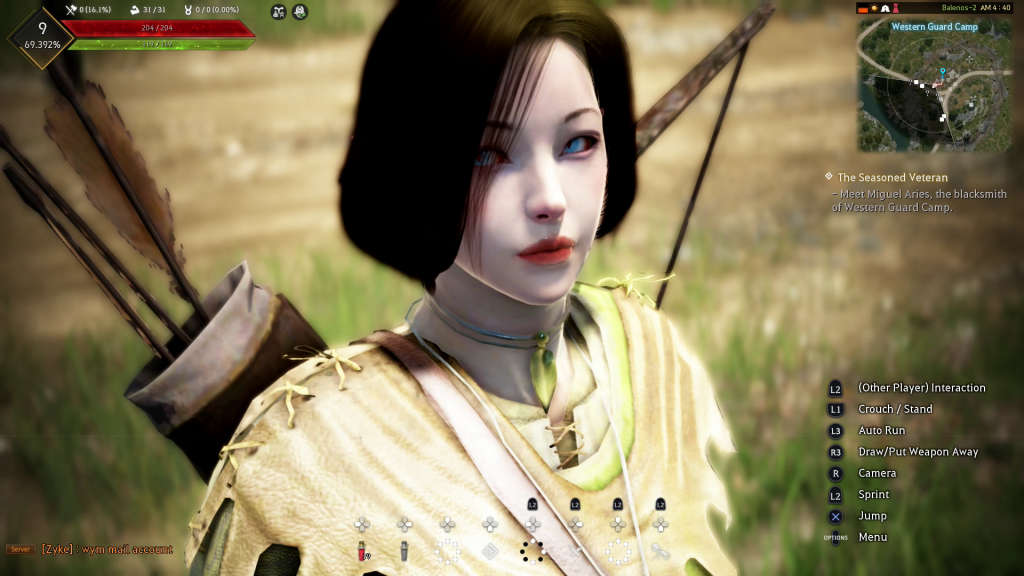 Even if it sounds like Black Desert is a slam dunk, it's held back by a number of negative choices. Controls take a bit of getting used to, as certain attacks require specific inputs, with other things being easy to accidentally trigger. I constantly found myself evading, because two quick movements to the side triggered it. I constantly had that issue with Evasive Explosion Shot and Dagger of Protection. During my dagger attack, if I move in any way, it activates Evasive. This will consume my power, leaving me open to attacks and throwing off my momentum, making it less than ideal.
The menu system and quest system are a bit too cumbersome and glitchy. When you open the menu you're given a large grid with 33 options, several of which you'll never use (EULA, Privacy Policy, etc), with any selection going to its own page and backing out sends you out entirely. It takes a bit of getting use to and more annoying than it needs to be. Quests also like to glitch or not auto select, so you might get a waypoint that leads nowhere or have it stuck on the previous task and need to be selected a second time to actually show the right location.
Stages and fights also tend to be a bit on the laggy side. Even with 400+ mbps and having only slight issues with games like ESO, I found a lot of models were slow to load or locations were incomplete. Even fighting enemies would occasionally have a pause. Given the demand on the servers I'm okay with giving it a pass in terms of score but it should be something you consider going into this adventure.
Verdict
Black Desert is a beautiful looking game with plenty to offer, it just has a bit of a learning curve and some rather annoying design choices. In a lot of ways, I could see it being a fun game you casually play and enjoy with a friend or your guild, but it doesn't seem to have the same inviting feeling Final Fantasy XIV or ESO have. This is a shame, though a lot of things can be fixed with patches. Plus, the core concept is at least fun enough to make it worth the initial investment.
[Editor's Note: Black Desert was reviewed on PS4 platform. The game was provided to us by the publisher for review purposes.]