Unlike March of Sacrifices, which is relatively straightforward, outside of the hidden boons, Moon Hunter Keep has a little more going on. With new mechanics, some powerful enemies and frightening moves, it's the type of place that requires a guide. Thankfully, this guide will make Moon Hunter Keep a lot easier.
Basic Tips
For this dungeon you just need the standard healer, tank and two DPS formation and stay away from stranglers. If you activate one, make sure you kill them quickly and/or save allies, as they will heal enemies and make things take forever.
Jailer Melitus
This is a relatively straightforward boss. Stay a mid range, wait for him to use his geyser attack and avoid them at all cost and kill the adds as quickly as possible.
Hedge Maze Guardian
Similar to Jailer, damage the boss until adds spawn and kill them as quickly as possible. While the adds here are not really threatening, they will heal the boss and make it impossible to kill. Outside of that, make sure to look out for roots. They're not going to one hit you but getting caught does continuous damage, which makes it harder for the healer/easier to die, so be ready to dodge roll out of them.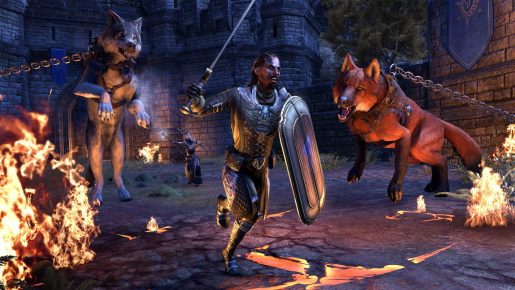 Mylenne Moon-Caller
Unlike the previous bosses, Mylenne requires a good amount of attention to beat without problems. The whole fight is waiting for them to jump and looking out for an AoE. Where they land is random and it will stun anyone caught in the blast and quickly result in death, making it something to look out for.
Outside of that, it's a pretty easy boss that shouldn't give you too many issues.
Archivist Ernarde
This fight comes down to three basic things. Minimize light attacks against the boss, don't bring adds to the boss (it will enrage them), kill the adds before attacking the boss. Since this one is a little longer, Ernarde has an additional mechanic. At some point you should see various circles of light with a symbol. Players will need to find the correct symbol and enter it to avoid taking damage. This should take priority over anything else and is an easy way to cause issues.
Vykosa the Ascendant
This fight is all about managing risk and knowing what to do. The main idea is to cycle between killing pets/adds and then attacking the boss. It will be an on going struggle and one that will require your full attention. It really isn't that bad of a fight, though you should dodge roll any attack or you can expect to die, as long as you can maintain your rotation between each of the targets.