Over the years, we have seen Capcom re-release many of its classic video games to modern platforms. For example, Street Fighter 2 has been re-released a thousand times, but fans don't mind it because it's still one of the best 2D fighting games ever made. Taking a break from the Street Fighter franchise, Capcom is now releasing Mega Man X Legacy Collection 1+2 to today's machines to allow both new and old gamers to try out these 2D style shooters.
The Mega Man X series has always been a popular successor to the original Mega Man games offering better looking sprites, more abilities and additional playable characters for you to select. The Mega Man X series started in 1993 on the Super Nintendo and the franchise progressed to the PSOne up until the PS2 generation in the early '00s.
The best thing about Mega Man X Legacy Collection 1+2 is that it includes every game from the X series in one entire bundle saving you time and money seeking out any expensive physical copies of these legendary games. Mega Man X3 is the rarest game in the bunch and it's great that fans can finally play this instant classic possibly for the first time ever with this collection.
Being a person that lives in New Zealand, it's great that Mega Man X Legacy Collection 1+2 came out because I don't think New Zealand released many Mega Man video games at all back when I was a kid and teenager. Now I get to experience the X series for the first ever time and I have to say the majority of the games in this collection are fast paced and enjoyable 2D shooters.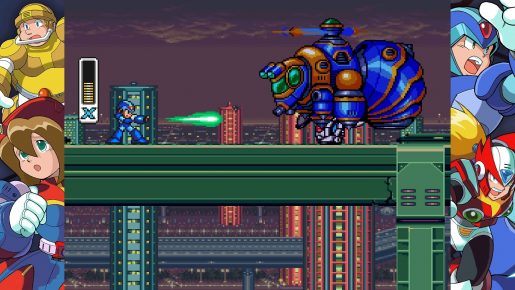 The game is split into two parts as Mega Man Legacy Collection 1 includes Mega Man X, Mega Man X2, Mega Man X3 and Mega Man X4. Mega Men Legacy Collection 2 includes the latter half of the franchise as it has Mega Man X5, Mega Man X6, Mega Man X7 and finally Mega Man X8 which is the final game in the series thus far. Another cool bonus of this collection is that you can change and play the Japanese versions of each game as it's known as Rockman in Japan.
Mega Man X Legacy Collection 1+2 aren't just straight ports however because some new features have been added to please both rookies and veterans of the franchise. A "Rookie Hunter Mode" can be selected for each game making it easier for you to play through these fast paced video games. Rookie Hunter usually gives you more health and chances for you to succeed. It's really helpful if 2D shooters aren't really your cup of tea.
On the flip side of that, there is also another new mode called "X Challenge" for veterans to select. In X Challenge, fans can try to tackle two bosses at the same time! It goes without saying that experts are the only ones that should try this mode as you'll get killed instantly if you are a novice.
Visually, each of the old games can be played in their native 4:3 aspect ratio and you can smooth out the 2D sprites or keep in the old CRT TV scan lines for extra nostalgia. There's also the option to stretch out the image to 16:9 widescreen, but this is ill advised as it makes the graphics more pixelated and ugly. Playing in the standard aspect ratio is probably the best way to play this game as it retains the games' original looks.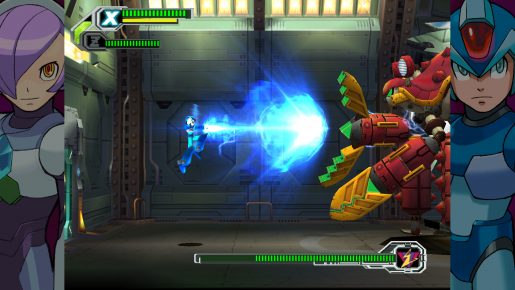 The 2D sprites of the older games hold well even by today's standards while I was playing on my PS4 Pro. In a weird way though, it's the PlayStation 2 titles of Mega Man X7 and Mega Man X8 that look more outdated. 3D graphics with low polygon textures just look ugly by today's standards and it's a shame Capcom wasn't able to make them appear better here.
Another thing that will irk some people is that the latter games feature some of the most cringe worthy voice acting that I have ever heard. The English dub is horrendous in some of these games that I held to switch over and play the Japanese versions. The character models don't even move their lips while they are talking either!
Gameplay wise though, aside from Rookie Hunter mode, every game retains its original mechanics so every title should play exactly the same as they did back in the '90s and '00s. Mega Man Legacy Collection 1 includes the best games which is the first four games in the series. These are all awesome 2D shooters that old school games should check out.
Sadly though, the X series did not end on a high note because Mega Man Legacy Collection 2 includes the not-so-popular games of the series. Mega Man X5 isn't bad, but it doesn't offer anything that the older games did not already have. Mega Man X6 is a mixed bag for me as I like the controls, but the level design is shoddy thanks to it adding lots of unnecessary stage gimmicks. There's a level in X6 that forces you to play the game in the dark, while another level requires you to fight against the same boss like five or six times in a row!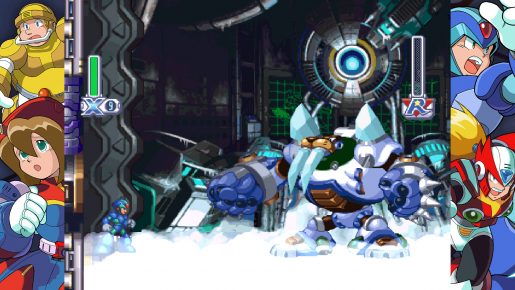 While Mega Man X6 is repetitive and boring, Mega Man X7 goes into a different route as it's the first time the series was released on the PlayStation 2. X7 is sadly a mess because Capcom tries to make the game "3D", but the gameplay is slow and sluggish as X, Axl and Zero move at a slow pace. Even when I was riding on the "Ride Chaser" the movement is awkward and unresponsive. Things improve in Mega Man X8, although it's still not as fun as the first four games in the series.
Rounding out this huge package is that each game includes a Museum where you can check out the franchise's history. Capcom has pretty much added every toy, poster and piece of artwork that it can find and it's cool to see through all of the merchandise that has been released for the X series over the last 25 years or so.
Verdict
Overall, the majority of Mega Man X Legacy Collection 1+2 is excellent as the earlier games in the series are still fun to play even 20 years later. Sure you need to be an expert at 2D shooters to get the most fun out of them, but the Rookie Hunter mode does make things slightly easier for noobs. Just try and ignore Mega Man X6 and Mega Man X7 because they're by far the weakest additions to the Mega Man X franchise.
[Editor's Note: Mega Man X Legacy Collection 1+2 was reviewed on the PS4 Pro platform. The game was provided to us by the publisher for review purposes.]