Marvel vs Capcom: Infinite has been going down a bumpy road. With some choices turning fans off and others just upsetting, there is plenty of room to improve. The first batch of DLC characters might not have been the best, but they added some interesting new fighters. Now that the second batch is out, are Venom, Winter Soldier and Black Widow enough to change player's minds or is it more underwhelming content?
Similar to the last batch, the three characters' appeal to play styles. Black Widow is fast, Winter Soldier is strong and Venom is somewhere in-between. This isn't a bad thing, at least not in the sense that they're hard to master like Monster Hunter, just if they're not your style, they won't add much.
Black Widow is probably the hardest to get use to, since she relies heavily on playing smart and thinking ahead. Her combos don't do much damage, something that is made up by her ability to hit fast, forcing players to wait until the right time to strike. Even if you can get a lot of hits in, an aggressive play style will likely get punished, forcing players to slow down. A lot of her attacks rely on understanding where your opponent is going to be, move or just waiting for the right time to strike. This makes her a little harder to play, especially if you don't typically play like this, with enough depth to make her interesting.
Sadly, the same can't be said for Winter Soldier. In terms of basic attacks, he feels quite similar to his counterpart Captain America. What makes him feel different are his special attacks, including grenades, gun fire and more. A lot of his depth and challenges stem from utilizing this attacks correctly. For instance, grenades can bounce off walls and shooting in the right direction will make or break an awesome combo. However, even if you can't master these mechanics, he is pretty easy to play.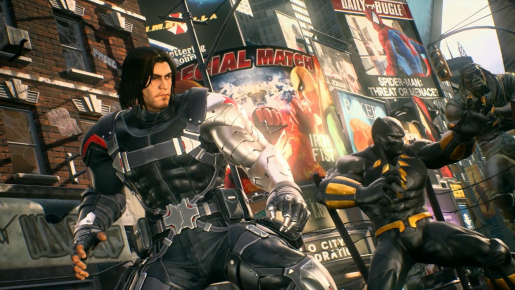 Finally, we have Venom. If there is one thing that stands out about him, it's how out of place his voice actor is. This is nothing against the person, it just makes him annoying to play and enough of a reason to detour players from picking him. Thankfully, his play style hasn't changed much since his previous appearances. He has some moves like Spider-Man, like the ability to capture players, with some fierce moves to punish people. Out of the three character he is the most straightforward and honestly the most exciting to watch. His weird moves and unusual attacks are far more interesting then fists or guns.
Overall, the new characters are welcome additions, though they're not going to make or break the experience. None of them can match the creativity of Monster Hunter, with one of them feeling closer to a reskin, making for an okay experience. Sure, if you love fast characters you'll likely enjoy Black Widow, just like Venom adds some much needed charm, they're just not as exciting as previous entries or fun as some characters we've seen in the past.