Often times gamers forget that there are many different types of gamers, many of which are looking for different experiences. Sony has often tried to cater to them by going in different directions, with only a couple finding success. Among the most successful is SingStar, a title that combines karaoke with competitive elements. As the title evolved, it moved to the digital world, but it's finally back with SingStar Celebration. With 30 hit songs, a good entry point and the ability to utilize a mic, PS camera or just sing through your phone, is it the game fans love or does it just throw some paint on the old formula?
The best way to describe SingStar Celebration is a physical game that includes 30 songs at a reduced price. What stands out about the track list is that there is a good assortment of new, old and, of course, popular. With the list including Closer by the Chainsmokers, Wonderwall from Oasis, Sia's Cheap Thrills and even Adele's hit Hello, there is a little something for everyone.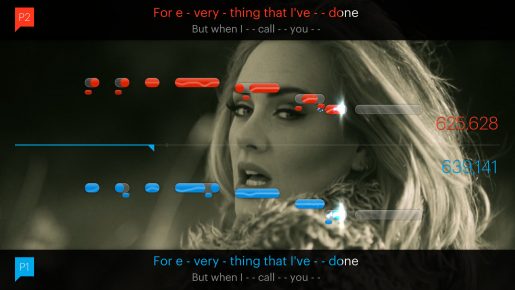 Every song has the words at the bottom, displayed in a way that gives you an idea of how they should be sang. This can make it hard to sing the first couple of times you see it, with later visits being much easier. Below that is the next line so you can always keep up. Every song also includes the music video, along with the ability to hear your voice and even battle against other people. With so many people playing, players will probably be delighted to hear you can use your phone as a mic.
After testing the application with the game, it did a good job tracking my voice. I wouldn't say I agreed with every ruling, something I'm sure less talented sings can relate to, but it did a great job tracking changes in pitch. It's also the type of thing where even if you can't win, there is plenty of fun to be had.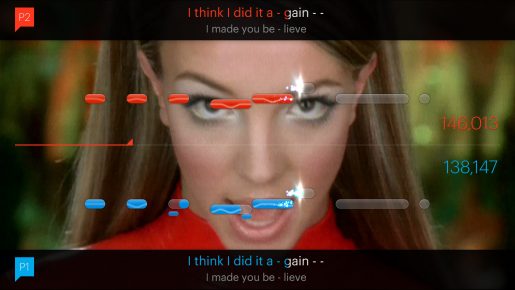 Besides the 30 songs it includes, players can access the SingStar store and purchase additional songs from their selection of over 700 songs. Some of these include Barbie Girl, We Didn't Start the Fire and much more. Even though these cost extra money, it's good to know the option for more tracks are out there.
When no one is around and you just want to test your skills, the community page has a bunch of fun additions, including challenges. With those players can try to beat someone else's score, something that will take some skill, giving plenty of things to do.
Verdict
Overall, SingStar Celebration isn't the most exciting game, but what it does, it does well. In addition to the solid song selection, practically any song you could want can be bought and it's the type of game that is fun by yourself or with friends. Plus, the ability to use your smartphone as a mic not only works well, offers a cheap alternative to other things, making it a great way to sing and have fun.
[Editor's Note: Singstar Celebration was reviewed on the PS4 platform. The game was provided to us by the publisher for review purposes.]
SingStar Celebration Review

,