As times change, certain genre come in and out of style. One such genre is side scrolling shoot 'em up. As arcades continue to dwindle, the series is often looked down upon for being dated or lacking content. Thankfully, Raiden V: Director's Cut keeps the genre alive. With new mechanics, simple gameplay and scores to beat, is it a new record or something for fans to enjoy?
Raiden V: Director's Cut starts with mysterious attack that you're sent to look into. Based off what you do and how you do it the direction and elements will change, giving players plenty to do, but the story is mostly in the background. After the initial explanation most of the events are detailed during gameplay or read on the right side of the screen. Due to the hectic nature it can be hard to see, but thankfully it doesn't really matter.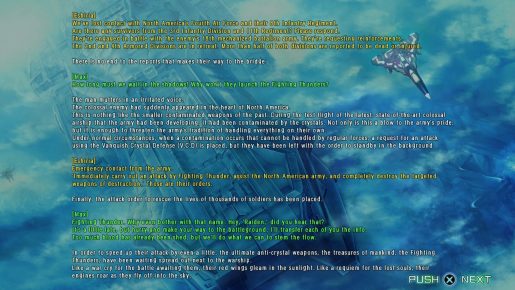 What makes Raiden V: Director's Cut fun is the thrilling gameplay. The basic premise is simple. You pilot a ship with various attacks and you need to destroy hostile threats. Their attacks can be dodged or removed via bombs and in some cases gunfire. On paper this sound simple, but it's actually much harder than it sounds.
There are three things that make dodging difficult. The first is enemies appearing out of nowhere. Like most of these games, staying at the bottom of the screen is the expected playstyle, so many threats are designed to counter it. So an enemy might appear on one of the bottom sides or appear over there and get a lucky shot in. It also isn't uncommon for the background to obscure bullets, something that can feel cheap, but also avoidable. And finally, getting too close for comfort. It isn't uncommon for an enemy to come close, you go to defeat it and either take damage from a new threat or the enemy itself.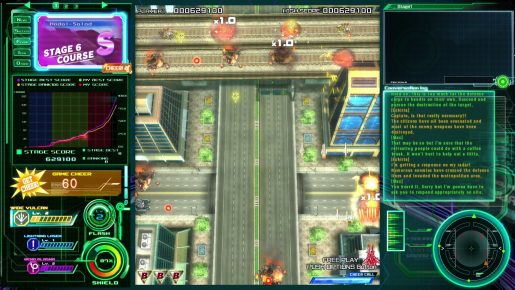 With all these things to keep track of, there are some tools at your disposal. As mentioned above, bombs can be used to clear the field of bullets and defeat hostile forces. In addition to that, you can summon aid, which will make another ship appear that does additional damage. This is invaluable during certain bosses or hectic matches. Finally, different shooting styles help in specific situations. Some will do a lot of damage, making it easier to defeat large threats, with others targeting a large number of enemies or automatically attack. Your ability to gauge which weapon is right will be invaluable for your upcoming battles.
Outside of the basics, Raiden: V Director's Cut stays true to arcade games. The cluttered screen might have a lot of unimportant information, but those looking to compete will find the leaderboard chart quite useful.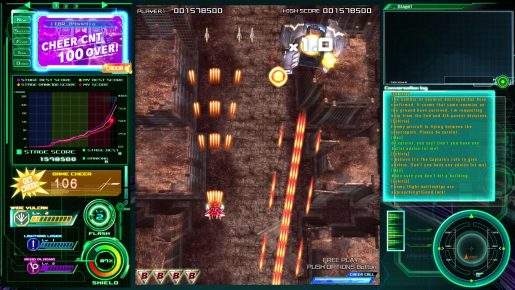 By using that players can get an idea of how well they're doing. One line indicates your current performance, with another showing the top 100 score and the current leader. Even if you can't surpass the best, it gives you an idea of how well you're doing, where the rough spots are and how to improve. Not to mention, it makes most stages far more thrilling.
Anyone looking for an additional challenge can try boss missions. In this mode you face various bosses, use specific equipment and have to complete certain challenges within a strict time limit. It offers a nice change of pace, without changing what fans love.
Verdict
Raiden V: Director's Cut might be a simple game, but it offers all the thrills you'd expect from an arcade shoot 'em up. With multiple paths, various missions and a competitive leaderboard, it offers plenty for those into the genre. However, less skilled players will likely find the gameplay hard to get into and, at times, quite cheap. If you're willing to invest the time it certainly has plenty of replayability, making it a decent investment.
[Editor's Note: Raiden V: Director's Cut was reviewed on PS4 platform. The game was provided to us by the publisher for review purposes.]
Raiden V: Director's Cut Review

,