FIFA 18 is the brand-new iteration of the iconic football video game franchise from EA Sports. The game once again uses DICE's Frostbite engine and is available of a whole host of platforms including: PlayStation 4, Nintendo Switch, Xbox One, Xbox 360, PlayStation 3 and Windows PC. New features have been included, as well as a range of upgrades and improvements from last year's game. However, has FIFA 18 done enough to be a must buy for yet another year? Let's find out!
The most noticeable difference of FIFA 18 to previous iterations in the series is the new kick-off mechanics. No longer do two players stand in the centre circle ready to tap the ball, and get the match underway. Instead one player takes his place at the centre of the pitch ready to pass the ball backwards to his team. It is a minute change but seems to avoid the awkwardness of kick-offs and gets the game flowing that bit nicer.
Once the game is flowing you can see the bigger change to FIFA 18. Movement is very much more momentum based than ever before. Go in for a dodgy slide tackle, that takes a player out of position, and he won't be getting back to help any time soon. Conversely, if you can start that defender sprinting a split second early he can more comfortably catch and, most importantly, clear the ball.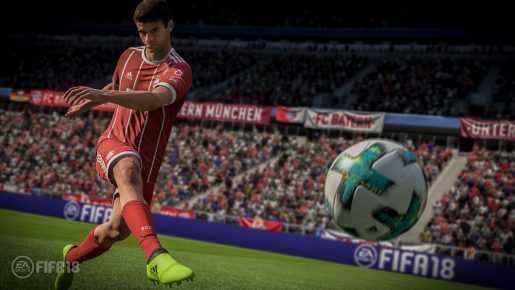 In past versions there was only one stat that truly mattered to gamers, pace. Pace is still a drastically necessary stat, in a sense of getting ahead of the opposition but strength has become a very close second. Via extremely rough maths I'd be confident to say I've managed to shrug off more defenders/attackers in the time since launch of FIFA 18 than I did in a month of FIFA 17. The ability to muscle through isn't quite there but when it comes to a 1 on 1, closing down a ball, you can send the other player flying via a shoulder barge. Just be careful as I've already given a handful of penalties away by doing this.
Within an hour the consistent issue with FIFA games had surfaced its ugly head. It may be a result of my inability to defend, or luckily ability to score, but the commentary team had already run out of original things to say. Before long it becomes a bit of an immersion breaking aspect of the game. Especially, when it is the 5th, 20th, 100th time you hear that it has been a great game for a neutral, described as a goal fest. This issue is most present in the multiplayer game modes and is interestingly not as prevalent in the singleplayer modes, especially during The Journey.
The commentary team does pick up somewhat for the singleplayer game modes. In Career mode they discuss on-going sagas in the transfer windows and other match results, on top of the usual anecdotes. This adds to their repertoire and it almost makes me wonder if they could fake this for online modes, rather than repeatedly comment for every goal if you are going to win or lose the league.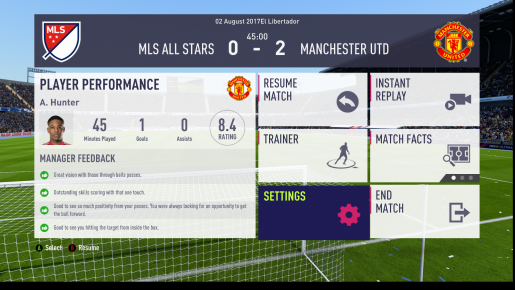 One incredibly nice touch that some may not notice is related to Alex Hunter. Without giving too much away story wise, if you score in a game when the fans and club aren't happy with you the team reacts differently. After scoring instead of flooding towards you in celebration you're left to cheer on your own… Poor Hunter. This is like a cutscene has been woven into the actual game and helps drive the believability of the story. It would be great to see EA use this coding for players whom look like they might move clubs in real life during the mid-season transfer window.
The Journey was almost a surprise when EA announced it for last year's instalment. This time around Hunter Returns to continue his football career. For those that enjoyed the first season things get better. Once again players get to choose the club they play at and then the story unfolds. It has some unexpected twists and turns. The writing won't be winning story of the year but it does a great job of making you want to know what happens next. This is driven through the cutscenes that energise the pose and add the emotion of the storyline. Players get some choice in things with a few minor choices and a big one or two for you to make. If you weren't a fan of the first season of Alex Hunter's Journey maybe just stick to the other game modes, it has a similar style.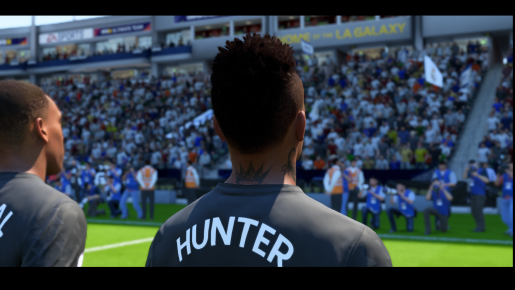 Hunter may have returned, Career mode may have some tweaks but let's be honest Ultimate Team is where a lot of players spend their time. For those not in the know FIFA Ultimate Team turns the squad building aspect of the game into a squad building trading card game. Players build a dream team, watching out for chemistry between players, to play with to earn coins. These in turn allow contacts to be applied to players and new players or packs can be purchased. FUT is still the iconic mode is known for with some welcome upgrades.
In-game there are two notable upgrades. The first makes the game seem more rewarding with the introduction of daily and weekly challenges. These give players something to aim for that makes it even harder than before to not play that one more game. The second is new for PlayStation 4 and PC players, with the inclusion of Icons. Icons include the likes of Thierry Henry, Ronaldinho and Pelé, all whom are disgusting to play against. I can see many striving to get these Icons into their teams. The final bump up in quality for Ultimate Team is the app which has been refreshed for this season and works that bit more intuitively.
Helping the action to keep flowing is a new quick substitution feature. When the ball goes out of play simply holding RT brings up either a suggested sub or one that has been predefined by the player. This is great for quickly swapping out a player, whom is low on stamina, without having to waste time going into the menus or even pause the game. For some reason, despite being able to predefine three substitutions for this method, players are only able to flick between two sub options at a time. Hopefully this can be tweaked via a patch as it just doesn't quite make sense.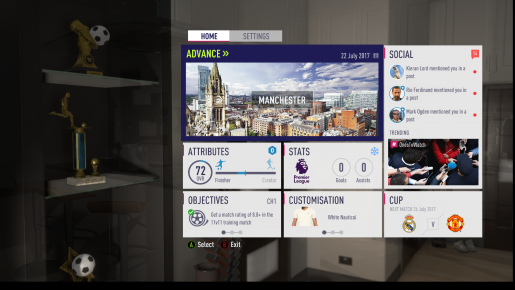 One surprising element is that the user interface, other than the quick subs, is identical to FIFA 17. Show the menus side by side and it would be hard to pinpoint the UI from this instalment. I suppose EA have gone with the old saying of: "if it's not broken don't fix it". While visually looking the same, it is still pleasant to use so doesn't present an issue of any kind. If anything means that fans of the franchise can just as easily as ever jump in and play whatever mode they wish to straight away. Alas, this doesn't do much to move away from the point of view that FIFA 18 is an update to 17, rather than being revolutionary.
While the UI has gone unchanged the graphics have been improved. It has taken a nice step towards being the "beautiful game" that football claims to be. At times it is truly like watching a game on the TV. The facial work that has been done to update and get more players faces into the game has, as with previous years, done wonders for the bigger teams. It has neglected the smaller teams but with hundreds, potentially, thousands of players this is more than understandable.
Working hand in hand with the graphics to present such a top quality visually believable experience are the animations. They have made a stride in the right direction with individual players moving like they do in real life. Naturally these animations can also be slightly immersion breaking when you get Messi to do a hilarious goal celebration but you have to rub it in your opponent's face somehow!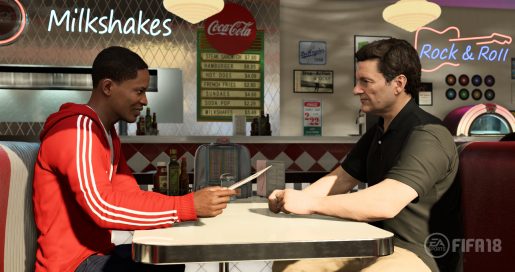 I can but only hope that EA release a patch sooner rather than later to deal with Ronaldo's iconic shouting pose of a celebration. Visually the animations are bang on. What let's it down in an embarrassing way is the shout that comes with it. It might be Ronaldo shouting exactly what he shouts during the celebration. Yet, the mixture of crowd sounds is far from balanced, resulting in an immersion breaking sound oddity. Also on the bug list are some clipping issues that thankfully only appear in the celebrations. This can see players limbs clip through others and just looks peculiar.
One big issue that is exclusive for PC users is the Alt-Tab instant quitting mechanism that EA has continued to use. If someone is calling you on Skype or you want to skip a Spotify song you simple cannot do it without effectively rage quitting. There seems no reason to punish players like this. A simple timer of 5-10 seconds when paused to hop in and out of the game, to do something they need to, is all it would take. My only assumption is this is something they have done to stop players going AFK but again the short countdown timer would avoid this.
Verdict
FIFA 18 is more than just a mere update. There have been some real solid choices made and tweaks made across the board to make a visually appealing and exhilarating game. The new systems in place make the gameplay more fluid and allow split seconds of brilliance to shine. The 10+ hour Journey mode should keep players entertained throughout and has some famous faces dotted throughout. The commentary continues to let the franchise down, not due to the quality but more the quantity of recorded voice lines that swiftly leads to repetition. Hours upon hours of fun are there to be played both online and offline. Therefore, what are you waiting for? Get in on the action with FIFA 18!
[Editor's Note: FIFA 18 was review on Windows PC. The game was provided to us by EA for the review.]
FIFA 18 Review

,