One of the advantages of having a silly franchise, is the ability to take it in a weird direction. So when Senran Kagura Peach Beach Splash was announced, it seemed like a fun take on the established formula.  Instead of being an pervy version of Dynasty Warriors, Senran Kagura Peach Beach Splash is a shooter that utilizes water guns. With a variety of weapons, plenty of erotic content and all the things people love about Senran Kagura, it looks to be a solid spinoff. The question becomes, is Senran Kagura Peach Beach Splash a welcome change or is it like a cold shower?
Senran Kagura Peach Beach Splash starts by taking the premise seriously. Apparently Peach Beach Splash is a sacred event for ninjas, both alive and dead, where they get together and fight via water guns. By taking the obviously ridiculous plot seriously, most of the humor comes from the absurdity of the situation. That is until the girls learn the winning team receives a wish.
At this point the plot moves away from the absurdity of the concept and into the familiar territory of character interactions. Each of the teams have their own story that centers around what they hope to gain from the event. Fans of the series will likely enjoy how the interactions play out, as Senran Kagura Peach Beach Splash doesn't act like a spinoff, as much as a side story.
Considering the plot is paper thin, players will spend most of their time shooting girls with water guns. The combat is, unsurprisingly, straightforward. There are a handful of weapons, including a gatling, dual pistols, grenade launcher, RPG, etc, which work like you'd imagine them to. The grenade launcher fires water balloons, the RPG soaks a large area, dual pistols are fast and so forth.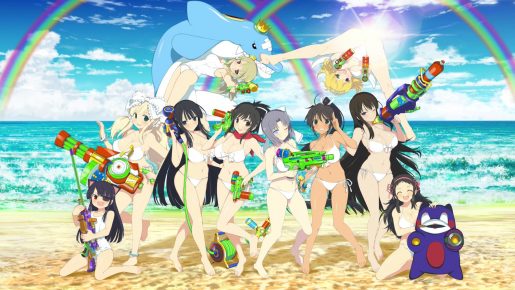 To aid players, there is the option to lock onto targets or freely aim. Both styles have their own advantage and disadvantage, like high targets are better to aim at, where as low targets are better to lock onto, that will help you be successful. In addition to weapons, there are a variety of powers you can use via cards. These have various attacks and come in multiple different rarities, with the ability to increase their level. Beyond that there is also a water propelled jump and dash, which help a lot with maneuverability.
As players take damage, they'll receive a shield at 50 percent for a brief period, with the ability to finish them at zero. Finishing moves are a little on the naughty side and involve close range attacks that have the potential to strip the opponent. These areas are censored, so you won't see too much, but be aware it's there.
Besides hostile attacks changing the flow of combat, shooting an ally with water will eventually cause them to enter a super mode. During this time they'll have unlimited water, making it the perfect opportunity to overwhelm enemies or lay down some suppressive fire. Also, while enemies can finish a player off, allies can revive one another.
Despite the various mechanics, Senran Kagura Peach Beach Splash is far from a difficult game. Even with starting equipment on max difficulty, story is still hardly a challenge. The same holds true for other modes, meaning if you want a challenge, it's going to be PVP. If that isn't your thing, there are still plenty of offline modes that might not offer a challenge, but do give players something to do.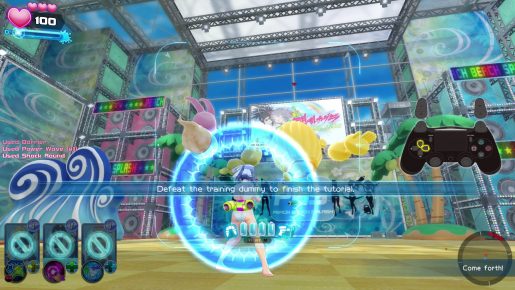 For those looking to play dress up or just have fun with the girls, there are plenty of options. For starters, there is a variety of options for hair, swimsuit color, accessories and more to play around with. There is also a mode where you can freely pose the girls and change practically every aspect. Be it happy, mad, sad, surprised or whatever, there are plenty of options that are sure to be a blast if you're into that sort of thing. There is also a mode to fondle and do naughty things with the girls.
Verdict
Senran Kagura Peach Beach Splash is far from perfect, but it's fun in the same mindless sort of way Dynasty Warriors is. The short story and lack of challenge can be a turn off, but there are certain enough modes and costumes to get your moneys worth. Combine this with a simple, but effective combat system and you have a third person shooter anyone can master. However, if you're not into games with girls in naughty poses or similar features, this is not for you.
[Editor's Note: Senran Kagura Peach Beach Splash was reviewed on PS4 platform. The game was provided to us by the publisher for review purposes.]
Senran Kagura Peach Beach Splash Review

,