Some of the most absurd concepts can make interesting narratives. Be it microwaves that spend messages to the past or just finding freedom though the corpses of others, success lies in the execution. For the past three entries Danganronpa has offered an interesting take on the killing game. With an interactive portion, mock trials and well executed twists, it's a series that has found a lot of success. Now that we have the latest entry, Danganronpa V3: Killing Harmony, will it continue what people love or are they pushing their luck?
Danganronpa V3: Killing Harmony starts with a familiar set up. You and 15 other students are adducted and brought to a mysterious school. After the initial shock of barbwires, monitors and no chance of escape, you find out this school is meant for "ultimate's," which is a fancy way of saying people with some kind of special skill.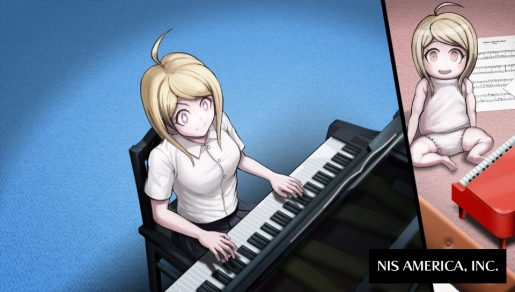 Like the previous entries, what exactly makes someone the ultimate can get quite out there. This time some of them include the ultimate maid, cosplayer, robot, pianist and more. The unusualness of their skills brings a lot to the table. For starters, it allows them to utilize different elements with their murders, along with absurd quirks.
One of the selling points isn't the main storyline, but the character interactions. The way characters express themselves, be it facial expressions or dialogue, can be fascinating in an absurd sort of way. With one character talking about blood sacrifices, another trying to be a bad ass and even a geeky girl or two, the interactions stand out in a way that the main story doesn't.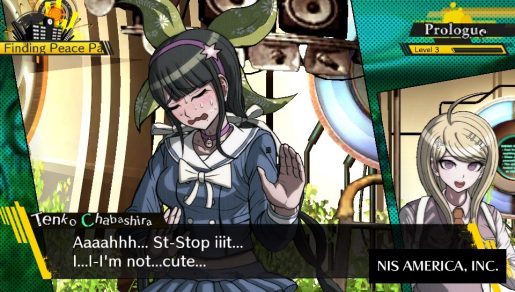 If there is one thing that holds Danganronpa V3: Killing Harmony back, it's that they're trying to make the familiar unfamiliar. After the aforementioned shock and introductions, the students learn they're all special and were brought there to kill each other to gain freedom. The trick isn't to just kill someone, but to do it without getting caught. Once a body is seen by three students it will trigger the start of a trial where the guilty party needs to be found or they'll win.
To go along with the basic concept, there are a number of rules that we've seen before. Monokuma and his newly added cubs won't directly kill anyone, there is a designated night time, the gym and other areas are closed after a certain point and so forth. After the initial explanation, the story revolves around actions and reactions.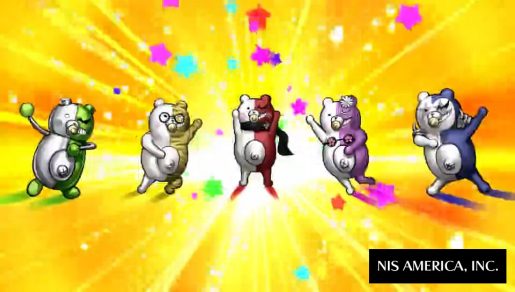 Following a failed escape attempt, people are killed, followed by a brief clue gathering phase and then the trial. None of these things are particularly difficult, though some of the twists are well done, making for an enjoyable experience. Assuming you're into the whole killing game concept.
Even though the story is exciting, or as exciting as a new take on the same basic concept can be, it suffers from some problems on the Vita. While the Vita is obviously portable, you can tap things to select them. This is far more enjoyable than using the thumbsticks and looking around. However, the Vita version also performs poorly.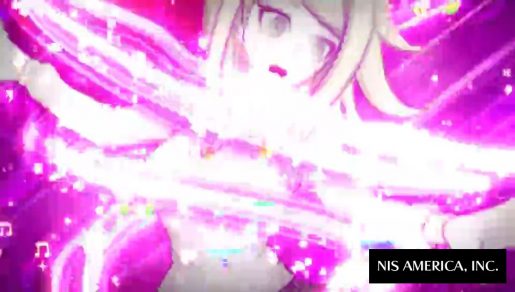 During some of the more graphically intense portions, there is a notable drop in resolution. The picture above was actually captured from my Vita and shows how bad some of these scenes can get. Small things like this and other performance issues, hold the Vita version back. This would be okay if Danganronpa V3: Killing Harmony was an intense game, but it's a visual novel with some gameplay mechanics, so such problems are hard to understand. Still, if you can put up with these issues, there is a new adventure to put your detective skills to work and see if you can come out alive.
Verdict
Danganronpa V3: Killing Harmony is far from uncharted territory, though it still manages to add something fun. The new characters had a fair amount of personality, with some of them being missed as the story progresses. Trials offer a nice change of pace, as do the other gameplay segments, even if they're novelty than anything else. All of this makes for what I assume a fun experience on the PC/PS4, but not on the Vita. With performance issues it breaks immersion, making for a okay experience overall.
[Editor's Note: Danganronpa V3: Killing Harmony was reviewed on PS Vita platform. The game was provided to us by the publisher for review purposes.]
Danganronpa V3: Killing Harmony Review

,