Risks make some of the best and worst games out there. A big part of Destiny's success can be attributed to their attempt to merge a FPS and MMORPG together. This allowed inexperienced players the chance to see what made series like WoW so popular. Other time it just leads to disappointment. The Caligula Effect has a lot of interesting ideas, but what makes it unique, is also what makes it bad. As for Blue Reflection, pretty visuals, RPG elements and an interesting story sounds like the keys to success, but is that enough to make it stand out?
Blue Reflection follows Hinako, a young girl who dreamed of being a ballerina, until an accident ended her career. Following therapy, she returns to normal school life just in time to find out she is a reflector. As a reflector, she is able to enter another world and fight demons that bring woe to those around her. Shortly after her discovery, she meets two more reflectors who explain the current situation and tell her that if they manage to defeat the demons she can make a wish. With her chance to return to the world of ballet in sight, Hinako decides to fight the demons and bring happiness to those around her.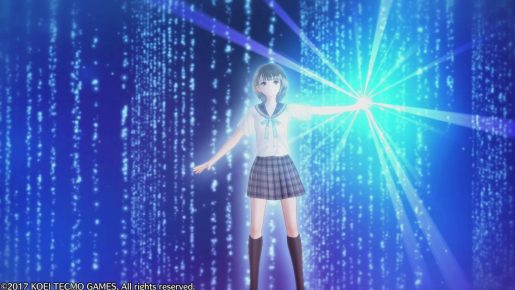 Despite the somewhat generic story, Blue Reflection finds strength in exploring different perspectives and emphasizing with others. Most, if not all, of the problems Hinako encounters are things you'd expect a young woman to face. One is about confessing to someone they love, where as another deals with frustration resulting from one's happiness resulting in sadness.
None of the scenes are drawn out, making their message easier to digest, especially since they all end with Hinako reflecting on how they feel. Some of them are touching, in their own way, with others offering a nice bit of perspective. A good example of this is the girl who wants to look pretty and help others enhance their looks because she enjoys it, only to have other people assume the worst of her.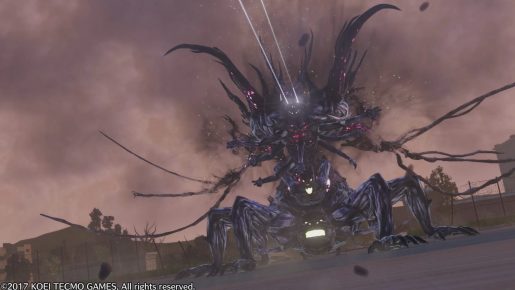 What stands out often isn't the situation itself, but the ability to relate to the general ideas. Even if I never experienced, at least as far as I'm aware, problems due to my attractiveness, I've had many people misunderstand my motive and assume the worst of me. Even if nothing comes of the little stories, it's still nice to see the idea of trying to relate to those around you is on display here.
Outside of the main story, Hinako can explore the school and talk to various students. Minor characters typically have one or two statements and a title to identify their personality. It helps make the world feel more alive, even if none of these characters' matter. Characters related to the story offer more dialogue options and events. After a certain point you can invite them to do something after school, so maybe they'll go to an amusement park or the mall and talk. These scenes help give these girls more depth, even if the story tries to keep them on the more basic side.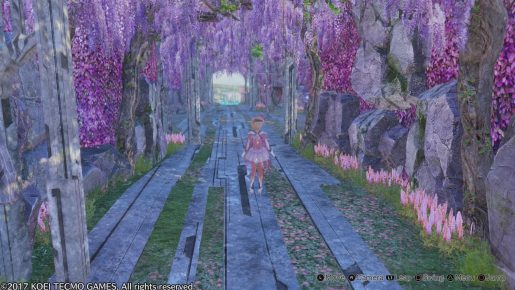 As you go through these events, various missions will appear asking you to do this or that. Some of them are just going somewhere or talking to someone, but most will take you to the common to fight demons.
The best way to describe Blue Refelection's gameplay is to think of it as less than an RPG and more of a visual novel with RPG elements. What matters isn't the combat, even if the story hinges on Hinako's ability to defeat demons, but walking around the world and relating to other students. This stuff is so important that characters level up though the strengthening of bonds, over demons defeated.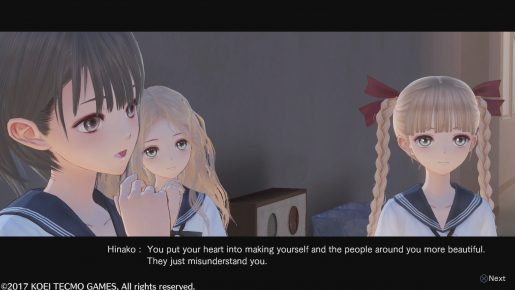 For this reason, even if you ignore the vast majority of fights, you can reach the max level and find success. This can make the combat system a bit boring, as it's mostly there to collect resources to level fragments (mods) and synthesize items, but that doesn't make it unenjoyable either.
Every fight is turn based, with the turn order being based off whomever is next in the rotation. One thing that makes Blue Reflection stand out, is certain attacks have knockback, which changes the order. By utilizing this correctly, damage and other negative things can be delayed and in some cases, outright negated. The only downside to the combat system is the lack of challenge.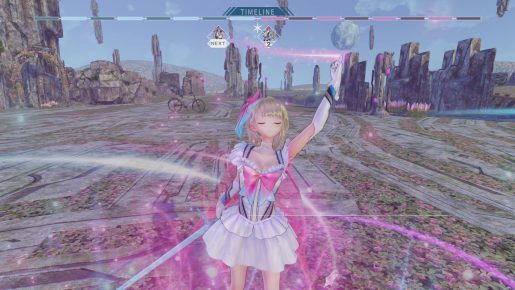 When you enter a fight you'll have max health and MP, which you can use, dominate everything and then proceed to do the same in the next fight. Thankfully, certain enemies are designed with this in mind, meaning they'll attack before you defeat them, even if most fights offer little to no challenge.
Verdict
Blue Reflection might not be perfect, but it's an enjoyable experience. Hinako's journey is easy to relate to, be it the injury or just trying to understand others, making for a fun ride. With charming side characters that posses a fair bit of personality, it can be exciting to see what happens next. Sure it sucks the RPG elements are more supplementary, similar to how most fights are optional, it doesn't make the combat bad. Toss in some pretty worlds and you have an emotional experience that will resonate with those who enjoy more dramatic stories.
[Editor's Note: Blue Reflection was reviewed on PS4 platform. The game was provided to us by the publisher for review purposes.]
Blue Reflection Review

,