Moving away from a popular franchise can be scary, but it can also be liberating. Guerrilla Games found a lot of success when they moved from Killzone to Horizon: Zero Dawn, just like Naughty Dog has done on multiple occasions. Not every move is good, leading to many developers jumping back to the past, but it seems like Volition has learned a lot from Saints Row. With a new world, style and same quirks, is Agents of Mayhem a breath of fresh air or just Saints Row with a different paint job?
From the beginning, Agents of Mayhem makes it clear it's trying to spoof G.I. Joe. M.A.Y.H.E.M., the oddly named group of do-gooders, engage in battle against L.E.G.I.O.N. and attempt to stop their evil plans. It doesn't take long for the story to start relying on tropes and clichés to move things along. Even though they're common and at times lazy, it makes for a humorous experience.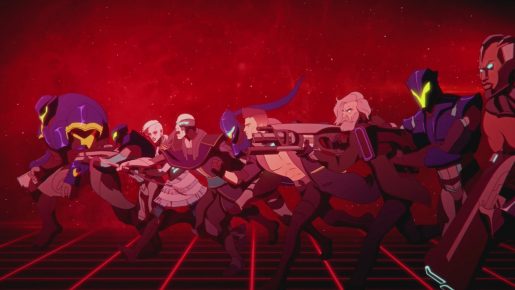 From the beginning all the characters have their own driving force and style, which allows the characters to feel unique besides weapons/abilities. Hollywood is the brainless pretty boy, Hardtack is the no nonsense tough guy, Rama is a woman on a mission and they go from there. Upon finding the characters you enjoy, you'll find their influence impacting the story and giving different dialogue/responses in their battle against L.E.G.I.O.N.
Outside of the main story, there are also origin stories for both the heroes and villains. These are shown through cartoons during main and side missions. These videos are enjoyable to watch, since they give a very basic summery of what they're working towards. For instance, Braddack feels betrayed by the people she trained and responsible for the wrong they've committed with her training and wants to put an end to them. Most of the stories work this way, with progression throughout their quest line, giving every character a moment to shine.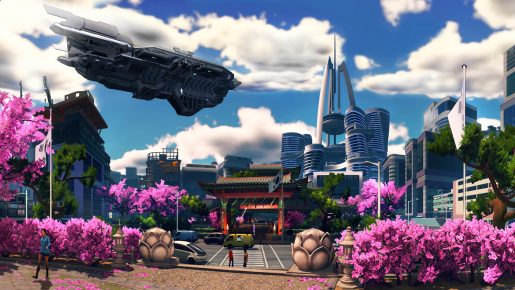 As much fun as cartoons and one liners can be, the gameplay is a mixture of fun and frustrating. Most missions, be it main or side, follow the same basic pattern. Find the mission in the open world, activate it, listen to a briefing, go to a location, complete the objective and then keep moving until the end. Some will require, even if they don't say it at first, like driving to the objective, but this is how most of them work.
As for variety, combat is fun if you swap between all the heroes. Hollywood uses a machine gun, Rama a bow, Braddack a three shot burst weapon, making them good and bad, depending on the situation. Each character also has a special move and abilities that aid them in combat, such as a grenade or traps, allowing players to change how the situation plays out, depending on the character they select.
Through progression characters will get new abilities, allowing them to better match your playstyle. What you receive is random, meaning it might not help, but the option is better than nothing.
Where the combat falls apart is the lack of depth. Most fights involve finding a way to kill the enemy, be it explosions, special attacks, traps or simple gunfire, followed by progressing forward. The combat also feels quite rigid.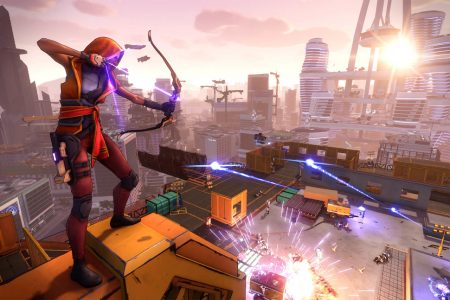 Characters, especially Fortune, move in very basic ways and there isn't a whole lot to do besides point and shoot. At times this looks comical, like when Fortune runs with her arms out, but it can be disappointing for anyone looking for more fluid movement. Thankfully, this is often overshadowed by the humor or pretty places to see and explore.
Speaking of exploration, there is a lot to see, discover and complete in Agents of Mayhem, though it doesn't do much to stand out. The best way to explain exploration, is to look at the world in terms of where you'd expect things to be hidden and often times that is where things will be. Combine this with making many of them quite obvious and it can be a little underwhelming. Those looking for a challenge or big secrets will likely be disappointed, though anyone hoping to find it all will likely love some of the choices.
Verdict
Agents of Mayhem is fun, quirky and enjoyable at times, but it does very little to stand out. The cartoons, while a nice touch, make up a small part of the experience and act as a cool addition, over a selling point, which can also be said about the story. Having a team fight the forces of evil with silly jokes and unusual character is nothing new and while it makes Agents of Mayhem funny, it doesn't go in any new direction. Combine this with rigid and somewhat underwhelming combat and you have an experience that is fun and at times amusing, but nothing special. This isn't to say Agents of Mayhem is a bad game, because it really isn't, just that the experience does very little to stand out.
Agents of Mayhem Review

,