One of the many defining features elements in Splatoon, were the Splatfests. Instead of fighting for a group, banner or whatever, players had the choice of two similar, but different things and the side with more points won. The idea to hold a Splatfest as a final beta/stress test was brilliant. Not only does it give people another chance to experience Splatoon 2, it was a great incentive to stress test, without actually calling it that. While the concept was great, does the gameplay hold up?
First and foremost, the latest demo confirmed one of my favorite Wii U features, drawings, will be present in Splatoon 2. These can be seen throughout levels and above peoples' head in town and a lot of fun. With many Wii U features and elements disappearing, it's nice to see Nintendo retain them in Splatoon 2.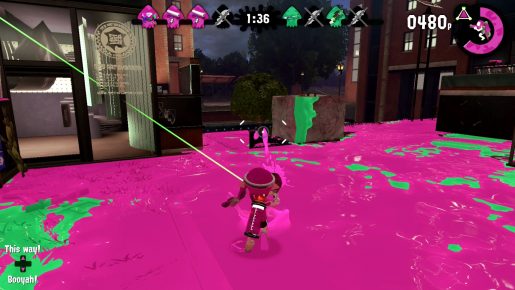 The new town set up isn't bad, though it feels cramped. With all the characters grouped up by the stage, it makes things seem smaller than they're. Ideally the final version will have something closer to the original, not that it is too big of a deal. Many of the vendors were also on display, showing off alternate outfits, potential perks and more.
Through it all, the main attraction was the actual event. The first Splatfest asked which was a better desert, cake or ice cream. Ice cream ultimately came away victorious, something that feels appropriate considering the beta happened a day before national ice cream day in the United States of America.
Not much has changed in terms of gameplay since the global test fire, so this was more about showing off the new stages. While not as memorable as some of the other stages, both featured unique elements like hanging lights or mushroom lamps, giving them their own charms.
What really stood out was the connection quality. The original test fire had frequent errors and took me about 30 minutes to actually load, where as this one worked quite well. There were occasional rooms getting dropped, but overall it was a step forward.
Overall, the first Splatfest was a good reminder of what made Splatoon great. While it still isn't perfect, it makes a convincing case to snag on July 21.