When you play a lot of games, you start to notice recurring themes. For instance, it's extremely common for Japanese games to incorporate their folklore, which is fine. Adding these elements tend to add something to identify with, making the experience a little more personal. Other times games try to combine an interesting concept, with established mechanics. For AereA that is music. Most things in the world of AereA relates back to music, allowing clever twists and cute references. Is this enough to make AereA stand out or is it out of tune?
AereA doesn't have much of a story, but what is there is nothing special. In the past Guido and Demetrio were close friends that had immense power. They had a falling out and the two friends had a massive battle. This concluded with Demetrio losing and the land being split up in four pieces. Following that, Demetrio and the fourth island mysteriously disappeared. Sometime later, Demetrio is back and plans to use the primordial instruments to achieve his dream.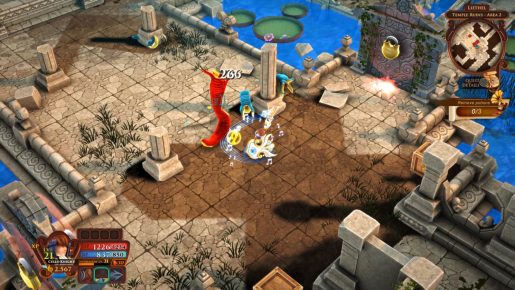 In addition to the main story, there are a couple of side stories that involve helping people out and improving AereA. Similar to the main story, none of these are terribly exciting, with them mostly adding depth to the characters. But, what makes AereA special isn't the story or characters, but the setting.
AereA is a world that is designed and influenced by music. This starts with simple things, like weapons resemble popular instruments and quickly becomes quite well thought out. Between bagpipe spiders and accordion snakes, it's a charming world that is fun to explore, even if the gameplay could be better.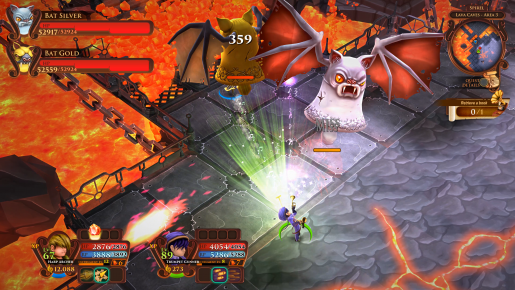 Regardless of how cool the concept is, there is no escaping the fact AereA is a pretty generic and simple action-RPG. After picking one of the four classes, you quickly learn there isn't a lot of depth. There are two basic attacks, a couple of skills and some items. Using these things offer some variety, but it doesn't make up for AereA's biggest fault, balance.
As players progress, they will need to level both the player and their instrument. Player level gives a set stat boost, which could be power, life, accuracy or a combination of these things. Instrument gives you notes that can be redeemed for specific stats. The issue becomes, a pure power player will trivialize every encounter. This can be best seen in the video below.
Being able to kill a boss in 16 seconds, without taking damage, on my first attempt, says a lot about how easy AereA is. Without grinding or doing anything special, most enemies fall in a single hit. It's hard to worry about life or defense, when no fight lasts long enough to take damage. The same goes for the mechanics and items. Outside of a few situations where they help, such as the boss that you need to defeat with critical hits, these things are pointless. Why worry about buffs or debuffs when you're already strong enough to one hit most enemies?
Sadly, this lack of difficulty also makes exploration and cash pointless. Since AereA is a fairly linear adventure, most of the alternate paths give cash or unlock items in the shop. Things like life help, though I typically leveled and regained all my health before needing to use items, but it's hard to care about elements that serve no purpose besides adding a grind or unlock a trophy/achievement.
Verdict
AereA might have a cool concept, but that's about all it has. Between the generic story, bland worlds, negligible difficulty and lack of depth, it's hard to make a case for playing AereA. Maybe if you have a child that loves music and can't handle a complicated or difficult game or want an easy platinum/achievement points it would be a nice fit, but it doesn't have much for anyone else. This is a real shame, as it's clear a lot of thought went into the enemies and the basic concept, but, sadly, effort is not a compelling reason.
[Editor's Note: AereA was reviewed on PS4 platform. The game was provided to us by the publisher for review purposes.]