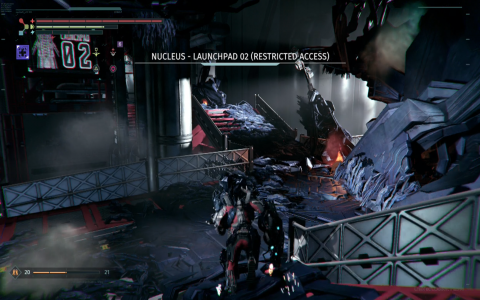 The Rogue Process is a weird final boss for The Surge. It isn't the hardest boss, doesn't have the most complicated mechanics or any of that, but it is probably the most interesting looking. With its weird body, two phases and a fair-ish duel at the end, it makes for a satisfying end, even if there are harder bosses. So, if you're stuck, here is how you beat the Rogue Process.
BUILD
For this fight I strongly suggest the MG Gorgon armor set at Mk. III or better. This is because the gear set bonus increases endurance regeneration and the high defense allows you to tank hits. It can be done with lower defense/faster armor, but I found it was much easier to use the extra defense to be a little reckless. In addition to that, you want the Anti-Kinect shield drone. This will make it easier to survive, especially since damage can come fast and hard.
For implants, Vital Injection helps, as does Vital Boost. However, the best thing to have is Plasmic Regeneration v.5. With all the armor and shielding, it's enough to allow you to tank several hits. This alone can make the fight significantly easier.
Fighting The Rogue Process
To start the fight, head into the area and overcharge the pipe. After your overcharge it, the boss will appear and the fight will begin.
Phase 1
The first phase is quite similar to P.A.X. The Rogue Process does a bunch of close range forward attacks, so you want to be on the side attacking its limbs. Watch out for the jumping move and the occasional crouched move, as they cause The Rogue Process to expand outward dealing significant damage.
Once all the limbs are glowing red and you can't target the boss anymore, head back to the pipe and overcharge it.
Phase 2
The rest of the fight is against a humanoid enemy that fights you in a way similar to The Black Cerberus. Shield whenever possible and look for openings. Unlike most bosses, this one can be stunned, though it's best to retreat if you knock it back. Overall none of the attacks are too difficult to avoid, though if it slams the ground with its sword, there will be a wave looking attack that will move towards you. Avoid this as it does a lot of damage. Outside of that, keep attacking until you get the finishing prompt and defeat it.
Video Guide