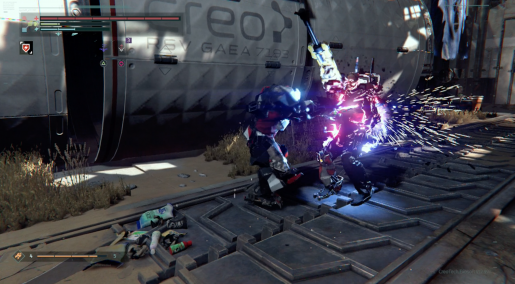 Part of the appeal to a soulsborne-esque game is all the subtitle things that can greatly improve your skills. Be it shortcuts, secret attacks, useful mechanics or something else, The Surge is filled with them. Since this can be overwhelming at first, here are some tips to make your experience easier.
Look at Signs
The Surge has a number of shortcuts that work like checkpoints. You get to a certain point, open a door or touch a device and now you can quickly travel back to that point if you so choose. Since these paths are almost always by the path forward, it isn't uncommon to progress, instead of opening a shortcut. The developers saw this potential problem and created the OPS sign.
While there isn't always a sign and some areas lack them entirely, other places do and they're a good indicator of what is where. So if you're making significant progress and you notice an OPS sign, it might be wise to open the shortcut before continuing.
Enemies Don't Respawn Unless You Enter the Base
Any enemy you kill will remain dead until you return to the base. So if you have a bunch of scraps or just want to explore the place behind you, it's completely safe to visit any place you cleared.
Scrap Multiplier Resets When You Visit the Medbay
If you want to collect a lot of scraps quickly and safely, it's entirely possible to do so. Returning to base and depositing scraps doesn't reset your multiplier, it's touching the medbay that resets the counter.
Armors Have Gear Set Bonuses
Sometimes mixing and matching is great for getting the right perks or looking cool, but wearing the full set of a specific armor gives an additional bonus. The usefulness varies, with some being downright useless, but it is always beneficial to see what they have to offer.
Breaking the Tail Off the Jumping Robot Always Gives an Implant
The jumping robots can be one of the most annoying enemies in the game. They do a lot of damage, come out of nowhere, have a lot of range and take plenty of hits to kill. However, targeting and breaking off its tail will always give a coil implant. These can be sold for cash and are quite useful if you're under leveled. They take up a slot, but increase your power by a set amount, allowing better gear to be equipped.
Certain Enemies Have Stronger Than Normal Gear
One thing I noticed in New Game +, which is quite likely true for normal, is that the twin-rigged enemy in the first area drops weapon materials one level above everyone else. By severing his arm three times you can make a weapon that is above the current level, making things like the boss significantly easier. The security guards in the second area also work the same way.
Practically Anything Hard to Get to is Not Worth Getting To
This is a sad lesson to learn, but any time I had difficulty getting to an item, said item was not worth the effort. While your experiences might differ, I found these sections tended to have items I had a surplus of and did not reward something unique, cool or special.
It is Possible to Store One Drone Charge
Have you ever killed an enemy with a bunch of energy and thought, that is a waste? If so, it might be helpful to know activating your drone with enough charge for the drone will store the charge. This is especially helpful during bosses, adventuring in new places or damaging a troublesome enemy.
Always Take Out the Humanoid Robots Heads or Arm
When you start to encounter the homo-machinalis enemies in Research and Development, you'll quickly learn they always come back to life. Removing their head or arm will vastly weaken them for the subsequent fight. Without their head, they will attack wildly and randomly, removing their threat. If you take out their weapon bearing arm, they'll lose the ability to use a weapon, making them much easier to kill. It's also important to note that, similar to how they regenerate life during the first fight, they rapidly lose life during the second fight. It is possible to stand somewhere safe and wait them out, though you only receive scraps if you land the killing blow.
You Can Use Enemy Attacks to Your Advantage
When you start fighting the flamethrower and poison gas enemies, things get a bit harder. Not only can they hurt you at range, they have a nasty DOT, along with other annoying mechanics. One mechanic that is not annoying, at least all time, is that you can use the gas to your advantage.
If either of these enemies are not wearing a something to protect their head, they will be damaged by the gas. The gas is also flammable, meaning that, while it can blow you up, it can also be used to blow them up. This works on both the flamethrower and gas enemies, so don't be afraid to use this to your advantage.