Games can be exciting for a number of reasons. Some come from an established franchise, where as others look to do something different. In the case of The Caligula Effect, it's a bit of both. With the writer of Persona and both Persona 2s', an interesting premise and more, it's easy to be hopeful. However, will that hope lead to an amazing experience or one that fails to impress?
The Caligula Effect has a story that feels like something out of the earlier Persona titles. The story takes place in a digital world ruled over by a virtual diva. Some people who knew the diva prior to winding up in the world realize the place they're in is digital and band together to find a way to go home. From there the story covers a number of interesting points and tells a story that is morally grey.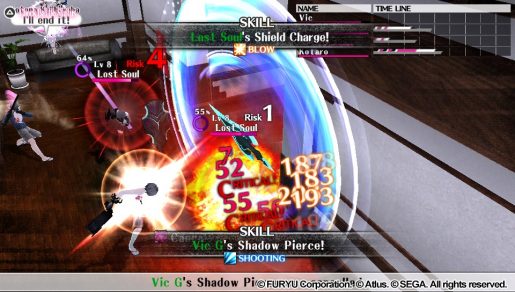 A big part of the digital world is a way to escape the misery found in the real world. This is told a number of ways, be it someone finding the appreciation they sought in the digital world or being free of their troubles. Main characters also have additional episodes that add deeper insight into them and the world. There is more than enough to keep someone interested, though that doesn't stop the gameplay from trying to discourage would be players.
The main issue is the combat system, which is needlessly complicated and tedious. This is a shame, since the basic premise isn't bad. Add a dynamic system where you can launch enemies in the air, beat them where they stand or knock them down and then add a variety of characters that cater to different roles and situations, to make a fun and thrilling system. However, it makes fights take a while and adds a lot of needless details to portray a simple concept.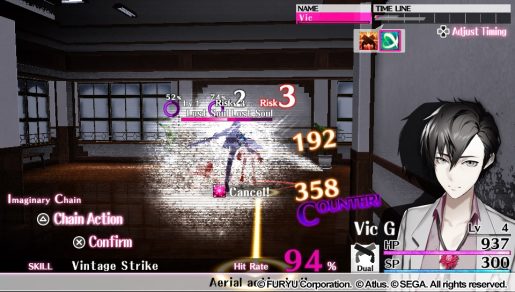 When playing Dynasty Warriors: Godseekers, the game will show you how much damage you'll likely do and you can gauge the best way to use your attack points. In The Caligula Effect, you're shown what will likely happen via a short video. Here you can see enemies losing health, getting knocked down, when they're going to attack, heck, it even tells you whether or not you'll escape from combat. With so much data, you can construct the perfect attack, learn which attacks will likely counter the enemies attack, know how if the trajectory will change and so much more.
Based off how each character fights, you can change when their attacks will take place. If I tell character A to uppercut the enemy and that sends them in the air, I can tell character B to use an aerial attack for additional damage at that point in the sequence and so forth. However, the problem becomes, who wants to invest that kind of time every fight.
Most fights can be won by inputting a lot of attacks and not changing the trajectory. If my attacks won't miss, there is no need to watch the video and maximize damage, especially since most enemies can be killed this way in a single turn. For this reason, the whole system seems pointless. Why spend a minute or more devising an attack if you can win in 10 seconds using the same attack.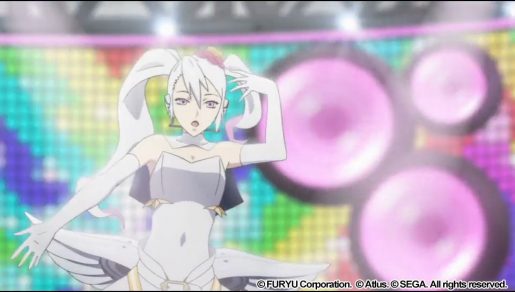 A lot of these problems could be overlooked if the combat system was intuitive or presented in a more attractive way. One of the most annoying details is how allies attack. If an enemy is behind another enemy, it isn't uncommon for allies to attack the closer enemy, even if you tell them to attack the one behind them. This is okay for ranged attacks, as it adds a bit of realism and gives you a reason to bother with the predictive combat system, but it also occurs for close range attacks. There were several times when I told an ally to rush an enemy, only for them to rush the wrong enemy, throwing off my attack.
As for the presentation, skills are broken up into different groups like attacks, buffs/debuffs and functions like run and move that you need to shift through and find. It would be much simpler to just list them, maybe offer a description and streamline the process. At the least, a favorite or bookmark bar would go a long way.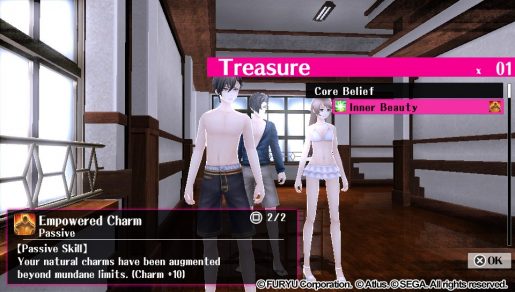 Beyond the combat system you have a dull world and a needlessly complicated communication system. Most stages take place in a location, like a school or mall, and you need to follow the story icons. Along the way you'll find enemies of various levels, which are scattered around. Some of them protect items, which you can obtain after the fight to enhance your team. There are also side paths, hidden items and more to encourage some exploration.
As for the communication system, you'll find students who're non-hostile. Talking to them raises your affinity and allow you to talk to them via the chat app. In the app you can send one of three responses, that go about expressing the comment different ways, and interact with the characters. This can be fun if you're into this sort of thing, otherwise it doesn't add much. As you raise your affinity and communicate with more people, you can gradually interact with more people across your journey. It's great for anyone who likes running around talking to people and social interaction, but terrible if you're not into it.
Verdict
The Caligula Effect is a good story held back by terrible gameplay. Almost everything in The Caligula Effect takes more effort than it should and makes the simplest of tasks tedious. At first the combat system isn't too bad, but once you get four characters and up to 16 attacks to account for, not to mention each one specializing in different things, it encourages rushing. Combine that with a fairly linear world and a huge communication system and you have an experience not even the story can save. So, unless you absolutely must experience the story, there is nothing worthwhile in The Caligula Effect.
[Editor's Note: The Caligula Effect was reviewed on the PS Vita platform. The game was provided to us by the publisher for review purposes.]
The Caligula Effect Review

,