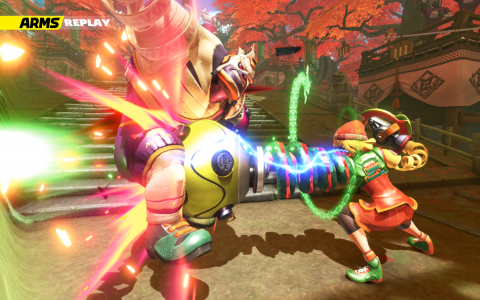 Things like a well timed hammer or positioned wheel are more likely to get the best of opponents than telegraphed moves. For this reason, it's easy to see ARMS having lasting appeal. The trick to winning isn't just skill or character, but which arms you select. The different modes also cater to different playstyles.
Similar to Super Smash Bros., the party modes can either be a lot of fun or extremely frustrating. Depending on how well you're in sync with your partner or who they're targeting, it will either be easy domination, a quick race to one or two versus one or a quick loss. One thing that is nice, is that it's possible to dominate multiple people attacking you, as long as you play smart and avoid certain attacks, like throws (it leaves you open for attack).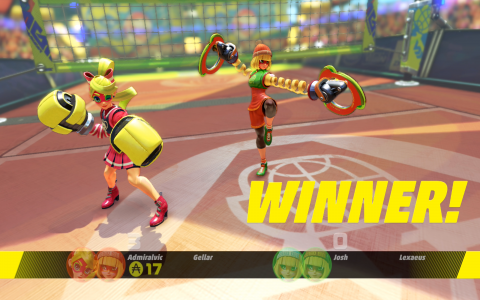 The final mode is volleyball, which was easily the least enjoyable. Aiming your fists is key to being successful in this mode, though it also boils down to luck. More often than not, it seemed like most players hit the ball randomly in hopes things would work in their favor. Not to mention, when it gets stuck near the net, it quickly becomes a desperate match to get it out of there.
In the end, the global test punch did some good and bad things for ARMS. It shows that the game is way more complicated than it looks, though it might not be for everyone. For this reason, I strongly urge anyone interested give it a go in the test punch, since I could see the controls being a deal breaker for some. Outside of that, it looks like ARMS could be an exciting new franchise for Nintendo, assuming the other characters, mode and content is as well thought out as what they showed here.