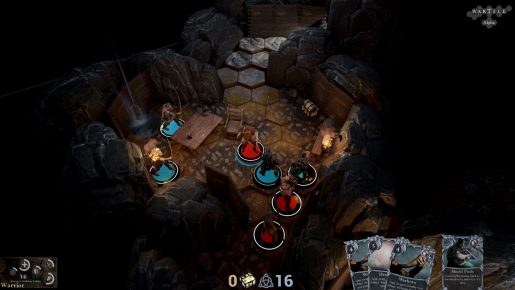 Wartile is a Viking themed real-time strategy game from developer Playwood games that has just released onto Steam early access, built using the Unreal 4 engine. This is not a traditional RTS in many respects though, and if you were to look at game screenshots you'd almost certainly come away thinking it would be turn-based game instead. The biggest reason for this is the hex-grid tiled terrain, making this look like a wonderfully detailed tabletop board game.
This similarity to a board game is a core part of the title, with a movement system where you click to 'pick up' one of your units and then again to plonk it back down in the tile of your choice. The game even refers to your troops as models which are all shown on a circular base, further selling the idea of this being a tabletop game. The pickup and place movement is an ability with a cooldown indicated by a circular bar on the base of each model, and is actually quite an intuitive system, albeit an unfamiliar one. The base of each model also features a circle in the centre which is the health of that unit where the circle decreases in size as damage is taken; again this is a very readable system but does lack the nerdy appeal of specific numbers which I associate with tabletop gaming.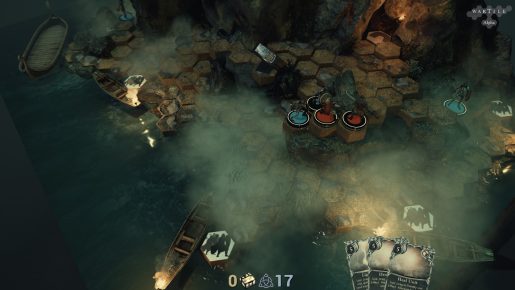 In the first level of the game you are introduced to these mechanics with a single unit under your control, fighting your way up to the top of a small island, and looting as you go. After this though you are free to spend the gold you have collected on hiring more units at the tavern, and then equipping those troops with the gear you have collected. As far as I have played, each unit uses a specific weapon set and has one special ability. These abilities cost nothing to use but have a long cooldown and complement the global abilities you have available which cost battle points – a pool of points you start with, added to as you defeat enemies. The global abilities for you to use are drawn from a deck you select before each mission at the campaign screen, including buffs to damage and defense as well as healing for your units.
Success in this game requires well-timed movement, repositioning throughout combat to maintain an optimal position; high ground is very valuable and flanking manoeuvres are satisfyingly effective. Timing your movement to minimize the damage you are taking is crucial – simply moving your men into a good position and letting them wear down the enemy works, but may leave them without enough health to survive the next engagement.
The game is a satisfying challenge the first time through each level with victory far from guaranteed and despite a degree of randomness in the combat the game avoids feeling unfair. Once you've completed a level though it is replayable at a higher difficulty, with another tier of difficulty to unlock above that. These higher difficulty levels are much more challenging and will likely require you to come back later in the game once you've looted some better equipment and levelled up your men.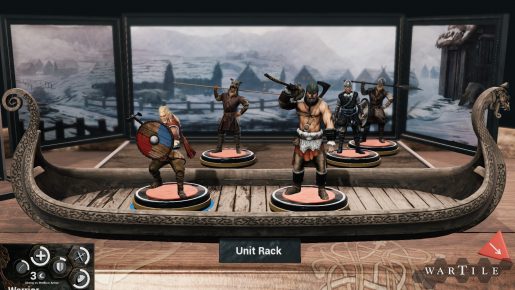 In terms of performance the game ran very well at a constant 60fps on high settings at 4k, though I was playing on a very beefy gaming computer (i7 4770k, 16GB RAM, GTX1080), and for those running a high-resolution monitor I am happy to confirm that the game's UI does scale properly. Unfortunately, graphics options are limited to simply low, medium and high. However, this will most likely be expanded as the game develops further.
At the moment there is a fairly limited amount of content on the singleplayer side with about two hours of content (albeit with significant replayability of levels due to the increased difficulty versions) but 1v1 multiplayer is also available, though if you do pick the game up it is worth noting that the multiplayer is gated behind completion of several solo levels. According to the developers implementation of modes with more players is planned, particularly with four players either in a 2v2 or free for all environment. More singleplayer content is also planned including variations of existing maps with different environmental conditions and objectives, and entirely new maps including some with entirely different visual themes.
I have played an enormous number of strategy games both real-time and turn-based, and I have never come across anything which quite feels like Wartile. The unique movement mechanics makes this an extremely distinctive title when in motion and should appeal to strategy gamers of both types; turn-based gamers in particular being accommodated with a slow-motion mode activated by pressing space which gives you more time to think and react. All in all, this is a very interesting game which I'll certainly continue to play as the game develops and much needed additional content is added. Wartile is available on Steam early access for £13.49/17,99€/$17.99 including a 10% launch discount.