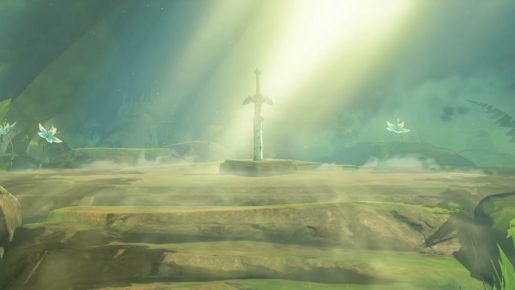 One of the most exciting items in The Legend of Zelda: Breath of the Wild is the Master Sword. The iconic blade is hidden somewhere in a stone and it's your job to find it. While there are plenty of places to look, you need to progress in the story to get clues of its whereabouts. However, since you can find the sword at any point, this guide will tell you where it's located and how to get it.
Finding the Master Sword
The Master Sword is located in Korok Forest, which is part of the Great Hyrule Forest, hidden past the Lost Woods. To find the Lost Woods, simply head north of Hyrule Castle and look for a forest covered in fog. It's within close proximity of the tower if you're having issues finding it.
To find your way through the woods, simply follow the torches until you find two of them across from each other. At this point head to the left and then make your way north. If you do this correctly, you should find a fork in the road. Head right and then keep moving forward until you make your way to the village. Make sure you interact with the shrine if you never want to bother with that again.
There you will find the Master Sword and unlock the quest.
Obtaining the Master Sword
The requirements for obtaining the Master Sword are pretty straightforward. You simply need 13 red hearts to successfully extract the blade. Since you start with three and you get four from saving the divine beasts, you only need to get six from shrines. This means you need to do no less than 24, with an additional four per divine beast you haven't finished. This can take some time to do, but there is one trick that might make things easier.
If you already cleared the shrines and obtained stamina enhancements, there is a statue in Hateno Village that will let you swap hearts for stamina and vice versa. The statue is located to the right of the south gate, on the side of the mountain facing away from the village. You'll need to talk to the statue for a bit and pay a small fee for the change, but it's still better than finding and clearing four shrines.
Once you have all 13 hearts you'll be able to extract the blade. Despite the swords legacy, its attack is only 30, but when facing Ganon and malicious forces, the blades attack jumps to 60. This makes the final fight against Ganon much easier.
If you're having problems with any part of the guide, you can find a video guide below.