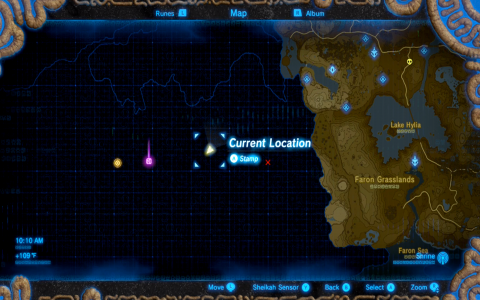 Part of the fun of The Legend of Zelda: Breath of the Wild is unlocking secrets and solving puzzles. Unlike a lot of other shrines, the Korsh O'hu Shrine is hidden behind a puzzle. This makes it very easy to miss or overlook, since you might think the puzzle isn't worth the time. Not only is it worth it, the puzzle itself is also the shrines challenge, so unlocking the shrine will immediately give you the spirit orb.
Location
The shrine is located at the spot shown on the picture above, in a place called East Gerudo Ruins. You'll know this place is special since there are multiple giant statues in a circle.
Puzzle
To solve the puzzle you first need to get on top one of the statues and make your way towards the one with a ball on the arms. This is one of the balls you need to solve the puzzle and the only well hidden one. To actually solve the puzzle, simply collect all the balls from around the statues and match them with the icons on the statue. Please note, every statue has the icon in a different place, so you do need to look around.

Solution
If you don't want to bother solving the puzzle for yourself, the solution is, starting from the place to the left of the image above, fire red, V, circle, double dots, the I looking one, blue flame, II. Once the last one is in place, the shrine will appear like it does in the image above to give you your prize.