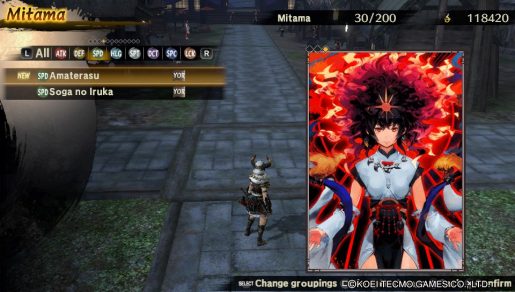 Monster hunter games can be tricky to start, since there is always a lot to learn and do. How to approach enemies, best armor, what stats help the most and so forth. Toukiden 2 isn't as restrictive as others, meaning you can find success doing almost anything, but there are some helpful things to know. To make the learning experience easier, here are five tips that will help you a lot in the beginning.
Pick Up Red Glowing Items
While you're out in the world there are a number of materials and items you can find on the floor. Most are useful, though if they help you is another question, but nothing is more useful than the red colored items on the floor. A red glowing item indicates it's a multipurpose rock, which can be used to substitute any item you lack. So if you're short one piece from such and such boss or you really don't want to fight a specific oni, you can get around this requirement by using these stones.
Please note, don't waste them on upgrades or anything below tier 3. At the lower level you should get enough of those materials by progressing through the story to not need them.
Pay Attention to Mitama Boosts
As you progress you'll unlock different Mitama, which have different skills and abilities. For the most part, every Mitama features the exact same skills for a given type, but they all have different boosts. Boosts can be used to enhance a skill you use, make you more effective in combat and a number of other things. These can be useful to watch, as certain characters are more powerful than others. Mitama also have bonuses for using similar types or equipping people they knew. So, unless you really like a specific Mitama, you're much better off swapping it for a different one, especially if it's the same type, if it gives an additional perk.
Some items and enemies require the Eye of Truth to see
The Eye of Truth won't protect you from unseen attacks or vastly change the game, but it can reveal some interesting things. I've unlocked a couple of Mitama by killing enemies that require it and several drops materials can only be seen with this active. In addition to that, the shift from light to dark makes it easier to see things laying around.
Tenko companions can be helpful
A lot can happen on the battlefield and there is only so much your team can do. If you're looking for a little extra help, bringing a Tenko with you can provide a number of benefits. Besides being a cute little cheerleader, they can assist with purifying and other things.
Break parts that pose a threat to you
Like similar games, breaking and purifying specific parts can remove their threat. They will almost always appear in spiritual form after and often times will regenerate, but if you do this multiple times they will eventually be removed from play. Depending on the oni, this can remove their ability to move, do any sort of damage or even pose any sort of threat. It's much better to take out an armless oni than dealing with it normally.