Change can be a good thing. In the case of The Legend of Zelda: Breath of the Wild, it brought new life to the series, though it can also spell death, such as Lost Planet 3. While Atelier has always been an interesting series, adding a more open-world aspect certainly seems like an interesting take. With a cute story, mechanics you know and love and the standard RPG stuff, is Atelier Firis ~The Alchemist and the Mysterious Journey~ worth playing or is it just another entry in the series?
Atelier Firis ~The Alchemist and the Mysterious Journey~ tells the all too familiar story of following your dreams or being consumed by expectations. Firis wants nothing more than to see the world that lies beyond her small village, but her family fears for her safety and her talent of finding ore with little to no effort makes her a massive asset to the village. While her dream looks to be hopeless, this all changes when she meets Sophie and is introduced to the world of alchemy.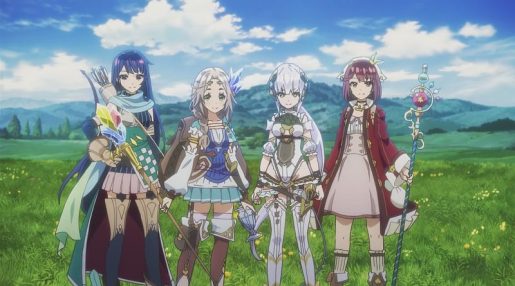 Naturally she has a knack for it and when she discovers this could be her ticket to freedom, she finds the resolve master it. Ultimately she learns enough to gain her freedom, but it comes with conditions. She has about 360 days to travel the world, obtain three letters and pass the alchemy exam or she must return to the village and continue helping them collect ore. It's an unfair request, but Firis is more than willing to agree if it means she can see the world she longs to explore.
Beyond the cute story that is filled with mystery and wonder, you have a fairly basic Atelier game. The first hour or so introduces you to the most basic elements of the game. Here you need to collect materials, talk to people and solve problems with alchemy. This stuff isn't too bad, but at its core, Atelier Firis ~The Alchemist and the Mysterious Journey~ is about time management.
Be it the tutorial or getting your license, you have a finite amount of time to complete every task, with everything you do costing some amount of time. This means you can't spend too long collecting materials, fighting enemies or wondering around. Thankfully you're given a generous amount of time, but you still don't want to waste it doing the wrong things.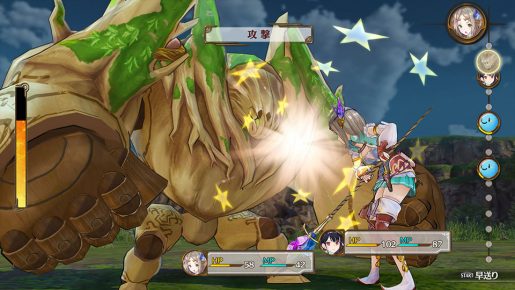 Most of your time will likely be spent helping people and making recipes. This can be a lot of fun, especially since your ability to craft things will continue to open up as you progress, but it also offers solutions to all kinds of problems. This includes healing, opening up paths or just collecting materials faster. It will also aid you in battle.
The average battle is fairly typical for a turn based RPG. You can attack, use magic, defend or use an item. Based off your gauge, you can also get a rush mode where you attack faster or can shield Firis from taking damage during battles. Tactics can make battles easier, though the average battle is pretty straightforward. Attack the enemy, try to maximize damage and minimize turns, while keeping everyone alive.
In addition to battles taking time, like everything else, you have a separate gauge for how long you can be active before needing to rest. Similar to time, this gauge moves with every choice you make, be it collecting materials or going into combat. This will force you to rest to heal HP/MP and restore LP. By managing all these things correctly, you can find success and complete your journey.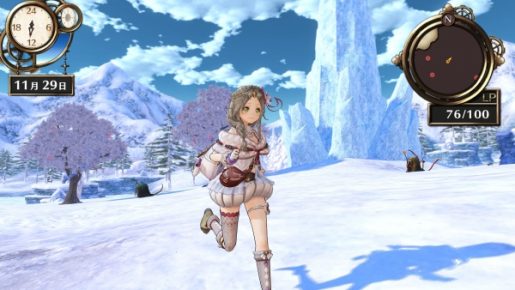 If there is one problem with Atelier Firis ~The Alchemist and the Mysterious Journey~ it's that successfully managing these things can be quite bothersome. As the world opens up and quests/recipes unlock, you start to feel the time crunch. Failing to do the right thing, fighting too many enemies, sleeping, building your alchemy and so forth will chip away at your time and it will start to feel like you don't have time to complete all the tasks. This can get frustrating, especially since failure means Firis misses out on her dream.
Another frustrating problem is the frame rate. On the Vita version there is noticeable lag in the starting town and running around, leading to a less enjoyable experience. Sadly, there doesn't seem to be any way to prevent it, as even with very few things going on the problems seem ever present.
Verdict
Atelier Firis ~The Alchemist and the Mysterious Journey~ is a decent Atelier game, but it isn't anything new. Firis' story is one that is easy to connect with and a lot of fun to experience, but beyond that there is nothing special. The combat is typical of the genre and alchemy is pretty straightforward. Most of your time will be spent collecting things or talking to people, making for a pretty bland adventure. However, if you're into those things and want to see Firis realize her dream, then Atelier Firis ~The Alchemist and the Mysterious Journey~ is for you, but if you don't, then get a different RPG.
[Editor's Note: Atelier Firis ~The Alchemist and the Mysterious Journey~ was reviewed on PS Vita platform. The game was provided to us by the publisher for review purposes.]
Atelier Firis ~The Alchemist and the Mysterious Journey~ Review

,