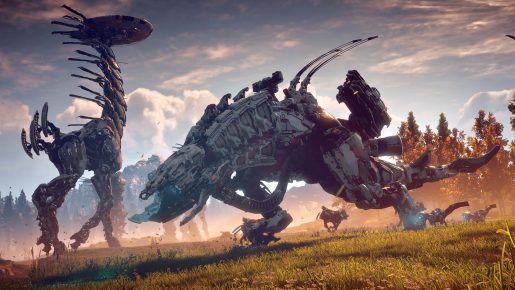 Horizon: Zero Dawn is a big game and there's lot of of things that you need to know in order to be successful. Here are a few things we did that helped us in our journey.
If you have yet to play Horizon: Zero Dawn, minor (and we do man minor) spoilers follow. Some stuff you won't encounter until a little after you complete the prologue of the game. Anyway, here are a few tips to help you.
Loot Lots of Medical Herbs: Horizon: Zero Dawn allows you to craft your own ammo and items. One of the first things you will notice is that you can grab medical herbs on the ground to recover your health. Replenishing your health is important because this game doesn't automatically recover health for you. Not even when you reach a save point does your health recover.
You want to look out for red flowers on the ground that can give you health. You can them press the up button on the d-pad to use it when you need it. Later on in the game you can acquire Health Potions from merchants, but medical herbs are free to use and are everywhere. I also tried not to fast travel to missions just to collect as many herbs as possible.
Loot Everything You See:  When you kill a machine, make sure to press triangle to loot everything from it. You will get important items that you can use later to craft ammo for your weapons or stuff you can trade with merchants. The main currency in this game are Metal Shards so grab lots of them. You also need to craft arrows for your bow so look out for little trees called "Ridgewood" across the large plain.
Hunt Meat From Real Animals: Meat is important in the game as you may need it to craft things such as a Fast Travel pack and to increase the number of resources/ammo you can hold. If you see animals out in the wild, try to take their meat whenever you can. You can get meat or skins from animals such as rabbits, foxes, boars and even fish in rivers.
Use Your Focus To Find Weaknesses Of The Machines: The Focus that Aloy gets early on in the game is the most helpful device. It can track the movement of the machines and also highlights their weaknesses. Some machines have certain body parts that are weak against fire, ice, tears and other things. Press R3 to use the focus to analyze what will kill them.
Look Out For Yellow Colored Ledges To Climb: There are several climbing sections in Horizon: Zero Dawn, If you find yourself getting stuck for some reason, try and look out for yellow colored ledges. Sometimes the ledges are flat and beige. In either case, if you see anything in these two colors, this means you can climb.
Use The Spear If You're Running Out Of Ammo: If you are running out of ammo, you can use Aloy's spear to great effect. The spear actually does a lot more damage and can even stun smaller machines on the ground. Using stealth is also a great method to try and conserve precious ammo. Aloy sadly cannot block in the game, but you can spam circle to dodge attacks when you need to.