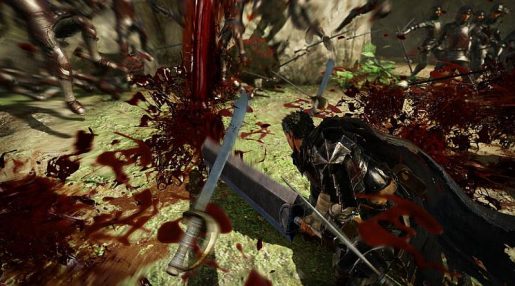 Sometimes it can be a lot of fun to earn trophies, where as other times they can be tedious. In the case of Abyss Conquerer, it's a very tedious task. The issue isn't overcoming the challenge per se, but finding a way to get by it that is both fast and effective. While that is easier said than done, this guide will help make the mode more bearable.
Which Character to Use
For this mode I strongly suggest using Guts. Not only is he likely your highest level character, his transformed form can melt enemies and bosses. Plus his cannon is great burst damage.
Build
At level 99 Guts has 8,000 vitality, 880 attack, 720 defense and 640 technique. This is important to know, since The Hawk of the Light Idol accessory gives 100 attack, defense and technique at max level. So, you can get every stat to its max level by having 59 technique and 198 vitality. From there, you perks that aid you in frenzy mode and death blow, with a stronger lean towards frenzy. These include things like slow burn and frenzy offense. In my experience, I also found perks like regeneration and resurgence to be useless.
As far as actual builds are concerned, I would have vitality, luck up, range up, frenzy offense, potency and then whatever else suits your play style. With this build I was able to defeat several bosses, even some on floor 90+, in a single frenzy session.
For equipped items I would use fairy dust, puck spark, mermaid salve and mercenary salve. Only use vitality items when you absolutely have to and if you play smart, you should be able to finish 100 floors with maybe one or two uses. Puck spark is a good tool to stun annoying enemies, allowing you to get some easy damage/avoid taking too much damage. I advise using it on Slan, Femto and one enemy of your choosing.
Strategy
First and foremost, there are four things you need to keep in mind with this mode. The first is that several missions are predetermined, such as 81 through 100. Missions you can choose appear at different difficulties, so you should pick the ones you want, especially since you gain the ability to start at floor 101 and will be randomly assigned four missions. One of the biggest tips is to do optional objectives. Killing a transport or protecting one should always give you a max vitality item, which is a great way to save equipped items. Finally, remember that the stray demons that give behelits are optional. Killing them is a great way to get out of doing it later, but if you don't think you can win, don't engage.
The mode itself is surprisingly simple. The best strategy is to mow down enemies, activate frenzy mode, fill your death blow gauge and transform. As long as your transformed death blow gauge is filled, you'll have the ability to use it straight away in frenzy mode.
The best way to maximize damage in frenzy mode is to use the cannon and then use your death blow attack as often as safely possible. You want to end with a full gauge, so don't bother if you can't do that. By doing this you'll recover equipped item time, without wasting frenzy mode time.
Finally, once you're red health you gain frenzy gauge quickly and without combat. The trick is to engage enemies during frenzy mode and then disengage when it's about to run out. By doing this, even if you don't block attacks or try too hard, you're basically invincible. it's, admittedly, a cheap way to win, but some of the fights like Femto are quite annoying. By abusing frenzy mode and maximizing damage, you should be able to finish this mode with relative ease.