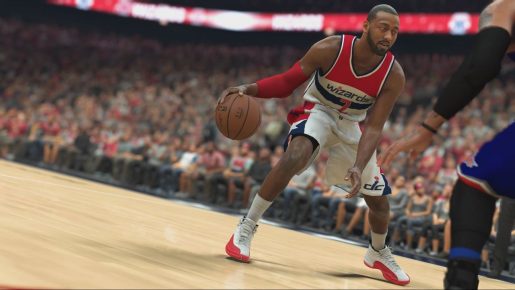 2K Sports has now released update patch 1.09 for NBA 2K17. The full notes have been posted already on Facebook for you to read.
The new update patch for NBA 2K17 is available now on PS4 and is coming soon for Xbox One. Try and download and install the update as soon as you can once you see it available. The notes can be seen below.
Fixed an issue that would cause some users to sit on the team logo screen during startup for an extended period of time.
Corrected a case where users were able to upgrade their MyPLAYER outside of the constraints of their selected archetype.
Fixed an issue that was preventing offensive strategies from running properly during gameplay.
Difficulty level for MyTEAM Play With Friends games has been changed to All-Star.
Fixed a case where some Grand Badges were incorrectly negating the effectiveness of other Grand Badges they should not have.
Addressed a hang that could occur during a Park After Dark event when leaving and re-entering the event.
Fixed a case where certain users would not appear in a MyCOURT owner's "In MyCOURT" list, making it impossible for the court owner to kick them from the court.
In MyPARK, users will now have the default camera settings for their chosen camera angle, and will still be able to select the camera of their choosing.
MyPLAYERs are now able to attain an overall rating of 99.
NBA 2K17 is out now for the PS4, PS3, Xbox One and Xbox 360 platforms. NBA 2K18 will be out later this year and the game will be the first to hit the Nintendo Switch.