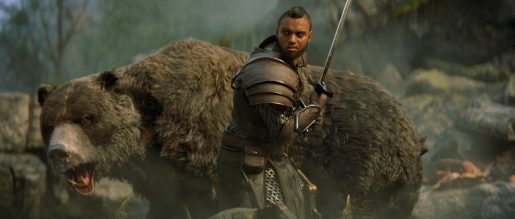 Today a number of exciting things were revealed for The Elder Scrolls Online.
The biggest is the often requested and ever hopeful Morrowind will be the next expansion. It boasts over 30 hours of gameplay, with it being the largest addition to the game yet.
"Vvardenfell… utilizes the same geographic footprint as The Elder Scrolls 3: Morrowind," explained Zenimax. "including all key points of interest from the classic game. Players will embark on a dangerous journey… 700 years before the events of The Elder Scrolls 3, from the docks of Seyda Neen, to the volcanic Ashlands, to dense, mushroom-filled forests, and through the glory of Vivec City, still under construction in this time period."
In addition to the expansion, a new class, known as The Warden, will also be available when Morrowind releases. The Warden is aided by a giant bear, making it sound, if nothing else, interesting. The expansion is also bringing a new PVP mode called Battlegrounds. The Battlegrounds features three-team battles, with each team consisting of four-players.
The expansion will be available on simultaneously on PC, Xbox One and PlayStation 4 on June 6, and cost $39.99 for the update, with a bundle including the original game for $59.99. There is also a collector's edition, which includes a unique bear skin, armored horse mount, dwarven spider pet, morag tong armor convertor and some emotes. Those who preorder can also get a special costume, war dog pet, experience scrolls, treasure maps and dwarven crown crates.