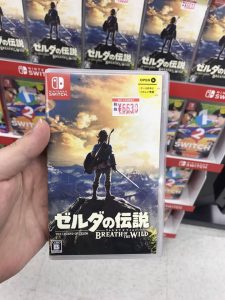 Some images have now been posted online on what the Nintendo Switch game cases will look like over in Japan. Some fans will recognize they look similar to PSP game cases.
The following images were posted via Twitter by Gaijinhunter. The person showed us a Nintendo Switch game case for The Legend of Zelda: Breath of the Wild. Japanese retailers have put up displays already.
It's worth mentioning game cases might look different outside of Japan. You might see something different if you live in North America or Europe. The PSP-like cases for the Switch is a good move as it differentiates itself from the Wii U cases.
If you are wondering why the Switch cases are so small, this is because games are being shipped on small cartridges now. To allow the Switch to be a portable device, Nintendo didn't make the console be able to play disc-based media. You can check out more images below.