While Dynasty Warriors is typically associated with the fairly straightforward hack and slash game, the franchise has tried to be more than that. We've seen different takes on the core concept, cross-overs and, of course, spinoffs. The latest spinoff, Dynasty Warriors: Godseekers, turns the hack and slash game to a turn based tactical RPG, similar to Final Fantasy Tactics or Disgaea. With this new direction, is Dynasty Warriors: Godseekers worth getting into or is it proof Omega Force should stick to what they know?
Dynasty Warriors: Godseekers tells a familiar story with some new twists. The core three kingdoms struggle, yellow turban rebellion, Lu Bu story/details are present, but this time there is a goddess named Lixia. You meet her at the start of the game and she is basically the driving force of the story. The locations, details and so forth should be familiar for anyone who knows remotely anything about Dynasty Warriors/this era, though it's still nice to see them try different approaches to telling the story.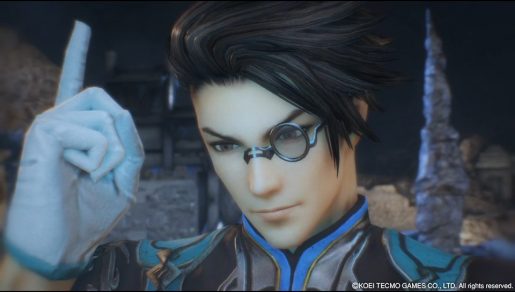 The most exciting change is the move to a tactical RPG, a choice that sounds like a bigger leap than it actually is. Even though the gameplay is different, all the core elements and mechanics are present. Killing enemies builds your musou gauge, there are conditions to winning, grunts are basically experience fuel and the AI isn't terribly challenging. This works fine for the base game, but presents a number of problems with a tactical RPG.
When push comes to shove, it doesn't feel particularly difficult to overpower and defeat the AI, even on the games hard mode. Part of this is how most of the enemies are bunched up, allowing you to defeat seven or eight enemies a turn, but the other part is how attacks work.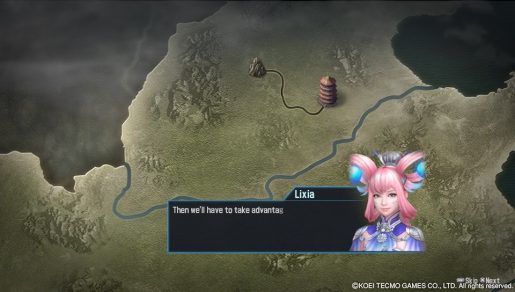 Most characters/attacks hit over a field, allowing you to attack two to nine enemies at once. Musou attacks allow for more damage, typically over a greater range, making it an invaluable skill to take out three or four enemies. Dynasty Warriors: Godseekers is also nice enough to inform you how much damage you're expected to do, allowing you to know when and how to defeat your foes with minimal effort. From there, the synchro gauge is very easy to abuse, making it even easier to take out countless enemies with ease.
The issue with the synchro gauge is that it's easy to build, even easier to master and borderline broken if used effectively. Since a lot of levels have clusters of enemies at the start, it wasn't uncommon to fill the synchro gauge at the start, waste a turn getting my officers in formation and then using the move. Since the synchro attack is essentially a move that skips the enemies turn, all the officers gain the ability to move/attack again, allowing for massive attacks, with the final move giving a massive attack.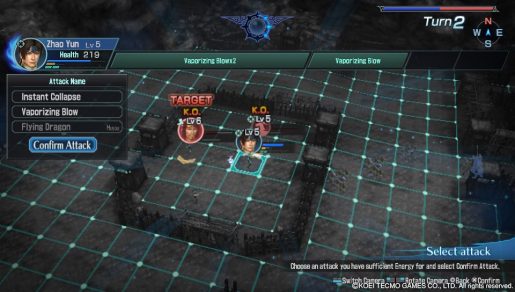 When used correctly, this can take out 12 or so troops and refill the gauge, allowing you to repeat the following turn. This makes several levels, especially those with lots of troops that don't move, very easy to complete.
Upon completing a stage there will be standard awards. These include healing items, buffs and traditional RPG fare. If you complete certain tasks, like using a synch attack with two or more officers or generate so much gauge in a single turn, you gain additional rewards, in addition to chests at the end of a level. Chests give weapons with different stats, rarities and perks. The nice thing about the weapon system is that it's very straightforward.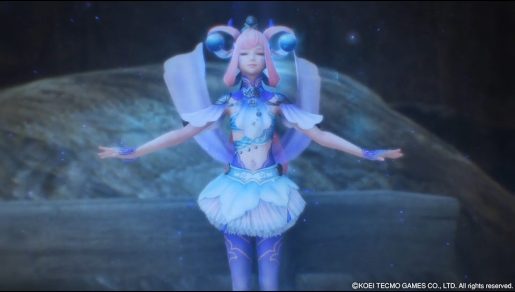 The higher the tier, obviously the better the weapon, with the ability to further enhance them. This can be done by paying gold to increase the attack or applying a weapons attribute to a different weapon. The nice thing about this is, even though you have to overwrite skills, doing so will combined the total. So if you combine an attack 20 percent skill with another attack 20 percent skill, you'll have an attack skill with 40 percent. This allows for even more overpowered players, but also something for endgame players to mess around with. There is also a merchant that sells weapons to help you along the way.
Verdict
Dynasty Warriors: Godseekers is fun if you're looking for a straightforward RPG, but for anyone else it will fall short. The gameplay starts with a lot of tutorials, mostly to explain basic elements, with the actual gameplay being very simple. Odds are it won't take long before you can overpower an army with two or three officers, a task that can be fun, but don't expect a particularly deep experience. Some of the additional mechanics, such as the musou synchro gauge, offer a nice change of pace, even if they further trivialize the difficulty. For some this might be an issue, but you have to check out a Dynasty Warriors RPG, then Dynasty Warriors: Godseekers is a decent choice.
[Editor's Note: Dynasty Warriors: Godseekers was reviewed on PS Vita / PS4 platform. The game was provided to us by the publisher for review purposes.]
Dynasty Warriors: Godseekers Review

,