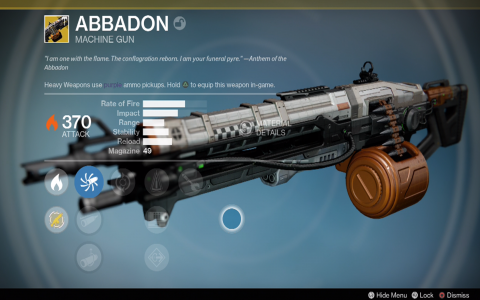 Two of the most exciting additions in Destiny's The Dawning update were the exotics Nova Mortis (Voidlord) and Abbadon (Solarlord). The two guns have been teased for a while and are now finally in the game, though they will take some work to unlock.
Obtaining the quest
To obtain Nova Mortis, you need to first obtain rank 7 in the Competitive Spirit book. This will give you the Xur tag, which gives the quest.
Once you've obtained the Nova Mortis, it will unlock the Abbadon quest. Commander Zavala will have the quest if your marker doesn't change.
Guide
Neither gun is hard to obtain and is essentially the same quest with different objectives. For Nova Mortis you have to get void ability kills and go do the Hive Abomination strike, where as Abbadon is solar ability kills and the bond brother strike. Should take about 30 minutes to an hour once you unlock the quest and award the exotic at 370 light.