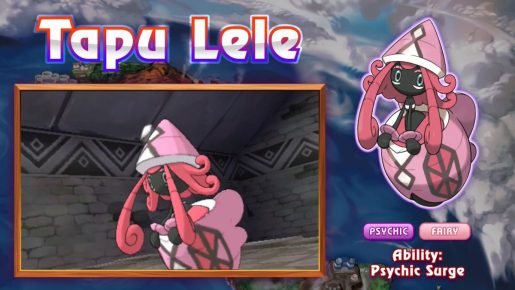 In Pokemon Sun and Pokemon Moon, there are four guardians of the Island that you can catch later on and one of them is Tapu LeLe.
As you explore the Akala Island of Alola, you probably have met Tapu LeLe and luckily, it's one of the other legendary Pokemon that you are able to catch later in the game.
Here's how to catch the legendary Tapu LeLe:
Pokemon Sun & Moon – Catching Tapu LeLe
After becoming the first Alola Champion, you now have the opportunity to catch the cute Tapu LeLe. You can find Tapu Lele in the Ruins of Life.
Once you get to the ruins, simply touch the pedestal. Tapu KoKo will then challenge you with it being level 60.
If at some point you defeated it instead of catching it, you can re-challenge it by defeating the Elite Four.
Make sure that you have enough Poke Ball as it can be quite challenging trying to catch it. As soon as you catch it, you will get Tapu KoKo at level 60 with the following move set:
Nature's Madness
Extrasensory
Flatter
Moonblast
Please note that Tapu LeLe is the first of the four Legendary Pokemon that you can catch. Make sure you are prepared before fighting it!