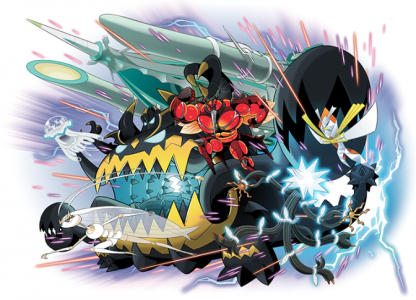 Arguably one of the most exciting additions in Pokemon Sun and Moon are the newly added ultra beasts. They appear in the story, but outside of a single battle and some stuff later on, they don't have much of a presence. However, once you reach a certain point in the story you gain the ability to not just fight them, but capture them too.
Pokemon Sun and Moon Guide
How to start the Ultra Beast storyline
Contrary to what you might think, the ultra beasts are locked behind a storyline that is only accessible when you defeat the Elite 4. To start it, simply finish the game and exit your house. A mysterious person will talk to you and give you a card. The card will tell you to go to the guest room of the Route 8 motel room. There you'll meet two people working with the international police, who will start the quest line.
To actually capture the Pokemon, you have to first prove your worth by defeating Anabel. Once she is defeated, she will tell you to go to the Aether Foundation and see Wicke. She will give you special pokeballs called beast balls, which look really cool, have a high chance of capturing ultra beasts and an extremely low chance of catching normal pokemon. Once you have the balls, return to motel on Route 8.
Upon entering the room Looker will inform you of sightings of Nihilego.
Capturing Nihilego
Looker will tell you Nihilego has been sighted in Well Volcano and Diglett's Tunnel. Choose one of those areas and start looking around. You'll know you're close when the music changes. Once this happens just wait for a battle to occur and hope that pokemon turns out to be Nihilego.
The fight itself should be pretty easy and the capture rate is actually pretty high with a beast ball. Just weaken it a little and then throw the ball. Return to see Looker after you've captured it. Doing this will start your quest to find the next ultra beast, Buzzwole (Sun) or Pheromosa (Moon).
Capturing Buzzwole or Pheromosa
You'll be told to go to Route 2 and then you'll need to go to Melemele Meadow (Sun) or Verdant Cavern (Moon). There you'll need to catch either two Buzzwole's or four Phermosa's. While I don't have any tips for Buzzwole, I found Phermosa by illuminated areas.
Similar to the Nihilego fight it should be pretty easy and not take you too long to complete. Return to the motel on Route 2 to report your progress, followed by returning to route 8. There you'll learn of sightings of Xurkitree.
Capturing Xurkitree
There you'll learn that two Xurkitree's were sported in Lush Jungle and Memorial Hill. Head to each location and track down the pokemon. Upon catching both, return to Looker for your next assignment, catching Kartana (Sun) or Celesteela (Moon).
Capturing Kartana or Celestella
This time you'll need to head to Route 13 and then investigate sights in Malie Garden (both), Route 17 (Sun) or Haina Desert (Moon). Similar to the other exclusives, there are four Kartana, but only two Celestella. Finding them might take some time, but once you finish, return to Route 13 to see Looker and start your quest to get the last ultra beast, Guzzlord.
Capturing Guzzlord
Sightings indicate the last Pokemon is located on Seafolk Island, so head there and visit the restaurant. There you'll find Looker and Nanu will challenge you to a fight. Defeat him to learn of sightings of Guzzlord in Resolution Cave. Head to the cave and work your way to the lower level. This requires you to go through the first floor and then head south in the next room. You'll find him in the lower area.
Upon completion, return to the Seafolk Island restaurant to report your progress. You'll be told to visit Wicke on Aether Paradise, who will thank you for getting all the ultra pokemon. At this time Looker will appear telling you about this mysterious Pokemon he saw, which will unlock the final legendary, Necrozma.