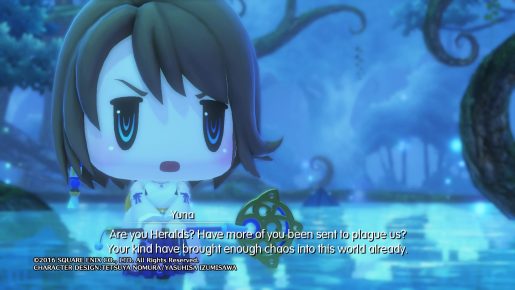 In World of Final Fantasy, you can seek out the help of the 14 Champions, aka Final Fantasy characters, when battling tough Mirages in Grymoire.
Unlocking them requires some time as you have to do their Intervention Quests from the Girl Who Forgot Her Name in the Tea Room. Below is the complete list of Champions that will be joining you. Once you see that you have unlocked the Champion, immediately go to the Tea Room in Nine Wood Hills and start doing their Intervention Quests to receive the medal.
Please note that you need Arma Gems to unlock their Intervention Quests.
Helpful Links:
– Arma Gems and Where to Get Them
– How to Summon Final Fantasy Characters
The 14 Champions – World of Final Fantasy
Warrior of Light
When Does it Unlock After meeting The Girl Who Forgot Her Name in Chapter 5
Skill: Oversoul (DPS)
Refia
When Does it Unlock At the start of Chapter 8
Skill: Healight Light (Heals)
Tifa
When Does it Unlock End of Chapter 10
Skill: Final Heaven (DPS)
Snow
When Does it Unlock End of Chapter 12
Skill: Sovereign Fist (DPS/Support)
Lightning
When Does it Unlock End of Chapter 13
Skill: Gestalt Drive (DPS)
Squall
When Does it Unlock End of Chapter 14
Skill: Lion Heart (DPS/Support)
Shelke
When Does it Unlock End of Chapter 15
Skill: Countertek (Heals)
Bartz
When Does it Unlock End of Chapter 16
Skill: Clash on Big Bridge (DPS/Support)
Cloud
When Does it Unlock End of Chapter 17
Skill: Omnislash (DPS/Support)
Celes
When Does it Unlock End of Chapter 17
Skill: Runic (DPS)
Tidus
When Does it Unlock End of Chapter 18
Skill: Blitz Ace (DPS)
Shantotto
When Does it Unlock End of Chapter 18
Skill: Magic Burst (DPS/Support)
Yuna
When Does it Unlock End of Chapter 20
Skill: Sending (Heals)
Terra
When Does it Unlock End of Chapter 10
Skill: Magitek Laser (DPS/Support)