Over the years, Neptunia has evolved from its humble beginnings to a fairly popular series. With new characters constantly being added, the series going in various directions and a combat system that keeps improving, it's easy to see why fans get excited. Superdimension Neptune VS Sega Hard Girls takes the series in yet another direction. With IF taking center stage, a simplified combat system and all the things fans have come to love and expect, is Superdimension Neptune VS Sega Hard Girls worth playing or is it a spin-off we don't need.
Superdimension Neptune VS Sega Hard Girls starts with IF being in a desolate future with nothing besides her prized bike. She finds a library, complete with Histoire, and a mysterious girl who fell from the sky. You later learn there are issues in the past, so IF's bike is modified to support time travel and you go to the past on various missions to correct where things went wrong.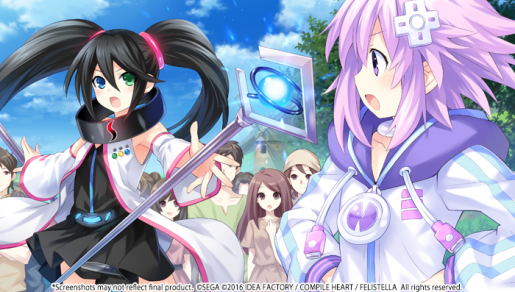 The stories themselves are pretty straightforward for the series and are less about the plot and more about character interactions. Even though Superdimension Neptune VS Sega Hard Girls is really focused on the plot, it also takes the series in some odd directions. Like the ever meta heavy and fourth wall breaking Neptune gets turned into and spends most of the game as IF's aforementioned motorcycle. A joke they get a surprisingly high amount of mileage out of.
As for the new girls they mostly follow Sega's amazing, but unfortunate, history. Like a lot of the games in the series there is talk of working together and sharing the love of gaming, which works better from this perspective. Especially since Neptunia has always looked favorably at Sega, with Neptune herself being a reference to a Sega console and her world being representative of Sega.
Even though the story is one of the best in the series, the gameplay leaves a bit to be desired. Superdimension Neptune VS Sega Hard Girls features a new, simplified, take on the classic combat system. Like previous titles enemies are grouped up, you can freely run around a circle and perform various attacks to damage them. However, it isn't as deep as previous titles.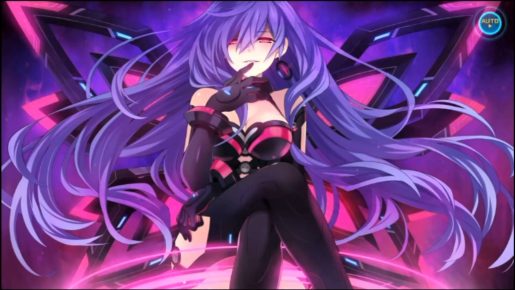 Instead of the usual attack area, you instead attack enemies over a field with no overlap. To compensate for the loss of damage, you can attack a fixed number of times on a single turn, allowing you to attack multiple enemies if you so desire. There is also only one attack button now with a set number of attacks. Characters also have passive skills, along with attack skills that can hit multiple enemies, along with the power to transform and so forth.
The biggest change to the combat system is the introduction of classes. Instead of every character developing a specific way, you can select a class that changes the way they develop, along with unique attacks and skills for each class. Like Segami's first two classes are high stats and high skills. It makes for a more interesting experience than just playing every character a specific way.
Another major change is the addition of gems, fever time and charged attacks. Gems are items scattered across the field during combat that gives you perks like increased attack or replenish health. Fever time is a gauge that you can fill and then redeem for the chance to steamroll enemies by ignoring their ability to move or attack for a fixed number of attacks/moves. It's great for killing bosses or preventing a failure in a situation you're not ready for. The final are charged attacks, which let you trade all your remaining moves for a single attack that lowers your priority, but typically does increased damage or some sort of bonus. Theses are all helpful mechanics if you want to be successful, though like every other game in the series, not required to complete the game.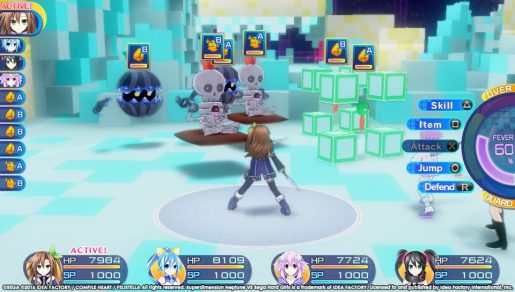 The levels themselves have also been changed, as have plans and quest. Levels now have climbing, crawling, running and jumping mechanics that will aid you in collecting hidden medals or baseballs for special events. Plans no longer require items to unlock and can be freely enabled or disabled. Finally quests are now tied to story progress and let you pick which of the four main storylines you wish to progress in. It offers a fair bit of variety in an otherwise linear game.
Verdict
Superdimension Neptune VS Sega Hard Girls might not be the most original Neptuinia game, but it is still a fair bit of fun. The combat has enough to make newcomers happy, with enough to be familiar to existing fans. The new storyline is a lot of fun, especially with all the jokes related to Neptune turning into a motorcycle, which is sure to make fans happy. Combine this with some cute new girls, a lot of Sega history and countless familiar places/enemies and you have a pretty good game that fans are sure to enjoy.
[Editor's Note: Superdimension Neptune VS Sega Hard Girls was reviewed on PS Vita platform. The game was provided to us by the publisher for review purposes.]
Superdimension Neptune VS Sega Hard Girls Review

,