There are times in Skyrim where you'll face a hard opponent and the only way to get through it, is with the help of your chosen followers. In Skyrim, there are a total of 45 people from different classes that can aid you in your journey. Some of them gets unlocked automatically while others will require some questing done before they can join you.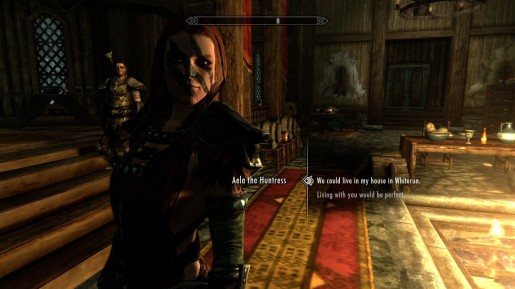 Similar to the way the followers work in Fallout 3 and New Vegas, players will have full control of them when they join your party. They can be asked to wait, move that area you designated via the cross-hair or change their equipment. As for their health, they will be shown on your HUD. Some of the followers can die while others can't.
45 Followers Guide in Skyrim
For those who can't decide which follower to choose, just remember to pick the ones that suits your gameplay. An example of this; if you focus on magic, bring someone that focuses on magic too rather than a thief.
The Companions
In Whiterun, the members of the Companions can join you. However, the only time that they can join you is when you become part of them.
– Aela the Huntress
(Archer)
– Athis
(Warrior)
– Farkas
(Warrior)
– Ria
(Warrior)
– Njada Stonearm
(Warrior)
– Vilkas
(Knight)
The College of Winterhold
For Mage users, joining the College of Winterhold will open up some followers that you can recruit.
– J'Zargo
(Sorcerer)
– Onmund
(Sorcerer)
– Brelyna Maryon
(Mage)
Dark Brotherhood
When you join the Dark Brotherood faction and you finish their questline, two of their members will be able to join you.
– Dark Brotherhood Initiate
(Assassin)
– Ciero
(Assassin)
Paid Mercenaries
If you have a gold to spare, the following people can join you until you kick them out.
– Berland
(Found in Soltitude)
Spellsword
– Vorstag
(Found in Markarth)
Warrior
– Jenassa
(Found in White Run)
Archer
– Marcurio
(Found in Riften)
Mage
– Stenvar
(Found in Windhelm)
Knight
– Erik the Slayer
(Found in Rorikstead)
Barbarian
Optional Characters via Quests
– Aranea
(Must side with her when doing the Azura's Star quest)
Mage
– Erandur
(Must let him live when going after the Skull of Corrution in Night Caller Temple)
Healer
– Lob
(Must do the Daedric Quest, The Cursed Tribe)
Archer
– Ogal
(Must do the Daedric Quest, the Cursed Tribe)
Warrior
– Ugor
(Must do the Daedric Quest, The Cursed Tribe)
Archer
– Euola
(Must do the Daedric Quest, The Taste of Death)
Nightblade
– Adelasia Vendici
(Must do the quest, Rise in the East (Sidequest))
Townsperson
Do the Favor and They'll Join
Somewhere in Skyrim, there will be times where NPC will give you short quests where some will give you items while others will lend their hand to help you.
– Ahtar the Jailor
(Soltitude's Castle Dour)
– Cosnach
(Bar in Markrath)
– Borgakh
(Mor Khazgur)
– Benor
(Morthal)
– Ghorbash
(Dushnikh Yal)
– Uthgerd the Unbroken
(Whiterun)
– Sven
(Riverwood)
– Faendal
(Riverwood)
– Roggi Knot-Beard
(Kynesgrove)
– Derkeethus
(Darkwater Pass)
– Annekke Crag-Jumper
(Darkwater Crossing)
– Mjoll the Lioness
(Riften)
– Kharjo
(Ahkari's Caravan)
Dungeon Followers
The following characters will join you after clearing a dungeon with them.
– Golldir
(Hillgrund's Tomb)
– Illia
(Darklight Tower)
House Carls
When you do the Jarl of a certain town a favor, he'll then turn you into a Thane, where you'll get a House Carl, also known as "bodyguards".
– Lydia
(Whiterun)
– Calder
(Windhelm)
– Iona
(Riften)
– Agris the Bulwark
(Markarth)
– Jordis the Sword-Maiden
(Haafingar)