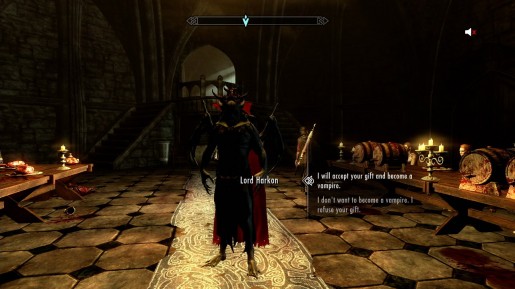 The moment you free Serena, you'll be tasked to accompany her to a castle north of Soltitude. From there, you will meet one of the most oldest Vampire that will give you two choices; become a vampire or be their enemy, which means you'll be siding with the Dawnguard.
In becoming a Vampire, there are various things that can happen and it will be based on what you've done so far in the game. If you've contracted a Vampire disease, you will have to cure it first. Before heading to the castle, make sure that you're clean from disease and also be careful as there are times they are violent the moment you enter the castle. To those who are having a hard time initiating the quest, simply talk to the Guard in major towns but make sure you don't have any bounty on your head.
Another thing to remember before you can be a Vampire is that you can never go back. If you made a pact with Circle and accepted the curse of the Werewolf, you will have to choose whether you want to become a Werewolf, a monster that hunts Vampire as well, or remove it to become a Vampire. Those who decides to become a Werewolf will raise a flag on the Vampires and will become very violent towards you.
Once you decided to become a Vampire, here's the scene that you will see that is part of the initiation process:
How to become a Vampire in Skyrim SE: Dawnguard
If you become a Vampire, you will have access through a lot of
perks
that you can use for your character.