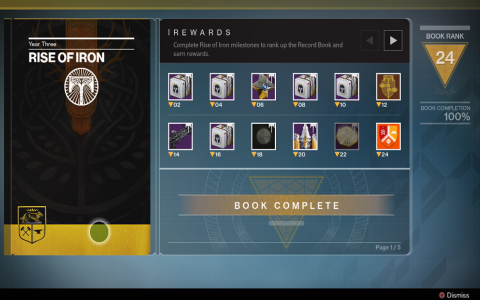 Wrath of the Machine hard mode is very reminiscent of what we saw with Oryx in King's Fall. The fight itself is practically unchanged, yet the new mechanic somehow makes a world of difference. Even though the changes are nowhere near as drastic as some people were expecting, they're hard enough to make the raid far more difficult. Since no one wants to spend hours doing the same fight, here are some tips to be successful.
Basic tips
Consider using a Raze-Lighter or Dark Drinker. Both of these swords make the raid a lot easier.
Avoid using guns like Outbreak Prime or Thorn. You want to be maximize damage and that simply isn't possible with those weapons.
If you get the sniper from Vosik, use it. It is probably the best legendary sniper for boss DPS in the game.
There are two chests after a fight. One is for normal loot and the other heroic loot, make sure to select the right one to prevent wasting keys.
Drops are unchanged. Vosik drops boots/special, Siege Engine is chest/arms/heavy, Aksis has a new ghost/artifact and his final form has Primary/Head/Class item.
Get to 390 before attempting. Even though it can be completed at 380~, those last levels will make a substantial difference and make things a lot easier.
Be safe and play smart. Most of the wipes are caused by people being stupid, not the mechanics themselves.
Editors Note: Since this isn't a full guide, you can find our full guide here. This article assumes you're aware of the basics and just need to know how to handle the new mechanics.
Vosik
Let me start by saying Vosik is easily the hardest part of the hard raid. Don't be discouraged if you can't beat him the first couple of times or think that the horrors will only get worse. With this being said, most of the difficulty comes from people pushing effectiveness over practicality.
New mechanics: Six SIVA charges drop per phase, center monitors now light up, safe room doors require you to slide or crouch walk in.
The best way to handle these mechanics are to start by balancing your sides. It seems that left side is the easiest, right is the hardest and the middle is unpredictable. The best way to distribute your team is to have someone who can potentially get a far away bomb with someone good at giving cover fire. Self-revive Warlocks, Defender Titans or Vanish in Smoke Hunter's are best suited to this task, though you can work out what you find best.
As for hitting Vosik there are two dominant strategies. Every person throws a bomb every time or three people throw two sets of three. Both have their advantages and disadvantages, so figure out which one is best for your team. As for me, I suggest a third, playing it safe, approach.
The idea is simple, someone starts a 10 second count and everyone has 10 seconds to pick up their bomb before you throw it. The nice thing about this method is that faster sides can work on adds, where as slower sides aren't holding everyone pack. The key to this method is the fact that you can do another bomb phase, which is great for DPSing Vosik if you just want to hit him 17 times and then do another wave of six, so if you missed any bombs or threw incorrectly, you can make up for it here. You technically have another one or two phases if things go really poorly, but you shouldn't be doing that bad.
After a phase you'll need to shoot the monitors behind him. It will always be a middle one, meaning you can just call out left, right or middle and it takes a lot more damage than normal. Do not ignore it unless you're going to die or adds are a serious concern, such as a Captain coming for you.
After 18 correctly timed bombs hit Vosik you'll have a damage phase. It is quite possibly to drop him in two phases, which is ideal due to the difficulty of the shank round, but remember that it's better to be safe than to wipe.
If you do make it to the shank round I suggest playing it really safe. I've found that people get overwhelmed at this point, so instead of throwing all six bombs, just toss three of them. Even if you waste a room you should be able to bring him to a damage phase in six cycles and defeat him.