Over the years there have been a lot of unique takes on the turn-based RPG genre. Some try to make it simpler, others more complex, a few added randomness to it and Criminal Girls tossed in adult themes. Even though this is the main aspect to the series that doesn't mean that is all Criminal Girls 2: Party Favors has to offer. With multiple girls, various settings, an intriguing story and more, is it a must have for Vita fans or is it really just a bad RPG with naughty elements?
Criminal Girls 2: Party Favors starts with you being assigned a group of girls to reform. Your goal is to prevent them from going to hell through training and punishment (naughty stuff). Of course this would be too simple, so a crisis occurs and you end up in hell with the girls. There you learn it is still possible to save them and that one of them might be a convict that "can't" be reformed.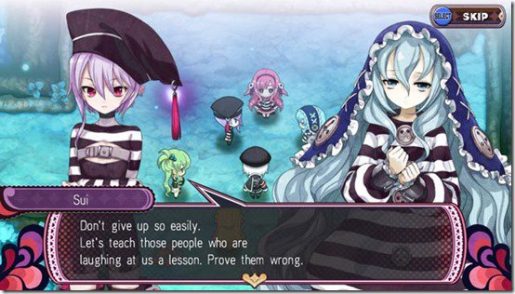 Surprisingly, Criminal Girls 2: Party Favors gets a lot of mileage out of tired archetypes and the idea of them becoming better people. Sure a lot of the scenes get tiring, especially when the scene highlights or calls attention to a cliché, but the overall dynamic is fun. Criminal Girls 2: Part Favors is also smart enough to give characters some level of depth besides what you'd expect from their archetype. It makes for a more satisfying experience, especially since there are a fair number of endings.
Even though there is a lot of story, the gameplay is horrendous. Similar to how the developer was aware that the girls needed depth, they also realized that there is very little content here. The average dungeon is a fairly linear map with roughly four or five possible enemies and a boss. To make matters worse, Criminal Girls 2: Party Favors is absurdly grind and mechanic heavy.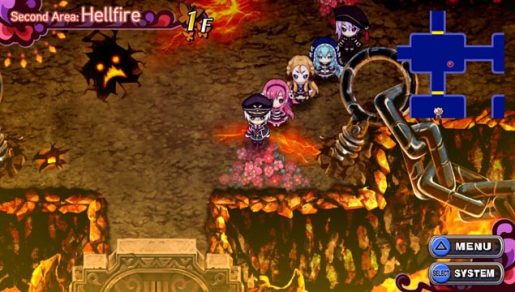 First off, even on the games lowest/casual setting, you'll still need to spend a fair amount of time grinding if you want to have a chance at the boss. This doesn't just mean fighting enemies, but doing the naughty mini-games, obtaining supplies and more. It got so bad that I got to a boss, was defeated before dealing considerable damage to it and barely defeated it after two hours of grinding. This is partly due to how frustrating the combat system actually is.
Outside of wishes, which are optional side tasks that offer minor passive benefits, the only way to improve character starts are through mini-games, leveling and attribute improving items. The mini-games dictate which attacks you can use, how your character will fight and so forth. Even though skills are presented as choices, you don't have much of a choice unless you're willing to do additional grinding. To make matters worse, the combat itself is unpredictable.
Unlike say, Pokemon, every character has a pull of skills and attacks based off what you've unlocked and enabled. One of these skills will appear for each character and are generally based off the flow of combat. Like if your allies are weak you'll get healing options, where as you won't get them if everyone has max health. The issue with this is many of the bosses require substantial debuffs and skills to make them reasonable and getting the wrong options can turn a win into certain defeat.
If random attacks aren't bad enough, the bosses themselves have fairly unreasonable move-sets. One of the bosses had four attacks and none of them were desirable. One summoned additional enemies, another attacked someone multiple times, with the AoE attacking everyone on the field with the chance of paralyzing them and the last skill gave the boss four buffs. This is a lot to deal with and we're only talking about the third or fourth boss.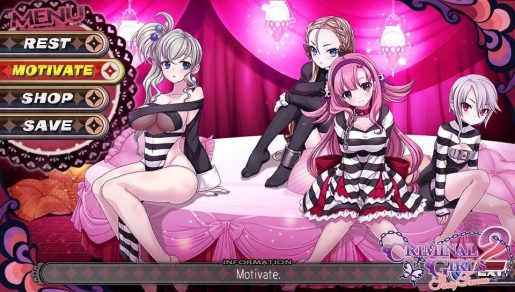 But, here in lies the problem, without these absurd obstacles that force you to grind and or master the deeper mechanics, you're looking at a five-hour game with a lot of story. It's a shame they decided to go this route instead of trying to expand on something besides story. Unfortunately, similar problems plague the naughty mini-games too.
Arguably the most notable aspect in Criminal Girls 2: Party Favors are the mini-games. Here you get to brush, slime, spank and so forth the girls into learning new skills and abilities to aid you in combat. While the visuals are impressive, showing an extensive amount of effort went into making these mini-games memorable, the controls themselves are pretty poor. Often times moves won't register, things won't hit right and it becomes fairly frustrating. I've missed several inputs because I had tap multiple times or go about it a completely different way to have any sort of chance of completing it. Considering you're graded on your performance, this is a terrible choice and fairly frustrating to deal with.
Verdict
Criminal Girls 2: Party Favors could be a fun game if there was more here or the combat was remotely fun. Instead we have a very simple game filled with randomness and extremely overpowered enemies. Sure you can easily overcome them by grinding or mastering the combat system, but these are hollow ways to extend gameplay. But if you think that is an okay trade off for the naughty mini-games, you might want to consider getting Criminal Girls 2: Party Favors.
[Editor's Note: Criminal Girls 2: Party Favors was reviewed on PS Vita platform. The game was provided to us by the publisher for review purposes.]
Criminal Girls 2: Party Favors Review

,